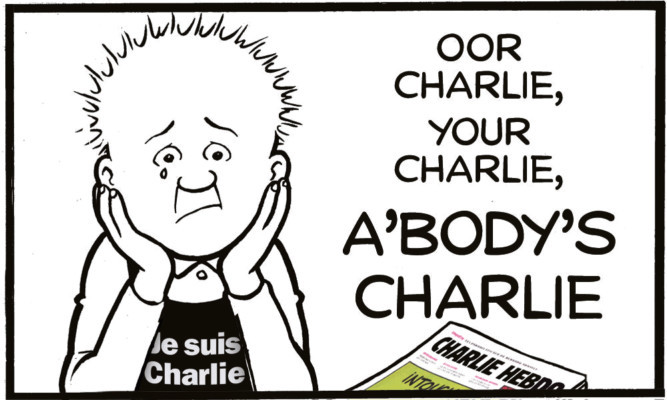 Today we join a world united in its grief over the horrors in France and defiant in the face of threats to our most basic, cherished liberties.
Our front page is a message of support from us and Scotland's most iconic cartoon character to all who value the right to freedom of expression.
The magazine Charlie Hebdo has a long history of satirising people of all persuasions Christians, Jews, politicians and the famous. We don't endorse its stance on many issues and, indeed, on occasion would certainly rail against their portrayal of sections in society. Its antagonistic style does not fit with our Sunday Post values.But we respect its right to satirise within the bounds of the law and decency.
Pricking the pomposity of the powerful is the oldest trick in the book. And it's not one that's limited to Paris.
Our own cartoonists have lampooned many over the years. Oor Wullie and the Broons frequently did battle with the twin evils of Hitler and Mussolini during the Second World War.
Today we've used Oor Wullie on our front page to show our solidarity with the fallen staff of Charlie Hebdo. As the laddie says oor Charlie, your Charlie, a'body's Charlie.
We are all together in this fight for the core values that define our society.
France was built on a dream of liberty, equality and justice and freedom of speech is a cornerstone of every democracy. The unimaginable horror that unfolded on the streets of Paris will be felt for years to come, not just in the lyse Palace but in the corridors of power around the world.
Sadly, according to the UK's security services, we must brace ourselves on these shores for further terrorist attacks following the massacre in Paris.
It can't help but dawn on us all that the four terrorists shared the same back story of neglect, disenfranchisement and radicalisation. It's a familiar tale we've seen here too. The current heady mix of fighters returning from Syria, the online radicalisation of young Muslims and a long hangover from the invasion of Iraq in 2003 is a volatile combination. It's dividing us and warping many against their own country.
Some are intent on turning to violence for their answers.
Undoubtedly, multiculturalism has brought more benefits than drawbacks to our shores. But while religions can sometimes divide us, a fundamental truth is that all religions share the same core beliefs in peace. Moderate Muslims abhor violence and have rightly reacted in horror that another unimaginable crime has been committed in their name.
But just how do we combat the threat we face?
The bottom line is we all have a collective responsibility to root out the evil that has taken hold. We must expose the extremists and the preachers of hate in our classrooms, prisons and mosques. Revulsion at what happened in France might be just the catalyst we need.
The Parisian rampage was justifiable, the terrorists claimed, because staff at Charlie Hebdo had lampooned the prophet Mohammed. The Kouachi brothers said it was an act of vengeance for an inexcusable crime.
Of course, the wrong-headedness of this grandiose position was exposed as the gunmen's trail of destruction saw them kill other innocent people over and above the unarmed cartoonists, including the Muslim police officer shot at point-blank range in the street as he put his hands up.
Such extreme actions and views make it harder for us to find common ground. It can drive us further apart and fuel greater prejudice on all sides. Yet, we must find it in ourselves to become a more understanding and tolerant society.
That must surely start with greater acceptance of the right to hold alternative views, no matter that we may find them abhorrent. And, of course, that includes defending the very basic right to publish, which currently faces so many threats from vested interests and hypocritical politicians.
Sadly it has almost become the acceptable norm to take to social media to bully and intimidate those who offer a controversial view. We should not tolerate those who seek to stifle freedom of expression. Instead, let us all embrace the fact we live in a multi-cultural UK with opinions rich and diverse.
Terrorist cowards will never succeed.
Normality will return and cartoonists will pick up their pencils again and at the core of every drawing is a freedom that must always be protected.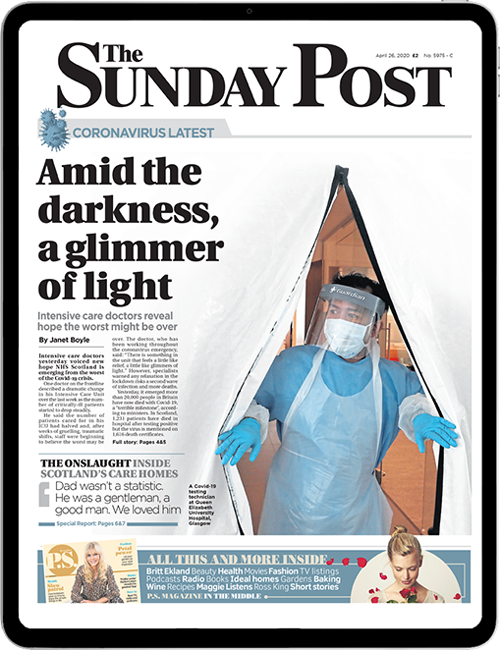 Enjoy the convenience of having The Sunday Post delivered as a digital ePaper straight to your smartphone, tablet or computer.
Subscribe for only £5.49 a month and enjoy all the benefits of the printed paper as a digital replica.
Subscribe