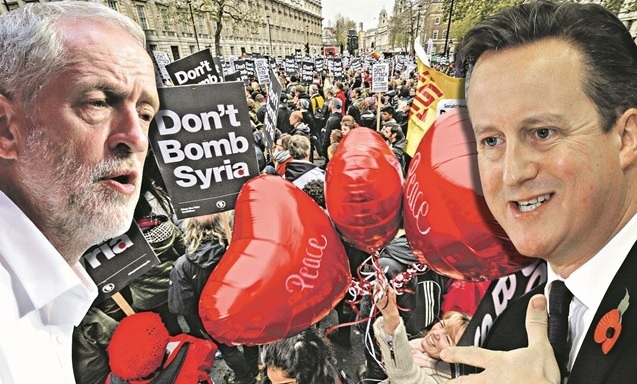 DAVID CAMERON is this week expected to ask MPs to back his bid to launch air strikes on Islamic State in Syria.
Defence Secretary Michael Fallon and Foreign Secretary Philip Hammond have spent the weekend calling Labour MPs to try to win their backing for the intervention.
Senior Tories, conscious that up to 20 of the party's own MPs remain against the air strikes, are now confident they have the majority needed to win a crunch vote on bombing.
Thousands of anti-war protesters gathered outside Downing Street yesterday to urge MPs to vote against launching air strikes on Islamic State (IS) in Syria.
But outlining his case for extending UK military action from Iraq into Syria, the Prime Minister is standing firm and said all MPs would have to make their minds up "when the choice comes".
Speaking at the Commonwealth Heads of Government summit in Malta, Mr Cameron said "carefully thought-through and effective action" was required against IS.
He added: "I hope that when the choice comes people will indicate that this is the right thing for Britain to do. It is and we should do it."
An anti-war protester wearing a David Cameron mask during a protest on Saturday (Getty Images)
Mr Cameron stressed he would only hold a Commons vote on the issue if he was certain of securing a majority.
He is expected to announce a vote after tomorrow's potentially stormy Shadow Cabinet meeting.
Labour remains split on the issue with leader Jeremy Corbyn yet to decide whether he will attempt to impose a whip on his MPs if a vote is called a step that would potentially mean senior resignations and be defied by a large proportion of the parliamentary party.
The chances of a free vote increased with Shadow Chancellor John McDonnell yesterday claiming MPs should be allowed to make their "own judgment".
Making clear his personal opposition to the extension of air strikes, Mr McDonnell said the "horrendous mistake" of the Iraq war had been partly due to MPs being "whipped and threatened and pushed" into supporting "something many of them did not believe in".
He said: "There shouldn't be any party discipline on matters like this. You should follow your own judgment on what you think is best for the constituency and the country.
"There are some issues like going to war that should be above party politics",
John McDonnell on The Andrew Marr Show (PA Images)
Sir Malcom Rifkind, former Conservative Defence Secretary and Foreign Secretary, told The Sunday Post he was convinced the Commons would vote for air strikes.
He said: "It's going to be certain David Cameron will get the majority he needs.
"Those on the Conservative side who previously voted against action are now onside, and more than half the Shadow Cabinet support it.
"Logically, it's the right thing to do. The border between Syria and Iraq is not recognised by IS so it's not right that we are operating in one and not the other."
The Government is expected to table a motion on Wednesday or Thursday that would sanction British involvement in taking on IS in Syria.
The armed forces already have the authority to hit IS in Iraq.
When David Cameron last sought Parliament's backing for military action in Syria in 2013 though at that time the plan was to attack President Assad's forces he was defeated.
Sir Malcolm added: "That did great harm to our reputation. It looked like we had given up on foreign involvement.
"That's why this time the majority has to be healthy and decisive.
"In an ideal world it would involve all-party support, but with the Opposition in meltdown that's not going to happen.
"From the Government's point of view that doesn't matter very much since large numbers of Labour MPs will vote with the PM."
Anti-war protesters were chanting outside Downing Street on Saturday (Getty Images)
How Labour's Shadow Cabinet will vote after tomorrow's crunch meeting remains a mystery, but one frontbencher admitted he'd "no idea" what the outcome would be.
A free vote seems the most likely outcome but that will be portrayed as a cop-out by opponents and still see the Government given the green light to attack IS in Syria, the result Corbyn is opposed to.
Labour are attempting to spin their way out of things by claiming their internal debate is "healthier" than the SNP approach that will see the nationalists all vote against military action.
Foreign Affairs Committee member Stephen Gethins claims the Government hasn't answered questions about reconstruction after any military action and who will provide ground troops to back up the air war.
Sir Malcom condemned the SNP approach. He said: "SNP MPs are treated by their leadership as a bunch of people who automatically do what they are told. It's rather sad and not what the public expect of them.
"Winston Churchill said an MP's first duty is to their country, their second to their conscience, their third to their party.
"It's about time the SNP read that and took it on board."
Meanwhile, David Cameron has lashed out at Ken Livingstone after the former London mayor said British troops were "discredited" and Chinese forces should go into Syria.
Mr Livingstone, who has been put in joint charge of a review of Labour's defence policy, made the comments as he backed Jeremy Corbyn's opposition to air strikes against IS in Syria.
Arguing that bombing could not work without boots on the ground, the ex-MP said: "We cannot put British troops on the ground because they are too discredited after Iraq and Afghanistan.
"But we should look to countries like China. I think China would jump at the opportunity to be involved because it would bring them on to the global stage. They have millions of troops."
But Mr Cameron said: "I have the highest possible regard for the British Armed Forces.
"The person who frankly seems to be letting himself down is Ken Livingstone with the remarks that he makes."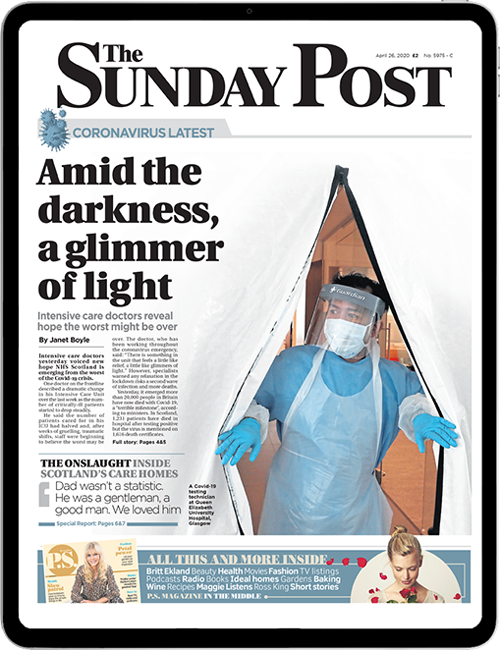 Enjoy the convenience of having The Sunday Post delivered as a digital ePaper straight to your smartphone, tablet or computer.
Subscribe for only £5.49 a month and enjoy all the benefits of the printed paper as a digital replica.
Subscribe