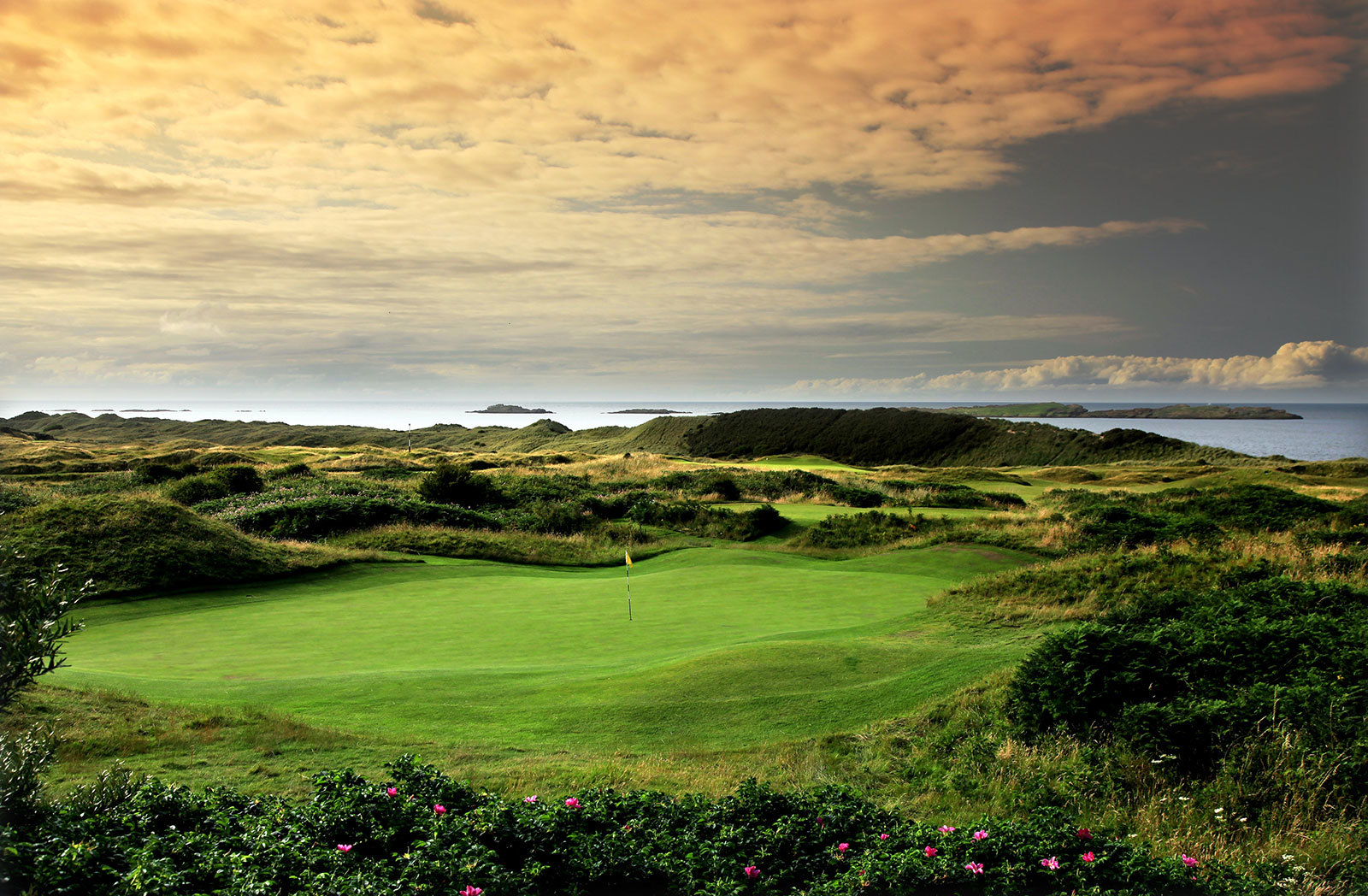 I COULD hear the words running through my head: "On the tee, Adam Lanigan."
Here I was, standing on the first tee at Royal Portrush, the most famous course in Northern Ireland and a place where golf and geography combine to take your breath away.
It's the same course the best players in the world will face when they come here for The Open Championship in 2019.
But any thoughts I had of emulating Northern Ireland's two most famous golfing sons – European Ryder Cup captain Darren Clarke and star player Rory McIlroy – were shattered after just one shot.
"I think that ball might be lost. Best play another one," said my sympathetic playing partner as he watched my ball disappear into thick grass.
It wasn't the only lost ball of the day as one thing became abundantly clear – I am much better writing about golf than playing it!
Thankfully, the spectacular views at Portrush were more than enough to distract me from my golfing struggles.
There are the ruins of Dunluce Castle just along the headland and Giants Causeway in the distance.
Just a few miles down the North Antrim coast, Portstewart offers another wonderful course which will stage the Irish Open next July.
And the view from the first tee of hills, dunes and beach was made even more spectacular by a perfect blue sky.
But after a tough time scrabbling around looking for more balls after even more errant shots, I was exhausted and needed a good lunch.
Luckily, I found just the place I was after nearby in Harry's Shack.
The restaurant is nestled under a dune overlooking the vast expanse of Portstewart Strand beach with views out towards Donegal. One look at the menu was heaven sent for a fish lover like myself as I heartily tucked into a pot of mussels, prawns and whitebait, all caught locally.
With a round of golf followed by a bite to eat and a Guinness or two afterwards, the hours fair fly by.
What that means, though, is a lot of spare time for any golf widowers or widows out there – and a trip to Galgorm Resort and Spa is the perfect solution.
A dip in the inviting 20-metre swimming pool helped me to relax and unwind in the afternoon after an early-morning alarm call for golf, while demand was high for the various spa treatments, Jacuzzis and hot tubs.
The outdoor tub overlooking the waterfall on the River Maine was unusual but certainly popular.
Even if you're mainly visiting this great part of Northern Ireland for the golf, it would be a huge oversight not to go along to Giant's Causeway.
The 40,000 basalt columns that stick out of the ocean really are a sight to behold and worth getting a bit wet for, as happens to visitors more often than not.
History tells us that it was caused by volcanic activity more than 50 million years ago, but it's far more fun to hear the Irish legend about the giant Finn MacCool and how the Causeway came to being.
Apparently, Finn was dressed up as a baby by wife Oona to meet Scottish giant Benandonner.  He was so scared by the size of the baby that he didn't want to hang around and meet the father so dashed back to Scotland, smashing up the Causeway as he went.
A short drive from the Giant's Causeway leads you into the village of Bushmills, famous for its own brand of Irish whiskey.
Popping into the distillery is a must, whether you have a taste for the stuff or not, as you discover the secrets behind more than 400 years of magic.
The nearby Bushmills Inn is another excellent stop as the old coaching inn offers fantastic food all day long.
With such fantastic golf, a bit of history and typical Irish hospitality in rich supply, and all under an hour away on the plane, the question I asked myself as I left was, 'Why had I waited so long?'
For more information visit the Tourism Ireland website.
---
READ MORE
Golf and much more on offer at Aberdeenshire baronial retreat