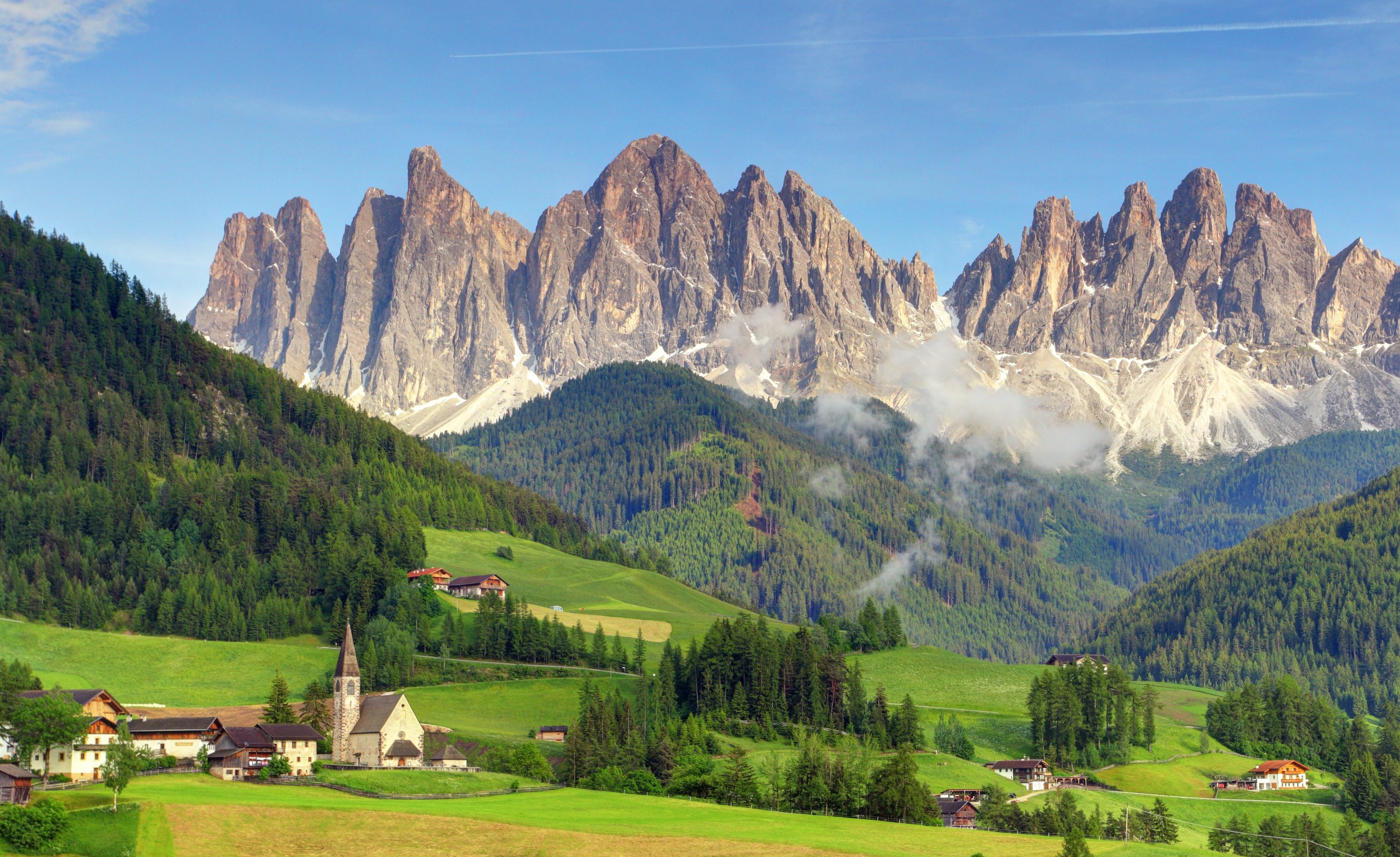 AS a naturally clumsy person, cycling has always been far from the summit of my ambitions as a leisure pursuit.
In fact, I'm pretty sure my last bike was a Raleigh Chopper.
Even as a fearless 10-year-old boy, I suffered more nasty grazes crashing to concrete than I care to remember.
So as a middle-aged man in Lycra, a sense of dread loomed as our minibus climbed nearly 5000ft towards the stunning peaks of Italy's imposing Dolomites.
I needn't have worried. Cycling around this beautiful gem of a place can be as hard – or as easy – as you like and the backdrop is simply jaw-dropping.
We were here for a three-day cycling trip along the Adige River, from its source in Passo Resia on the Austrian-Swiss-Italian border.
The route is all downhill, mostly flat, and is popular with families and groups of retired couples, as well as single trekkers and cycling novices like us.
If the thought of cycling around mountains makes you puff and wheeze, there's always the cheats' option. The e-bike allows you to switch from pedal to battery power when faced with a stonker of a hill-climb.
The bikes – with saddlebags, helmets, puncture repair kit and a map – were there waiting for us at the start of the self-guided tour.
We went for the more low-tech, non-electric models and, after a quick test of the gears and brakes, were off.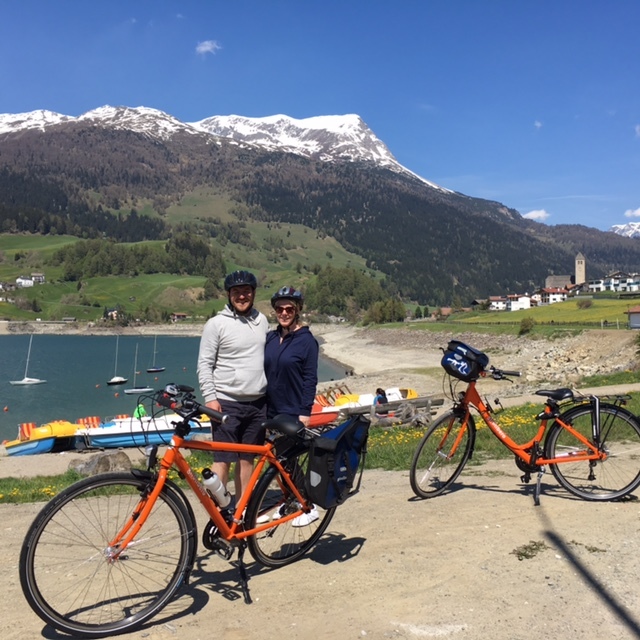 The jagged mountain caps on the southernmost side of the Alps give way to sun-drenched lakes, picturesque castles and fairytale villages of Tyrolean mountain chalets.
Along the River Adige are soaring pine woodlands, meadows overflowing with fresh flowers and the sound of clanking cowbells.
I half expected Julie Andrews to come twirling and yodelling past as I whizzed by on my bike.
Although this is Italy, it has a distinctly Alpine feel, with lederhosen and strudel replacing gondolas and pizzerias and where most of the locals speak German.
We soon reached the beautiful Resia Lake, with its 14th Century church bell tower or campanile soaring from the water.
Nearby Curon, which clings to the hillside, was the first point at which I wished I'd chosen the e-bike but, after a short sprint uphill, a good point to stop for a coffee.
It's the first of nine equally-beautiful villages in the mountainous area.
The town of Malles is well worth a visit, especially for spectacular views of the 108ft tower of the 12th Century Frohlichsburg castle. It is also the start of the Val Venosta railway – another cheat option for those cyclists who fancy a break from pedalling.
There are 18 stations at villages along the way and you can get on and off with your bikes.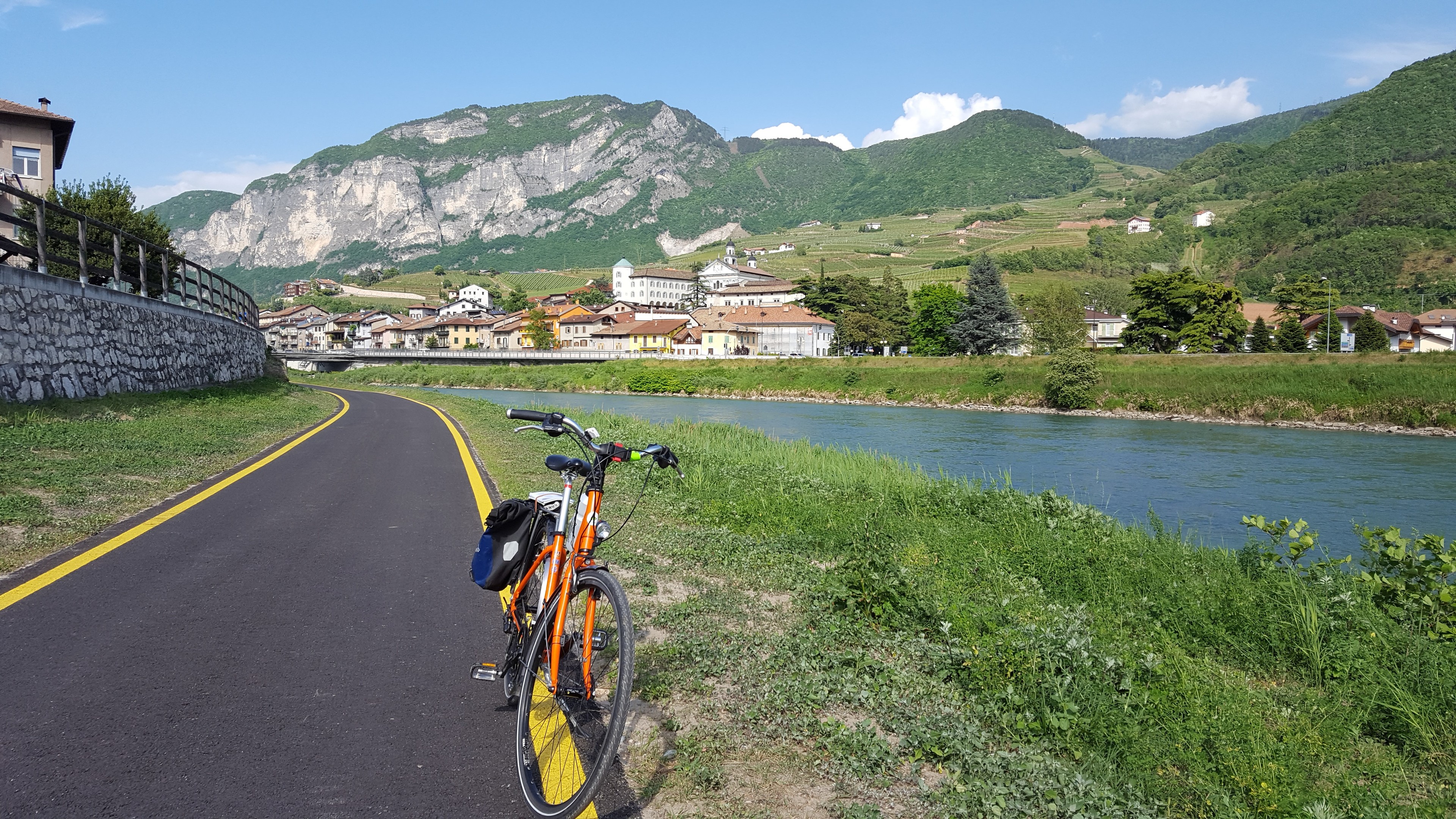 We opted to carry on cycling to Glorenza, and Italy's first whisky distillery, just outside the medieval town's walls. The proud townsfolk assured me Puni is a fine drop – bragging it rivals anything from Scotland.
It's made with the guidance of Scottish experts in pot stills crafted in Rothes, Moray, and has won World Whisky Awards.
Unfortunately, when we visited the distillery was shut, like many places around these parts on a Sunday.
The warm weather had brought out families of weekend bikers, many stopping off at picnic spots or cafes for a bite to eat at the side of the path which runs almost all the way to Silandro and our simple but comfy hotel.
Weary and slightly saddle-sore, we took ourselves to bed.
The next day, our cases had been magically shipped to our next destination down the river to the spa town of Merano.
This was a shorter ride of about 24 miles – and we were grateful for that when the heavens opened!
Despite the torrential rain, the camaraderie between drenched cyclists we met from all over the world was heartening.
We managed to make it into Merano, South Tyrol's bustling second city.
It's full of traditional buildings and the shops, although not cheap, are great for clothes and souvenirs.
On our final day the peloton of Italy's most celebrated bike race – the Giro d'Italia – zoomed past us just as we entered Bolzano.
In a flash of colour, the bulk of nearly 200 riders came careering past.
It was an extraordinary sight, although I don't think I will be reaching their standard any time soon!
---
Freewheel Holidays operate a range of cycling tours in northern Italy, including the Dolomites and Lake Garda tour which starts from £659 per person for a seven-night break.
The four-night break is £469 per person including bike hire. They have more than 40 cycling tours in 10 European  countries. Visit www.freewheelholidays.co.uk or call 0161 7035823.
---
READ MORE
Auld Enemy… on auld bicycles! Scotland set to take on England in penny farthing polo match
MND Scotland helps motor neurone disease patient's son to raise awareness via cycle challenge