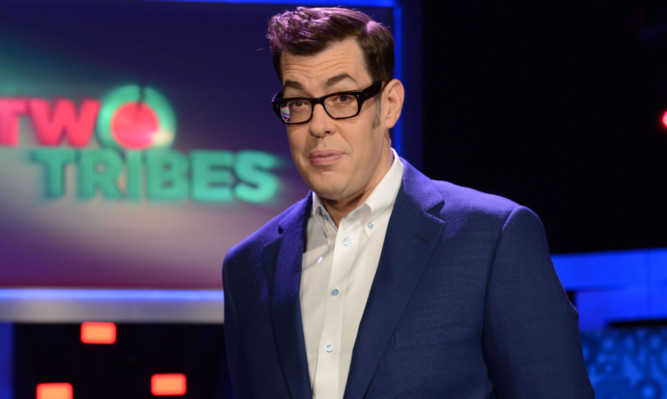 when it comes to TV quiz shows, Richard Osman is a big factor these days. Literally.
The 6ft 7in co-host of smash-hit quiz show Pointless has just embarked on a second series of his other BBC brain-teaser Two Tribes.
But did Richard reckon it would be ta-ta to Two Tribes after a single series, just like he did with Pointless, which is now in its sixth year and attracts three and a half million viewers?
"Well, I'd made so many quiz shows over the years, and some do disappear," says the 44-year-old, who doubles as creative director with TV production company Endemol.
"It's not like a documentary where people go: 'Oh, that was very good', they either take to them or they don't and sometimes they just don't, so I'm always cautious.
"I really liked Two Tribes as a format, which is why I did it, as I was offered all sorts of things, and I was really chuffed it did well as it's in that same slot as Eggheads.
"People love Eggheads. My mum loves it and was furious Two Tribes replaced it for a bit!
"That's the lovely thing about quizzes. Because they're on every day, they have that easy familiarity but that usually takes a bit of time to bed in."
Without his Pointless sidekick, Alexander Armstrong, Two Tribes gives Richard more time to interact with the contestants, and the fact they're grouped according to how they answered questions such as: 'Do you believe in aliens?' appeals to the nosey-parker in all of us.
"That's the interesting thing, you find out an awful lot about people," nods Richard.
"In most quiz shows, there's always that bit in the first round where they go: 'And where are you from? What are your hobbies?'
"We don't have to ask them anything, though, because you're immediately going: 'Oh, wow, so you've been on a blind date in the past year?'.
"It's like: 'Oh, you think you're better-looking than your partner? OK, let's talk a little bit about that' and you find out so much about people really, really quickly by asking them very unusual questions."
This series consists of 60 half-hour episodes and that, plus days filming four Pointless episodes in a row, means Richard's the hardest-working man in showbusiness.
"And I've got a day job!" he laughs. "But I love quizzes and you know what? There are two options.
"One, I work really hard and record loads or two, they're unsuccessful and no one wants to watch them, and I'd rather have option one."
At least with Pointless, Richard gets to rest his lanky frame, sitting behind his laptop, which people might be stunned to hear is actually just a prop.
"That's the big difference," he says.
"On Two Tribes, I never stop, I'm chatting then asking questions, I'm standing up all the way through and by the end of the show, it's like having done a work-out.
"Pointless is just lovely. I can just sit there, I have a pen and paper and I can doodle to my heart's content!"
A combination of his height and the fact he's one of most recognisable faces on TV makes it difficult for dad-of-two Richard to blend into the background.
"It's very tricky," he says. "There are certain people who can put a hat on and nobody knows them. I can't quite manage that, I just get: 'Why's Richard Osman wearing that hat?'.
"But people are lovely, that's the good thing, because they're fond of Pointless, so everyone shouts that or tells me something I've done is pointless, and if ever I'm at the football, I can't move for people saying: 'You're going to end up pointless today' but that's my fault for supporting Fulham."
Part of the Pointless appeal is that there's a sort of loveable British amateurishness to it, and Richard admits: "Neither of us is a natural-born television presenter I hope we don't come across as salesmen in the way hosts sometimes can!
"It's interesting as obviously Endemol sell our shows all over the world, Million Pound Drop sold in 100 countries, but Pointless doesn't really sell because I think all the foreign territories say: 'I don't understand, what is it you're watching here? Why are people laughing?'. It's so British."