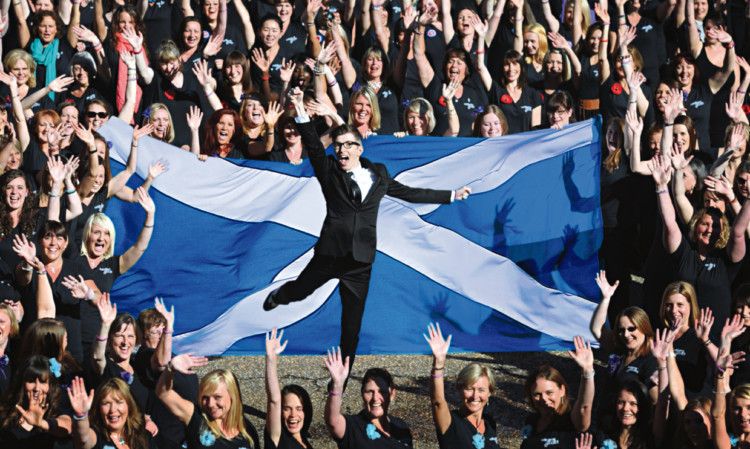 He's topped the charts with The Military Wives, been awarded an OBE and found fame on both sides of the Atlantic.
The past few years have seen choirmaster Gareth Malone become an unlikely national treasure. Now Gareth has spoken fully for the first time about the secret behind his amazing singing success his Glaswegian dad.
He's told The Sunday Post that he's sure he can trace it all back to dad James Malone's Scots upbringing.
"He's always been one for doing a turn at a party, singing or a spot of spontaneous Scottish country dancing," laughs Gareth. "He had that culture of singing from his childhood. It was an era where one person in the block had a TV and if you wanted entertainment you had to make it yourself.
"If someone was coming round he'd be saying, 'Let's play the piano. Let's sing a song'. He was always like that at home and that's where I got my sense of community music from."
James grew up in a tenement in post-war Parkhead. It's a world away from the comfortable home Gareth shares with teacher wife Becky and kids Esther and Gilbert in upmarket, celebrity-friendly north London.
"Life in Glasgow in the 1940s and '50s wasn't easy and it's very different from my upbringing," admits Gareth. "But there are more positives than negatives from growing up in that environment. It definitely made him the determined person he is. And I think it's made him grateful for what he has. He lives in a nice house, had a good job and a family and life has treated him well. He's got great character and I've always associated that with him being Scottish."
James and wife Sian's pride in seeing Gareth become the first generation of their family to go to university was mirrored by his pride at having them by his side at his major milestones. When he was at the heart of the Queen's Diamond Jubilee celebrations at Buckingham Palace he made sure his dad didn't miss out.
"He's been there for all the big moments. Both my parents worked incredibly hard and put aside lots of things as you do as a parent to make sure I could have piano lessons.
"They made sure they were at every concert and when I look back I wouldn't have been able to go to the Royal Academy of Music or have all these amazing opportunities without them. I feel I have to repay them a bit."
Just as his folks made sure that Gareth's prospects were everything, he found life changed forever with the arrival of Esther, nearly four, and Gilbert, just about to turn one.
As Becky pops in to interrupt us briefly in search of an envelope, it's clear that home and family life are now absolutely critical.
And the 38-year-old confesses that is far from the way it used to be. "In my 20s music was absolutely everything to me," Gareth explained. "It still is but now there's this competing force and I could never have imagined that. My priorities and sense of time have changed. I was never one to take a day off but there's been a big shift towards resting and having a good time with your family."
While you can't doubt he's got his time managed better, you wonder what his schedule was like before he decided to take it down a key or two.
His latest hunt for Britain's best workplace choir was another big hit recently while he's also been Stateside seeing if America's got talent for It Takes A Choir. On top of that he's about to embark on his first ever live tour. He spent months putting his Voices choir together last year and getting their debut album out. Since January he's been at home working out the musical score for the 12 new songs as well as everything from venue lighting to how to get pianos in.
"There have been so many things to think about but I'm a bit nerdy about these things and secretly I've quite enjoyed it."
He may reckon he's a little geeky but the man who had a stab at making bow ties "cool" before Matt Smith's Doctor Who has had no shortage of fan attention. And since being thrust into the spotlight he's found everything, from the gingery beard he sported recently for Sing While You Work to the brightly-coloured trousers he wore, is up for comment. "That was hilarious, just unbelievable," he muses, shaking his head. "The trousers did NOT go down well with certain sections of my audience.
"What are you going to do? Trousers can be changed and a beard can come off."
Today, for Gareth watchers, it's down to just a 5 o'clock shadow and he reckons he'll be clean shaven by the time his tour rolls into Edinburgh.
"It's quite nice to bump into people and have them say they appreciate your work," he says. "Several times a day people will stop me and say they enjoy my shows but there are times. . .
"I was going into the doctor's surgery for a fairly minor complaint as it happens and someone asked me for an autograph. It was a bit of a surprise that someone would do that there, but I suppose it goes with the job."
Spend any time in Gareth's company and what comes over is just what you see on TV. He's nice.
He insists there have been instances where he's lost his rag during the long months nurturing singing talent to peaks they never thought possible. But, frankly, any such lapses are few and far between.
There wasn't a dry eye in the nation when the Military Wives swept to the 2011 Christmas number one with Wherever You Are. But Gareth, stoically, kept his emotions firmly in check despite the poignancy of the contact between worried wives and their frontline heroes.
"I've got to inspire them to sing their best and you don't want to get all mushy at that moment," he insists. "But everything moves me to tears. I think as you get older you find life both more beautiful and more painful."
You get the feeling there might just be a bit of emotion when he turns 40 later next year.
"I've always had a hankering to hire a Scottish castle and pretend I was an earl, so I'll maybe do that for my 40th," he adds. A singsong is, of course, guaranteed.
Gareth Malone: The Live Tour is at Newcastle City Hall on May 30 and the Usher Hall Edinburgh the following day. Info and tickets at garethmalone.com/tour.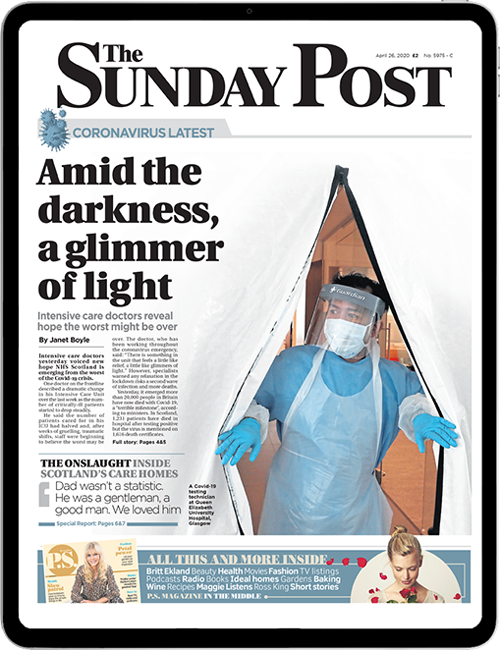 Enjoy the convenience of having The Sunday Post delivered as a digital ePaper straight to your smartphone, tablet or computer.
Subscribe for only £5.49 a month and enjoy all the benefits of the printed paper as a digital replica.
Subscribe