Craig and Charlie celebrate 25 years of jeans, old jumpers and bad specs.
For someone known for belting out raucous rock songs in a broad Scots accent, Charlie Reid is remarkably soft-spoken. It's a Fife burr rather than the guttural snarl you may expect from classics like I'm Gonna Be.
Nor does he often wear the thick-rimmed specs that have become The Proclaimers' trademark over the past quarter-century.
Instead, he prefers contact lenses.
It was that image NHS glasses as thick as their accents, bad haircuts, scruffy clothes and raw, guitar-strumming anthems that saw The Proclaimers treated as something of a joke in the mid-80s' electronic pop world.
Presenter Paula Yates even dismissed them as "really weird" on their first TV appearance on The Tube in 1987.
Charlie laughs at the memory.
"We were skint," he said. "We'd been on the dole, struggling and that was just our everyday look jeans, old jumpers, bad specs.
"There came a point where we decided just to stick with it.
"It was who we were. We've never been interested in celebrity or image.
"We wanted our work to speak for itself. Our songs were stripped back to just a guitar and our voices.
"It felt honest. We sang about our lives and what was important to us.
"That's why we've always sung in our own accents it would sound a bit odd in some mid-Atlantic twang.
"We fully expected people to take the mickey that was our 'best case scenario'.
"The worst is people absolutely hate you."
Their bond as twins helped them endure the flak and resist pressure from marketing men to change their image.
Charlie said: "As twins we were used to being gawped at so we have pretty thick skins.
"Our close bond is our strength. It was always a kind of 'us against the world' thing.
"No one will get us to do something we don't want to do."
And if it was hard enough cracking it in the 80s, Charlie older of the Reid twins by 30 minutes reckons it would be near impossible now in the era of manufactured "mass market" pop churned out by competitions like the X Factor.
Three-times married Charlie said: "The industry's changed. It's a huge, slick, money-making machine.
"I don't see where we would have fitted in with the X Factor era. We'd never make the breakthrough that way.
"Don't get me wrong, the people who go down that route work very hard and I admire them for that.
"Plenty of talented folk appear on those shows, but it's not our thing too much effort for starters.
"We both achieved our dream our ultimate ambition when we got that first recording contract. Anything else since then has been a bonus.
"All we ever wanted was to be able to earn a living from our music. We'd have been happy busking or playing in pubs if it meant we could feed and clothe ourselves.
"I'd have classed that as success so to achieve what we have is pretty astounding.
"We were more or less unemployed since we left school. Loads of our generation were in the same boat and plenty were unable to escape.
"They've had miserable lives so I know we've been lucky."
And even after 25 years, a string of hits, nine albums and millions of sales, Charlie still can't quite get used to global fame.
The dad-of-four said: "We play festivals like Glastonbury and T in the Park as well as wee halls in places like Kirkwall and the Outer Hebrides it's great fun playing them all.
"It's the same in places like the States and Canada we play loads of different venues and it's the crowds who make it special.
"Normal working folk all over the English-speaking world seem to 'get' our music. Especially Australia.
"I think it's the drinking culture they love nothing more than a few beers and a sing-along."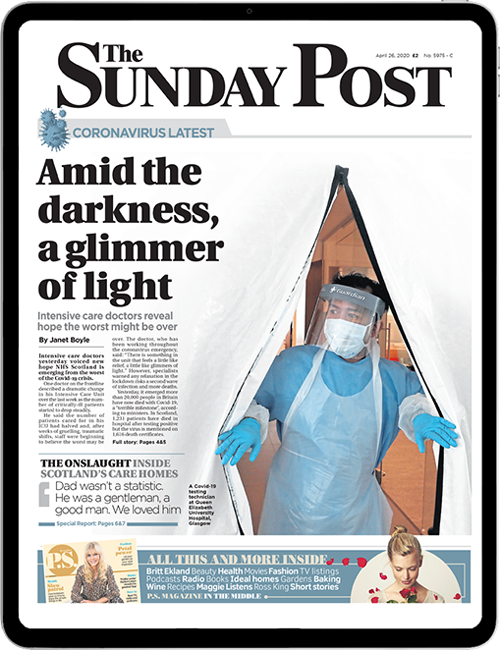 Enjoy the convenience of having The Sunday Post delivered as a digital ePaper straight to your smartphone, tablet or computer.
Subscribe for only £5.49 a month and enjoy all the benefits of the printed paper as a digital replica.
Subscribe