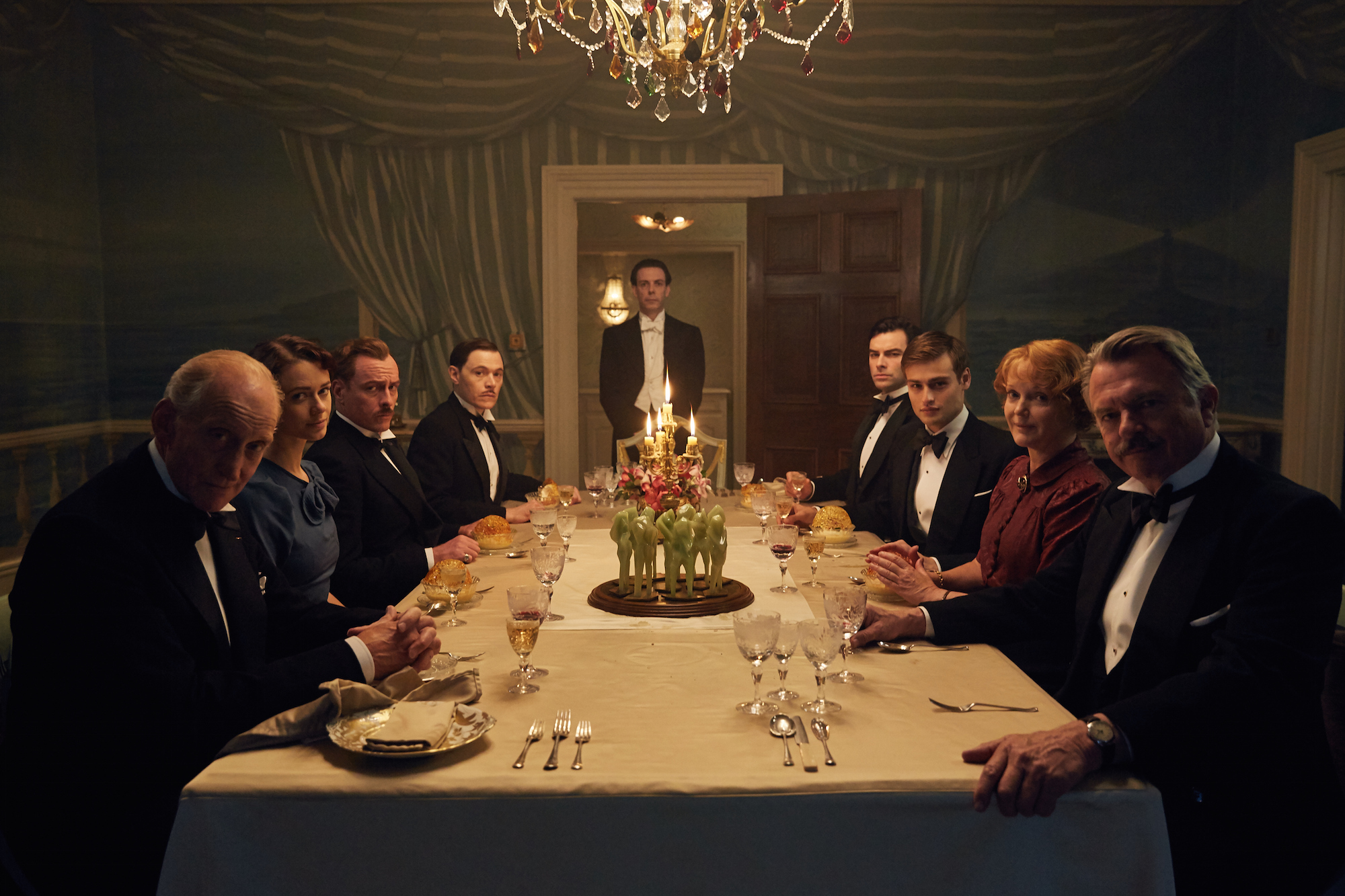 More than 100 MILLION copies have been sold, and it was recently voted the world's favourite Agatha Christie book.
The play has also been packing them into theatres up and down the country this year, so it's hard to believe there hadn't been a new British TV adaptation for more than half a century.
Thankfully, BBC1 have spoiled us with a brand-new adaptation of the classic Christie murder mystery, which was shown in three parts over Christmas.
And it was fitting Auntie Beeb pulled out all the stops to bring us an all-star cast for the grim tale.
Veteran acting heavyweights Charles Dance and Sam Neill were joined by the ever-superb Miranda Richardson and former Bond baddie Toby Stephens.
And just to raise the festive season temperature, Poldark heart-throb Aidan Turner was involved, but sadly we didn't get any shirtless scythe action in the depths of winter.
And Then There Were None is classic Christie, all Edwardian drawing-rooms, a vast cast so you can play "whodunit" bingo, and an array of characters straight from the Queen of Crime's dark imagination.
They've been drawn to an isolated and storm-lashed rock off the Devon coast where they await the arrival of their hosts, the oddly- named Mr and Mrs U. N. Owen (Unknown, geddit?).
Most of you will be familiar with what happens next. One by one, they're bumped off, according to the rules of the nursery rhyme Ten Little Soldier Boys, with the survivors knowing there's a murderer in their midst.
Aidan Turner admits he was drawn in by the fact his character, merciless Irish mercenary Philip Lombard, was the complete opposite of Cornish hero Ross Poldark who had hearts a-fluttering early last year.
"It was a nice change to play somebody who doesn't really care about anybody but himself," says Turner, 32, who gets to use his native accent.
"He's totally shady. He's kind of amoral and has a total disregard for humanity. There's nothing he wouldn't do."
A self-confessed Christie fan, Aidan admits he was keen to star in one of her murder mysteries, and was bowled over by the 1930s set.
"It's a rite of passage for actors to be in an Agatha Christie adaptation, and this is the quintessential Christie story — albeit a really dark one," he adds.
"Once you walk onto the set, it just looks beautiful and very much of that time.
"You feel like you're in that world.
"We've got it wrong now, wearing jeans and boots and all the rest of it, all this low-waisted stuff and T-shirts.
"There were these high-waisted pants I was wearing for a lot of the show and they're really comfortable and quite flattering!"
New Zealander Sam Neill, 68, who played guilt-ridden General MacArthur, agrees, adding: "It's all very handsome-looking and an era I feel perfectly at ease in.
"The costume is not so far removed from my own area — we should all set an example once in a while, starched collars and all!"
Neill does, though, admit to being bemused by the British love of murder — on TV, that is.
"There's something the British find in middle-class murder that isn't frightening or even titillating but on the contrary rather comforting!" laughs the Peaky Blinders star.
"Pop a hot-water bottle under the covers and watch some people being murdered — let's not forget the Ovaltine.
"We just don't have this back home, not home-grown murder mysteries.
"What we import, we watch in massive numbers, but with a quizzical eye and a nice glass of Sauvignon Blanc!
"This tale is set on the cusp of the Second World War, and that must have been very much on Agatha Christie's mind when she wrote this book.
"As for so many millions of others, the battles of the First World War took their toll on my character, there wasn't anyone who came out of that war undamaged. He's a damaged man.
"So this story stands for what had happened, and what came out of Europe was a lot of damaged men and an even-worse war.
"The story seems like fun at first with the drawing-room murder feel, but it takes a darker turn than you might normally expect."
And Then There Were None is out on DVD on January 11 from RLJ Entertainment's Acorn label.