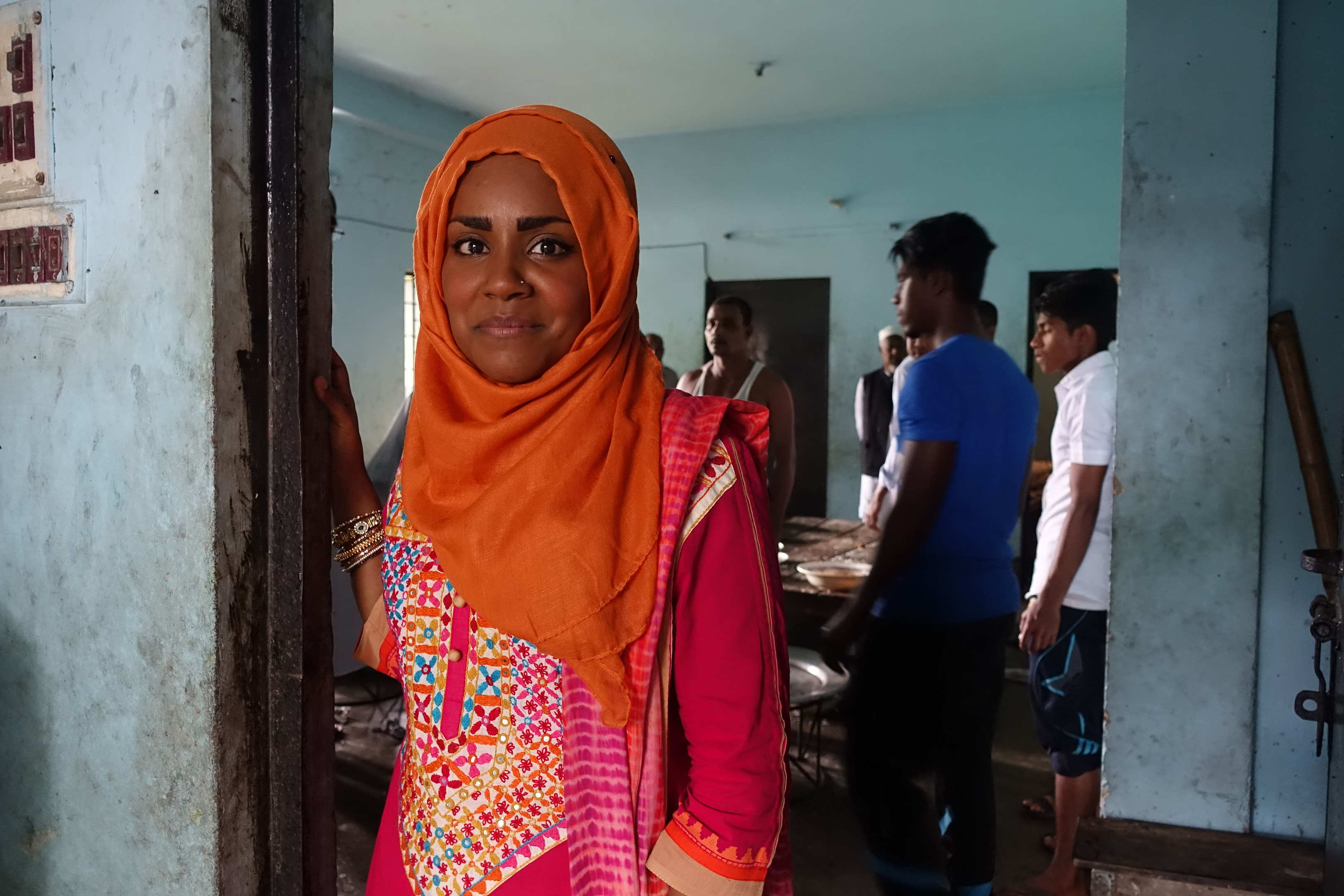 SHE won the nation's hearts last year with a stunning victory in The Great British Bake Off.
Nadiya Hussain went from a nervous contestant on the much-loved bakery show to the queen of the kitchen in the space of a couple of weeks.
Since then she's become a household name.
And the mum of three returns to TV to front a new cooking and travel show in which she visits Bangladesh, her ancestral home country.
In The Chronicles Of Nadiya, on BBC1 after the first episode of the new series of Bake Off on Wednesday, the 31-year-old will explore her culinary roots.
She told The Sunday Post how her life has changed since becoming Britain's best-loved baker.
How do you cope with being away from family?
I was at home caring for the kids for 10 years so it has been a massive adjustment.
I could not have done it if I didn't have my husband constantly just pushing me out the door and saying, "Look, you don't know whether you're going to get these opportunities again; you need to just grab it with both hands and enjoy it."
My husband literally just picks up where I drop off.
This morning I gave the kids breakfast, walked out the door and Abdal just picked up where I left off.
He used to ring me and ask: "Shall I feed them now?"
And I'd say: "Yes, generally they need fed…" Now he doesn't have to ask!
What has the public response been like following your Bake Off win?
I have had such an amazing response. Such lovely people come up to say hello! They've always got nice things to say.
I'm not counting all the negative people on social media! When I meet people in the street they're lovely and always have something good to say. It just makes me smile from the inside out.
I do get stopped by people who say I've inspired them to get in the kitchen. They'll say stuff like: "By the way, I'm having this issue with my cake and it keeps sinking in the
middle. What should I do about it?"
Can you go down to the local supermarket for a shop unhindered?
It depends what time of day it is. If it's past 11 o'clock at night then it's a lot easier because I can hide between the crates and the shelves.
During the day – forget about it! Let's just say I've adopted online shopping with open arms.
On the downside the supermarkets do that replacement thing where they don't have bananas, so they send you chocolate bananas!
I'm the type of person who won't send it back. If I order apples and I get chocolate instead I'll just say OK, thank you! Probably because it's chocolate…
Do you think more about what you wear? How important is hijab to you?
I can't go out in my pyjamas any more – not that I did that very often!
I'm not overly self-conscious. I am what I am and, like everybody else, I have good days and bad days and no amount of make-up can cover it up.
I've been wearing my hijab since the age of 14 so it's a part of my skin now.
I wouldn't have it any other way but I have to remember, as a mother growing up in Britain as a Muslim, as a Bangladeshi, I can't allow my children to be bogged down with definitions. I don't need my children to grow up with labels.
That's something I've had to grow up with.
Yes, I'm a Muslim and yes, I outwardly show that I'm a Muslim, but I don't need that label.
I'm hoping that through time I'm breaking down those hurdles for my children because I don't need their religion to define them. I need them to define themselves.
How do you cope with the long days?
My children are my respite. I get the joy of doing this and then, at 10 o'clock at night, I give my kids a cuddle, have a bath and go to bed.
I get to go home to a husband who runs my bath and children who I know have gone to bed very happy.
If I didn't have them I think I would go mad.
I'm really lucky because I've fallen into something that I love at a very good time in my life.
I'm 31 years old, I'm settled, I have a lovely husband, a home and three beautiful, healthy children. To be honest I was living the dream before I did Bake Off. So this is a bonus.
Do you mind your husband has become a sex symbol?
(Laughs) No! Did my laugh give it away? Well, I was a little bit annoyed. I said to him: "Hold on, I've been on this for 10 weeks and I've got nowhere near as much attention as you have and you were on screen for about 16 seconds."
Genuinely, though, he was so embarrassed! I told him: "Let's just admit you're good-looking and move on from this."
He thought it was really funny and he did tease me every now and again when he got a message online from someone who fancied him. But it was usually from
middle-aged men!
Have the children got more demanding for treats? Do they expect you to whip up a masterpiece?
What – chocolate peacocks every weekend? No, I think they are almost immune to it because I'm always recipe-testing and baking, I'll be doing three different types of dessert and they'll just walk into the kitchen and pick up an apple. They're very honest with opinions, as most children are. Brutally honest.
I remember making something while I was practising for Bake Off. It was white chocolate and lavender cake.
My eldest tasted it and said: "Don't ever do that to me again."
Yeah, they're honest!
Were you nervous about going to Bangladesh?
I missed my children every day, especially at night because I wanted to just give them a kiss goodnight. Luckily I had lots of Skype calls with them. They would just leave the phone in the middle of the living room so I could watch them while they played – so it almost felt like I was there.
Other than that it was about going back, seeing my family and almost reliving Bake-Off with them.
They hadn't actually watched the show until I sent off 10 DVDs to the village. Before I turned up they had a 10-hour, box-set marathon!
Are you more careful about your family's safety now?
I don't go out of my way to hide my kids. They're in my cookbook! But it's not the easiest thing when I take them out and somebody tries to manhandle me and give me a hug. You think OK, well, my kids probably don't need to see that.
I'm careful but I'm also really aware of the fact that I don't want to stop being myself and I don't want to be that wary that I stop being myself. And there are so many perks that my kids enjoy that they can't really complain.
All of this success isn't that important. I'd be happy in a cardboard box with my kids.
I think it's nice to be able to give them whatever they want, but I don't want them to feel they have everything at their beck and call, which they will never have!
After Bake Off, a cookbook and a TV show what sort of things would you like to do next?
I've got the kids' cookbook out in September, and I've got a novel out in January. I love writing. All these opportunities are ones that I didn't think I would have.
None of this was in a plan.
The fact that I even have an option is great. I'm just winging it!
---
READ MORE
Meet this year's Great British Bake Off contestants
Book deals, Twitter trolls and a party with Sir David Attenborough: Flora Shedden on life after Bake Off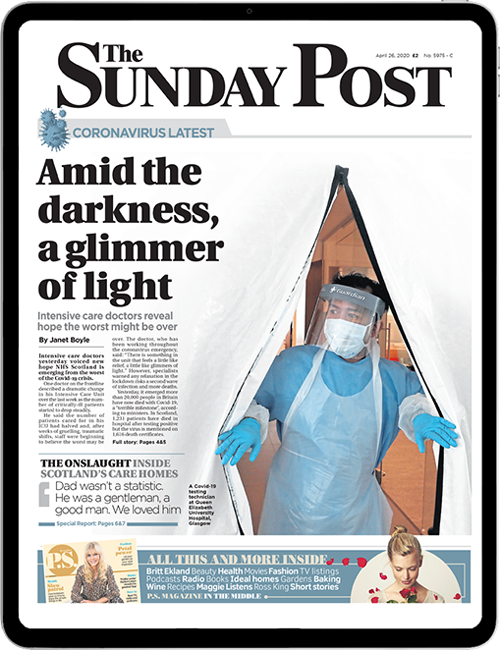 Enjoy the convenience of having The Sunday Post delivered as a digital ePaper straight to your smartphone, tablet or computer.
Subscribe for only £5.49 a month and enjoy all the benefits of the printed paper as a digital replica.
Subscribe