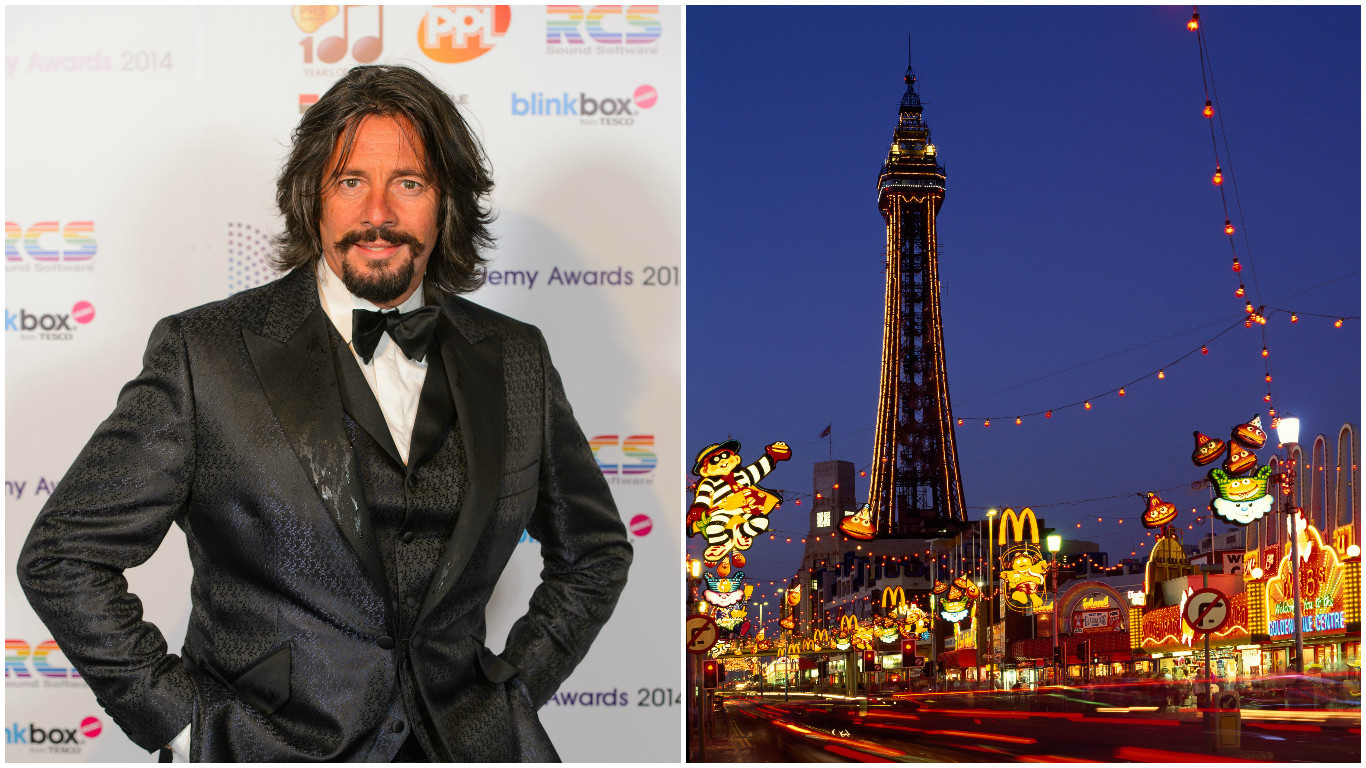 AS far as strange combinations go, few are as unlikely as foppish interior designer Laurence Llewelyn-Bowen and the earthy charm of Blackpool.
But the former Changing Rooms man says the seaside resort is his favourite place in the world – even finding the rain there magical!
The 51-year-old interior designer is now in his tenth year working on Blackpool's famous Illuminations, having spent much of that time as the attraction's creative curator.
This year's big switch-on is to take place on Friday evening and will spark a stampede from all corners of the UK to visit the revamped lights.
For Laurence, an unlikely love affair with the city stretches back 30 years.
"In 1986 I was working with a rubber company, which was as glamorous as it sounds, and I was sent on a train to Blackpool to visit the Winter Gardens, which wanted some of our flooring," he explained.
"It was a wet, ugly, foggy day when I arrived but I immediately fell in love – it was like an architectural jewel box.  I didn't see the kebab shops and tattoo parlours, I saw the beautiful white casino building and the tower and the theatre.
"When I took over the Holiday programme, I told them I wanted to do a film on Blackpool.
"The BBC response was, 'wouldn't you rather do Bali, darling?'
"But I think we should celebrate what's under our noses."
To begin with, Laurence's role entailed simply designing new Illuminations each year but he's since taken on the task of
persuading local businesses to part with cash to support the light show.
"That's become almost a full-time job," he continued.
"We had a difficult period four or five years ago when we realised we couldn't rely solely on council funding any more.
"The Illuminations bring more than £100 million to the city every year, so I feel businesses should be engaged in that and feel proud to be involved.
"It's about going to the local community – the restaurants and businesses – rather than huge corporations because I feel the Illuminations have always been a celebration of community."
One of Blackpool's biggest recent successes has been Lightpool, which involves massive projections of short animated films being launched on to the front of the Tower building. It returns this year with three new films, one introduced by astronaut Tim Peake and another created by Laurence and his filmmaker daughter, Cecile, called Enchanted Blackpool.
"I really want to get people out of their cars, rather than just create a polluting snake of traffic.
"I want it to be like Las Vegas, where you park, walk from one end to the other and experience the specialness of Blackpool and its community.
"One of the things we really wanted to do this year was create an evening of entertainment and Lightpool is that destination event at the Tower.
"I want people to stand there with their chips, even though it might be drizzly – although I think that's magical in Blackpool anyway – and be entertained.
"Both of my daughters adore Blackpool. Ever since I became involved, the switch-on became a huge part of their childhoods.
"Like me, they never saw Blackpool as an aggressive place. They only ever saw the prettiness and elegance of it.
"The film's a beautiful evocation of the town."
Laurence has delayed a business trip to Singapore to be there for the switch-on and he's excited about the direction in which Blackpool is heading.
"The change has been extraordinary," he added.
"It's really coming of age culturally and it's a pleasure to see.
"When the resort was started by the Victorians it was very elegant and cultural and you came away feeling stimulated and that your intellect had been exercised.
"The incredible story is as much about Marlene Dietrich as it is about The Krankies.
"Culture should be for everyone, not put on a pedestal, and Blackpool has always done that incredibly well."
---
READ MORE
Old favourite Blackpool is still full of surprises
Blackpool, Butlins and a bucket and spade: The golden age of the staycation