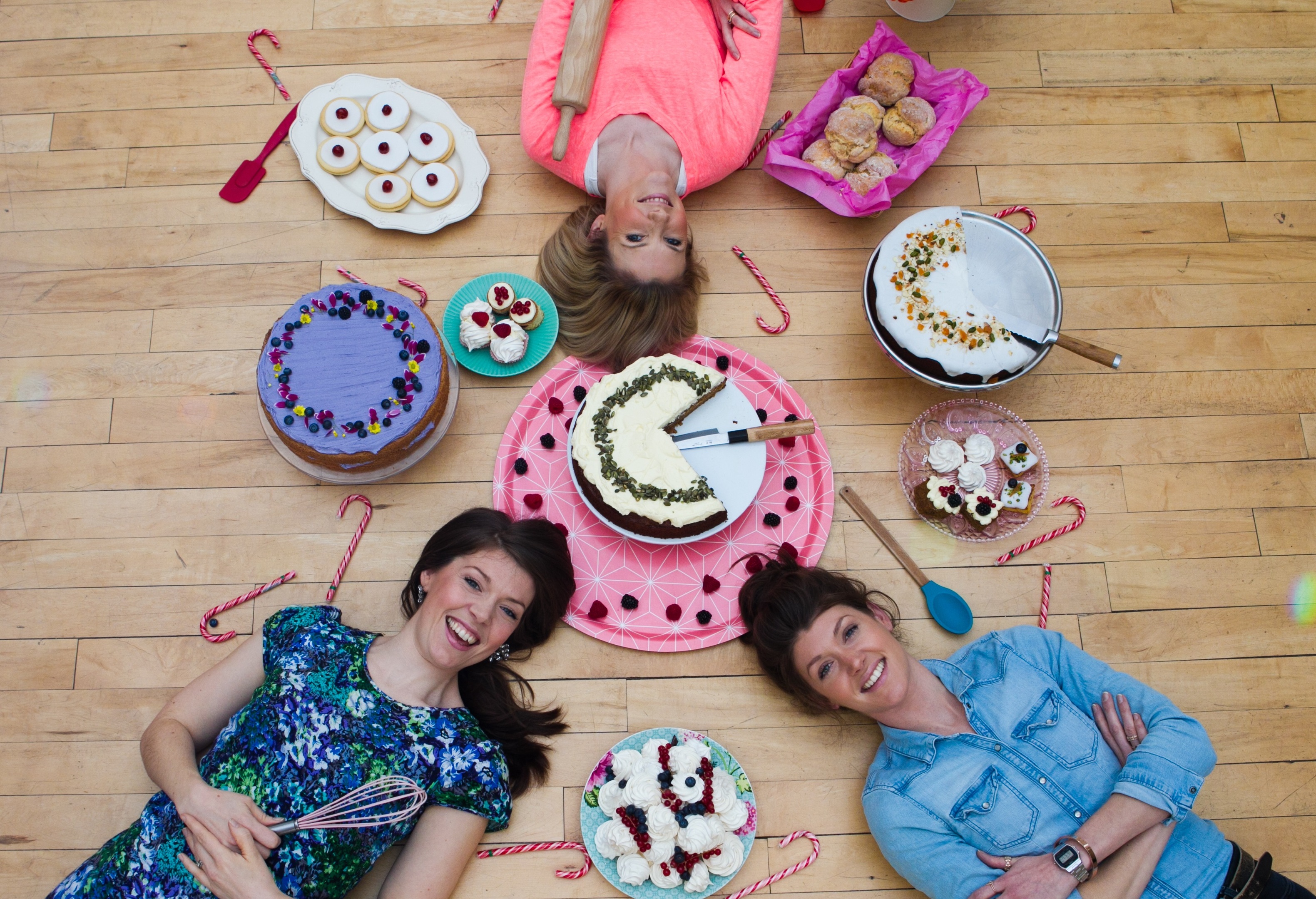 After starting out in office jobs, the three sisters realised their talents were wasted and decided to open the Three Sisters Bake cafe in Quarriers Village. They've since opened another and, in 2014, published their own cookbook.
The sisters have big plans for the future, including an online cake business. But they know that whatever they go on to do, there's one person they couldn't have done it without – their lovely mum, Alison!
She gave them their love of baking and cooking and is proud of the success her girls have made of working together.
To celebrate Mother's Day, we got them round the table to find out what they've learned and the memories they've made.
There was tea. There was chat. And there was lots and lots of cake…
---
Happiest memory
Linsey: The first family 'business' we ever tried our hand at, when we were all under 10 years old. We'd run an annual bring-and-buy sale for the Blue Peter appeal.
The skills that we now bring to the table at Three Sisters Bake have changed very little – Gill was in charge of putting up posters all over the village to 'market' the event, then handing out Blue Peter stickers on the day. Nic prepared the home-baking stand with mum, and Lins was dad's right-hand man on the barbecue station!
Half the village would gather in our garage where dad had built stalls to sell bric-a-brac– we'd be so excited to see what we'd managed to bring together!
Biggest drama
Linsey: We quickly discovered that running a hospitality business brings daily drama.
On our very first day, we expected few customers. Besides the three of us, we'd employed two part-time staff, and asked mum to be there to hold our hands. We immediately saw the error of our conservative ways.
We were jam-packed all day. Mum was put to work waitressing and dad was given an SOS call to swing by on the way home from work, Marigolds in hand, to help with dishes!
We definitely learned a lot of our love of cooking from our mum, Alison – and she has been such a fantastic support since we started the business. We couldn't have done it without her – and dad with his rubber gloves, of course!
Lessons learned
Linsey: Love what you do, but remember, however much you love it, all work and no play will soon see you lose the love.
There are times that we remind ourselves and each other that we need to take a step back from work.
Without the other adventures, excitement and people in our lives, we'd quickly lose our buzz.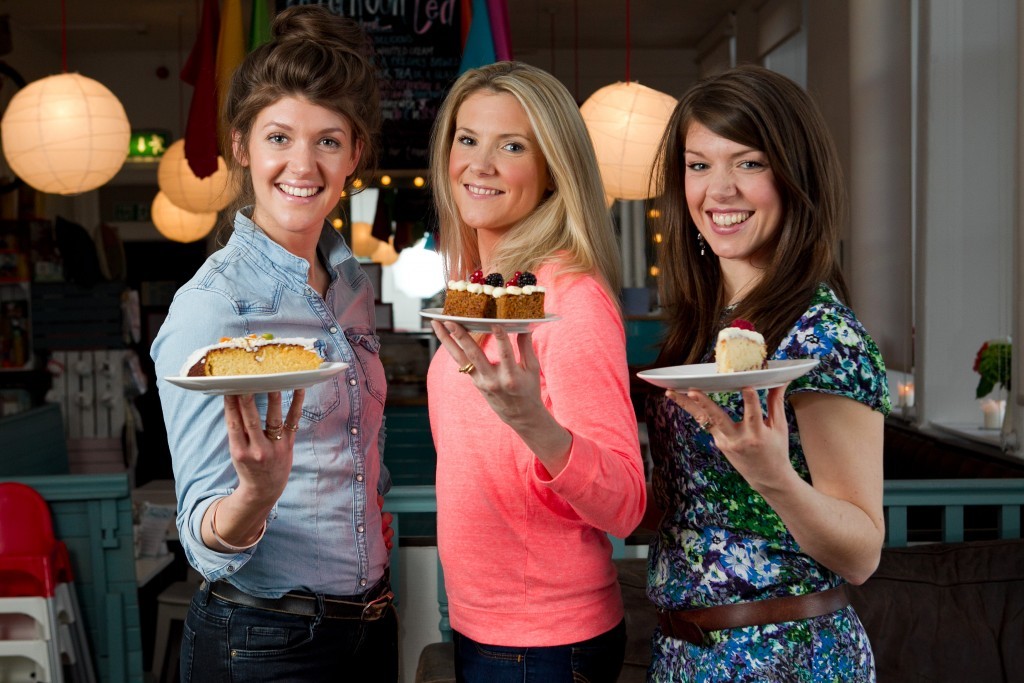 Sister goals
Gill: One major ambition we all share is to one day be able to invest in a family holiday home which our parents, friends and children could all use. We entertain ourselves by debating where this house might be located!
Top of the list is Blackwaterfoot on the isle of Arran, a place we spent a great deal of time as children.
Saddest moment
Gill: Our saddest moment was finding out Granny had died last year. She ran a sweet shop in Kirriemuir with our grandfather and was a phenomenal cook. She is definitely responsible for our baking gene! She used to make a tray of homemade tablet every day which she sold in the shop.
When we were visiting, each of us was given a job on the tablet production line and then were allowed to stand on a stool behind the shop counter taking money and putting it into the till.
Luckily, we were all together when we found out she had died. Granny loved a brandy, so we went straight to the pub and ordered a round in her honour.
Kitchen inspiration
Gill: Definitely Mary Berry. As well as being unbelievably talented and passionate about baking, she is a huge inspiration to any female working in the food industry. Mary's career history is varied and completely fascinating. She managed to achieve great things at a time where women were expected to stay at home. Plus she gets to work beside Paul Hollywood every day!
Bouncing back
Gill: One of the hardest things to adapt to for anyone launching a business in the 21st Century is reading negative things about your business on the internet. Thankfully, most of the feedback we get online is really lovely and any negative feedback is largely very constructive which is essential for the growth of a small business.
Most unforgettable moment
Nichola: It's the Glasgow 2014 Commonwealth Games. We had been taking part in the Glasgow Green Live Zone with our food-truck for the two weeks of the games.
Glasgow Green was mobbed every day and the process of planning for the event had been logistically terrifying and exhausting.
Once the Games kicked off, however, everything was amazing. Glasgow was, very unusually, bathed in sunshine and the whole city was abuzz. Glaswegians are a friendly bunch at the best of times but everyone seemed wrapped up and taken in by the excitement.
On the closing night, Dougie MacLean was playing on the main stage in the Live Zone. Just as the sun was setting, he started playing Caledonia – a good rousing Scottish song!
Gillian, Linsey and I abandoned the food truck for five minutes and ran across to watch him.
It was a goosebumps, tears-in-your-eyes moment – we had a huge hug and cry, relived that we'd made it through the Games and made so many happy memories of a once-in-a-lifetime opportunity.
Mother's Day gift station! we've got loads of lovely gift ideas for mums, mum-in-laws and granny's in our craft boutiques at both cafes ☺️ #mothersday #lovelymums #craftboutique #glasgow #cafe #giftshop

Posted by Three Sisters Bake on Tuesday, 1 March 2016
Favourite bake
Nichola: One of my favourites is our "splodge". It's a tray-bake, a bit like tiffin, made with bashed up biscuits, condensed milk and chocolate. Mum used to make this with us on rainy school holidays – of which there were many growing up in the west of Scotland!
Mum was a home economics teacher and much of our childhood was spent cooking and baking.
She made everything from scratch, nothing shop bought was allowed across the door. Mum coined the named "splodge" as a bit of a joke, but it stuck!
It was one of the first recipes I wrote for our cookbook and we've had some lovely emails from people telling us about their own fun (but messy!) splodge-making escapades!
Me and my sisters
Nichola: As corny as it sounds, I couldn't live without my sisters. Although we fought non-stop as children, by the time we got to our 20s, we were the best of friends.
We've all lived and travelled together abroad – Gill and I spent a summer working in a sandwich bar in a beach club in the USA. We had a tiny little workspace and spent the summer working about one foot apart in 30 degree heat! It sounds dreadful but we had such a fun time.
In 2009, Lins and I spent two months travelling around south-east Asia together. Nearly every day included a wonderful experience and also a completely awful or death-defying moment! This kind of trip with the wrong person could have been a disaster but my overwhelming memories are instead of wonderment and hilarity!
Now that we're in our 30s and running a business together, we're closer than ever. We try to ensure that the hilarity which defines our friendships is never far away.
---
READ MORE
Bake of the week: Raspberry frangipane tart