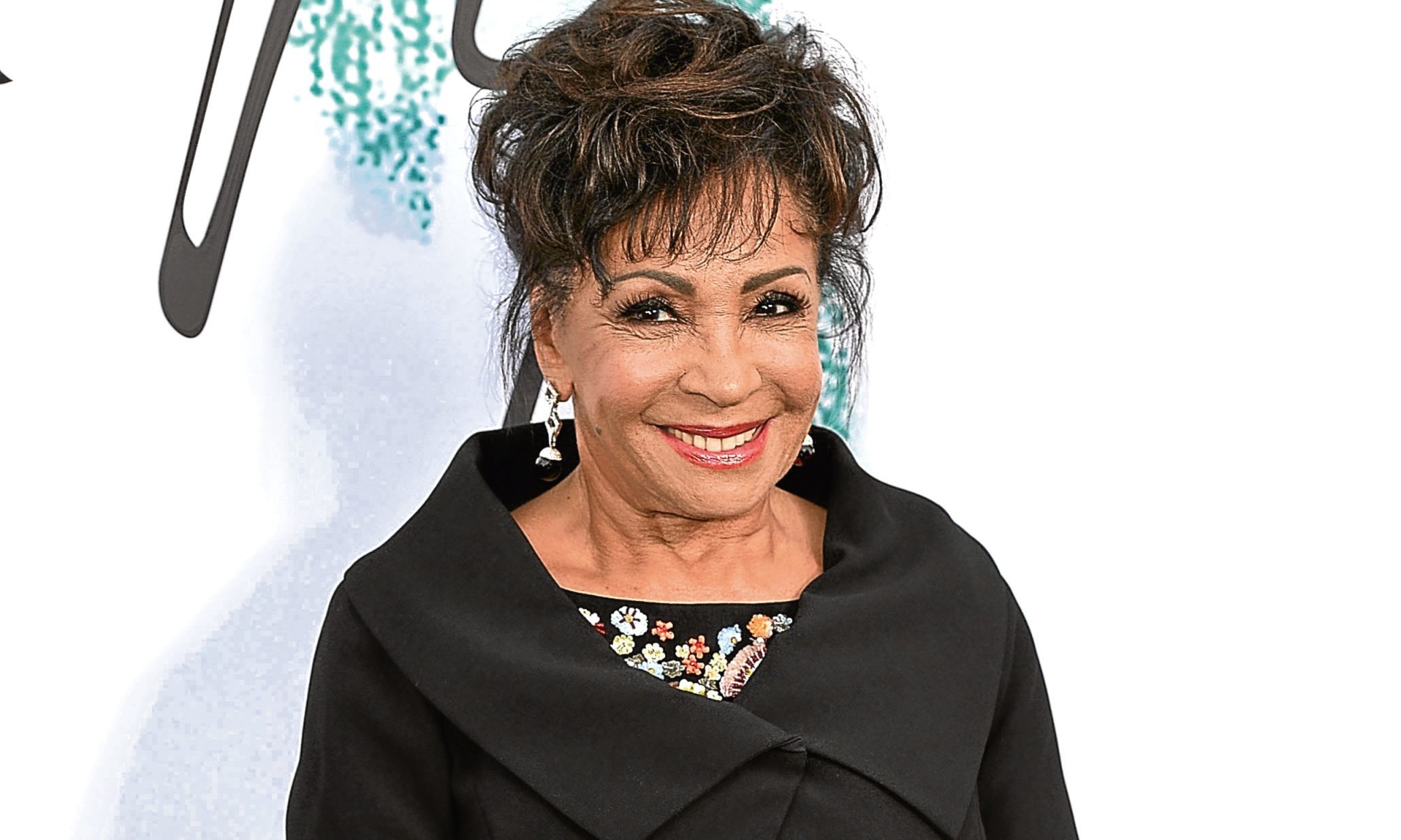 DIAMONDS are forever, but gold lasts even longer.
At least that's the case if you are Dame Shirley Bassey — the 100-carat star whose Bond songs are still huge favourites all over the world.
It might be 53 years since Goldfinger hit cinema screens with a title song that told the world that nobody does it better than Dame Shirley, but she hasn't ruled out singing another Bond song.
"If the song is right, I would love to do it," she said.
"I have to be asked, of course, and perhaps there are other plans in place, but I like the James Bond films and I'd certainly be happy to do another one."
Shirley was, of course, an international star well before Goldfinger, but there is no doubt that she and the song were good for each other.
"It is a high-powered song with some really testing notes, but when you hit it, it is great," she said.
"The first few bars are very dramatic and lead you into a strong performance. I was delighted it became so popular, and even now, people still want to hear it.
"Goldfinger has become a film classic and one for me, too."
Shirley admits that she is her own worst critic.
"I really am," she said. "Do you know that I've been associated with Goldfinger for all this time and I am always asked to sing it, but it has also haunted me for all that time because I know there were a couple of notes not quite right in the recording.
"Every time I hear it, I notice it. Those notes are the part of the song I hear more than anything else and while other people say that I am the only one who notices, it still gets to me."
Diamonds Are Forever came seven years later, another big hit and another of Shirley's favourites.
"This one was different, but still dramatic, like Moonraker that followed," she commented.
"When you are singing these songs, you are compelled to play the part. I think that is the same for anything you sing.
"If you just go through the motions, remember the words and sing them, you will get by, but if you act your songs from inside, they will really come alive."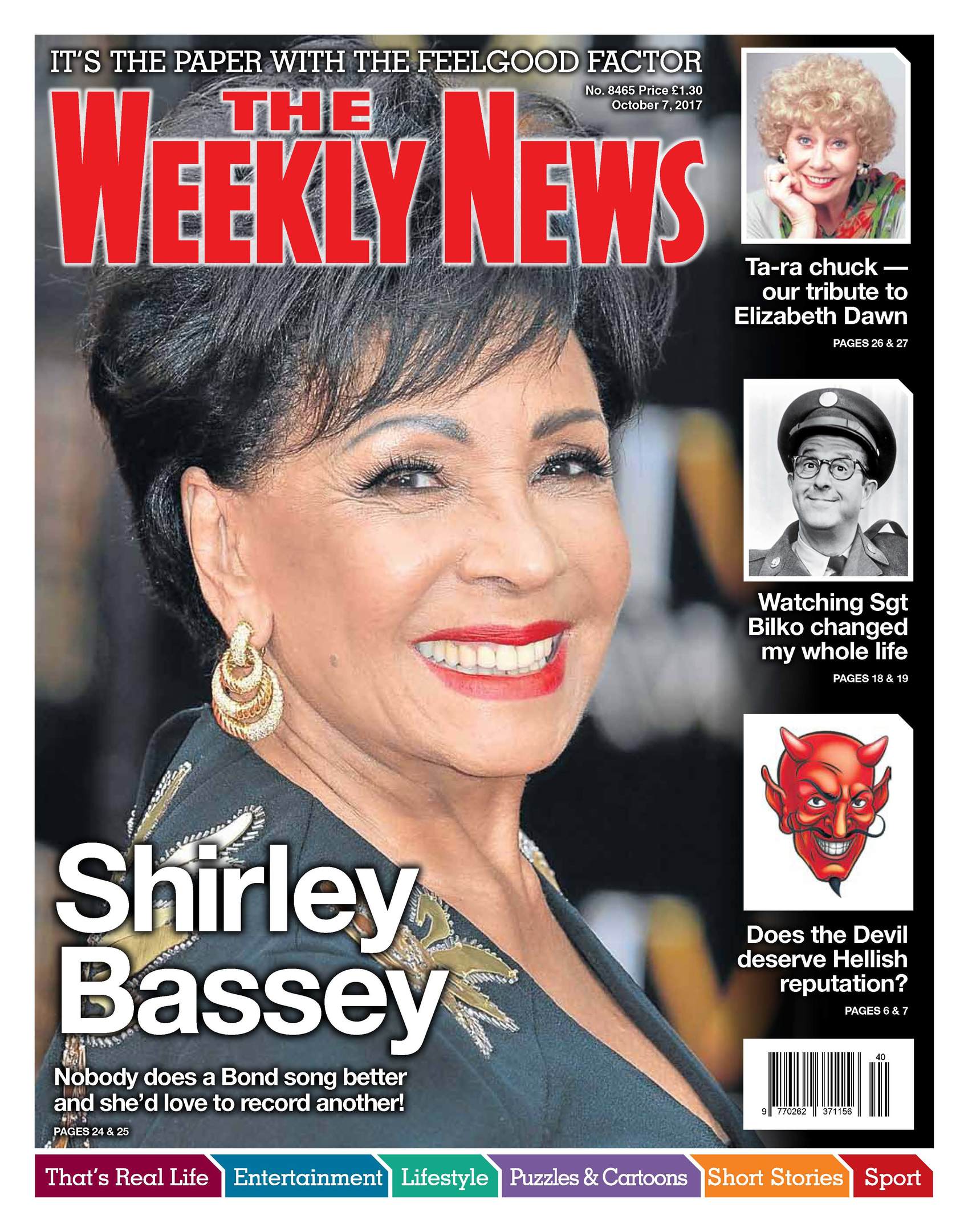 Having been at the top for so long, Dame Shirley, now 80, knows what she is talking about.
"I've been singing all my life, for as long as I can remember," she said. "My mother used to get us kids together for family sing-songs, which were fun.
"I think that is when I was first encouraged to sing, although I never had any ambitions at that stage to be a singer.
"It's funny to look back at my teens and leaving school with people advising me what I should do.
"I tried to convince myself that I wanted to be an air hostess or perhaps a model.
"I even thought of becoming a nurse until I realised that the sight of blood was not something I could particularly get used to.
"Underneath the whole thing, I think I knew I wanted to sing, but I resisted it.
"I wouldn't admit to myself that a singing career was an option.
"When I was little, I hated the dark — I still do, to be honest — and if I woke up in the night, I used to sing to myself rather than cry. I have been singing ever since.
"I never thought about becoming a professional singer, though. I never had any singing lessons and I have never been able to read music. I just sing and perform.
"I suppose I've had a glamorous image for some time, which is not bad considering one of my first jobs was working in a sausage factory!
"The factory had its own social club, and every Thursday, I used to enjoy dancing or even a game of darts.
"I was really happy, and to help put some extra money into the family purse, I started singing in local pubs and other social clubs.
"I loved it, but didn't take it seriously until someone suddenly offered me a contract and then everything changed."
Shirley's obvious talent meant she was soon being offered engagements further and further away from Cardiff, and it was when she was appearing at a club in London that her life turned upside down.
Bandleader and impressario Jack Hylton saw her and engaged her.
"That was a major moment for me," she recalled.
"When I was 17, I decided to retire from showbusiness, but I am glad now that I changed my mind. I didn't enjoy it a bit at the start, it was just a way of earning more, but I grew to love it."
The Shirley Bassey story is one of massive worldwide success and more than half a century after being spotted by Jack Hylton, she really has lived up to the title "legend".
She has done it all — topped the bill at the Royal Variety Show, starred in her own TV spectaculars, sold millions of concert tickets all over the world, and even stole the Morecambe and Wise Show with a brilliant comedy performance.
Her thousands of fans are totally devoted, and her fan mail comes from pre-teens to centenarians.
"The fans mean everything to me," said Shirley.
"I love to sing and perform, of course, but it is my relationship with my fans that really matters.
"That is why I try very hard at the end of concerts not to ignore those people who wait to meet me.
"It is not always easy because venue security sometimes take over, but I do try to speak, shake hands and sign autographs."
From her first recording of the Banana Boat song in the 1950s to today's huge-selling albums, Shirley has rarely been away from the charts.
In fact she has spent more time in the British charts than any other female performer.
"I am very grateful for all the support I've had from the public.
"They have been very nice to me and that is why it is so important for me to give my very best, whether it is in concert or in the recording studio.
"Perhaps that's why people say I am a perfectionist. I suppose I am when it comes to not disappointing people."
Because of the drama that goes into her performance, many people don't realise that Dame Shirley has a very real sense of humour.
"Oh, you have to see the funny side of life," she said.
"It is very important not to forget how to laugh. Life can be tough, so look on the bright side and laugh when you have the chance."
The Royal Family have long been fans, and especially the Prince of Wales, but she was still taken aback when she heard the news of her impending damehood, in 2000.
"I was totally amazed," she admitted. "My whole life flashed before me and I felt very emotional. It is the greatest honour a performer could have and I could not believe that it had happened to me."
Of course, Shirley's success means that she is also a very wealthy lady, and she enjoys it to the full.
"I spoil myself a little with jewellery, nice clothes, works of art, homes and various other trimmings," she said.
"I have earned it, so I might as well enjoy it. I am a Big Spender."
Her gifts to herself do not mean that she indulges herself in all the wrong ways.
She maintains her marvellous figure, vigour and looks by keeping a strict watch on her diet, exercise and her drink intake, confining herself to water and Champagne.
It is that strict discipline which has helped her beat the age barrier and discarded any further thoughts of retirement.
"You don't get older," Dame Shirley declared. "You just get better."
Like James Bond, Dame Shirley never really ages. She looks great and sounds great, but we still want to know which of her Bond songs she likes best.
"That's a difficult one," she said. "I think Goldfinger has had the most impact, but who knows, perhaps the favourite one will be the next one!"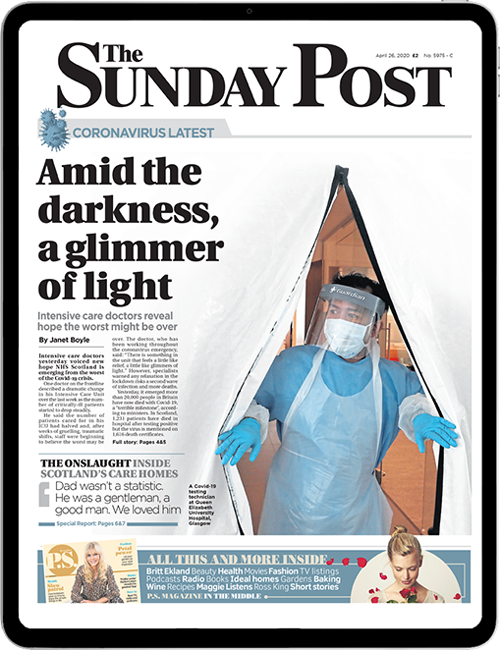 Enjoy the convenience of having The Sunday Post delivered as a digital ePaper straight to your smartphone, tablet or computer.
Subscribe for only £5.49 a month and enjoy all the benefits of the printed paper as a digital replica.
Subscribe