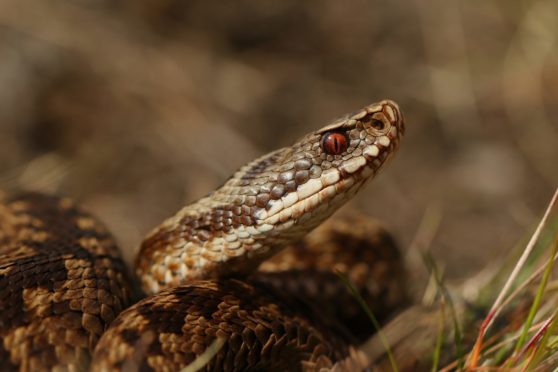 A fine old uncle of mine once told me about meeting an adder on the Bad Step on the unforgiving Skye Cuillin. It's what you might call a bad break.
If you were of a particularly perverse turn of mind, you could be forgiven for thinking that the mountain gods had it in for you and your interests might be better served by turning round and going to the pub. My uncle was not of a perverse turn of mind. He loved wild country and wildlife and climbed and cycled all over the country and a few other countries besides, and he was a significant influence on my young life.
On the Bad Step, he and his companion calmly rationalised the situation and decided on a well-thought-out strategy – throw stones at it. If you don't know the Bad Step, it is essentially a crack-cum-ledge across a smooth, curving slab of rock, a seaward edge of the Skye Cuillin. With good balance on a calm day, it's nothing more than a slightly edgy walk.
If your sense of balance wobbles in exposed places, however, and it's blowing a vigorous south-westerly – not unknown in these parts – there will come a moment when you start to wonder what on earth you're doing there. If you have got into that introverted state of mind in which you are aware of nothing at all other than your feet and the proximity of the drop to the sea, that may also be the point at which you suddenly regret not learning to swim.
Then, suddenly, your antennae twitch, you raise your gaze a few inches to something a little further in front of you, and there is a sunbathing snake loosely coiled in the middle of the slab. People might have warned you about the Bad Step. The chances are they never said anything about adders.
My uncle, on the other hand, was a good climber, knew about adders and, crucially, he knew that this adder would be no keener on the confrontation with a 6ft human in climbing boots than the human was with the adder. The problem, as he and his friend saw it, was that the adder showed no inclination to move, and appeared not to have noticed that the confrontation was imminent. Making a noise didn't work.
That was when the stone-throwing option seemed like a good one. But the nearest stones were some yards behind them, and that would mean turning round on a piece of rock about the width of a pair of climbing boots. My uncle was up for it. His friend was not.
So he went back for some stones and told his friend to duck while he lobbed them in the general direction of the adder. It took about 20 minutes for this to have the desired effect.
If there was a record book for such things, it could well have qualified as the slowest traverse of the Bad Step. Adders trouble us. They have done for thousands of years. In Scotland, most of us have never seen one – or any other kind of snake for that matter – for the adder is our only true snake.
The other thing is that, yes, it does bite. And, yes, the bite is poisonous. And, yes, very occasionally someone very unlucky dies of an adder bite. The odds against are longer than a convincing encounter with Nessie and every time the adder will prefer to get out of your way.
An adder's bite is designed to kill its prey – things like frogs and lizards and voles and wee birds, not things the size of you and me. Yet they have always found other ways to get under our skin.
They adorn Pictish stones, their carved images always much larger than the horses, wolves, eagles, and other creatures they slither among. The creators of the 9th Century Book Of Kells might well have had the Garden of Eden in mind in their liberal use of snakes, but the adder would have been their only reference point. Scholars have suggested that adders' capacity to "shed their skins and renew themselves" is the perfect metaphor for resurrection.
Two Scottish books published almost 100 years apart acknowledge the twilight world in which the adder is perpetually cast: Seton Gordon's The Land Of The Hills And The Glens from 1920 and, from 2012, the encyclopedically beautiful Fauna Scotica by our own Polly Pullar. In the latter, Borders writer Mary Low quotes a Gaelic connection to St Bride which translates thus: "Early on the morning of St Bride's day the serpent comes from the hole; I will not molest the serpent, nor will the serpent molest me."
If the very idea of a chance encounter with an adder brings you out in a cold sweat, steer clear of Jura, where it still thrives.
Seton Gordon suggests you might have an easier time of it on Iona: "Arising from the blessing given to the island by Columba, it is said that no serpent can survive on Iona, and I believe that on the few occasions on which adders have swum the sound they have soon perished.
"This immunity is also said to be found in the district of Ormsaid in the Ross of Mull which is supposed also to have been blessed by the saint, whereas on the adjoining lands on either side adders in plenty are to be seen."
I have met half a dozen, and always in memorable circumstances.
One encounter was on the Sleat peninsula of south Skye where a remote road offers the chance of a glimpse of golden eagles approaching an eyrie. I had pulled over, and it was one of the lucky days, for within half an hour I had seen both adult birds.
As I stepped backwards from the edge of the roadway on to a grass verge while trying to hold raised binoculars relatively still – so not looking where I was going – something caught the corner of my right eye. I had just put my right foot down less than a yard from the tail end of an adder.
In those circumstances, do you watch the eagle or the adder? I chose the adder because I was struck again – as I always have been, every time – by the extraordinary beauty of that most mistrusted of creatures.
The second encounter had echoes of my uncle's moment on the Bad Step. I was in Gleann Einich and, as is my habit, I was walking off piste, a few hundred feet above the beaten track between Coylumbridge and Loch Einich. And suddenly there was a neatly curled adder 10 yards in front of me.
Unlike the Bad Step, the mountainside was wide open and offered any number of options for avoiding the adder. I chose to climb about 20ft above it, then sat down to enjoy a rare opportunity. What I thought I was seeing was an adder sunbathing.
I found a comfortable viewpoint without disturbing the adder. It was utterly motionless. Very gently, I took my camera from my pack and focused its zoom lens on… an empty adder skin.
There was a moment then when I knew – very briefly – a sense of kinship with the twilight world theorists. To slough your old skin, to emerge vibrantly clad in a brilliantly lit replacement, the very symbolic essence of rebirth, and to leave the cast garment to "moulder away and be like other loam" as Edwin Muir wrote about something else altogether…it's quite a thing when you think about it.
By how long, I wondered, had I missed bearing witness to one of nature's small miracles of renewal?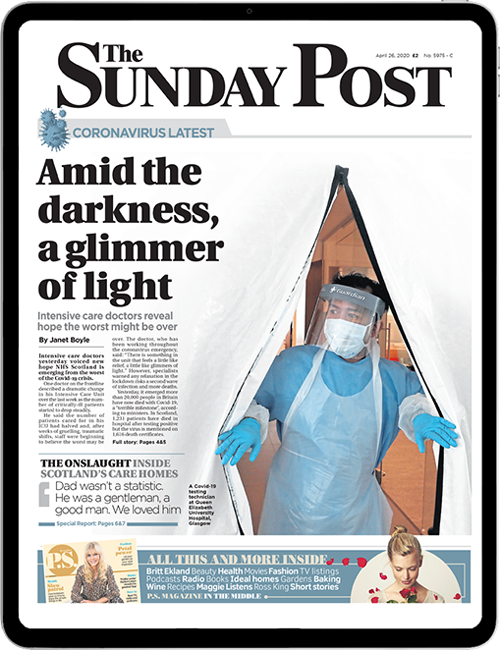 Enjoy the convenience of having The Sunday Post delivered as a digital ePaper straight to your smartphone, tablet or computer.
Subscribe for only £5.49 a month and enjoy all the benefits of the printed paper as a digital replica.
Subscribe