Glasgow Film Festival is one of the most popular events in the movie calendar. But with cinemas closed, how will it adapt? Co-directors Allison Gardner and Allan Hunter tell Murray Scougall the Honest Truth about organising a film festival during a global pandemic.
How difficult a year has it been for the film industry and why was it important for you that GFF still went ahead?
Allan: It's been hugely challenging for all aspects of the industry but the thing with GFF is to look at circumstances and find the opportunities. The festival is online, so we embraced it as an opportunity that people who can't normally come to Glasgow for whatever reason can get a taste of the festival. It's about looking at the positives and thinking we can still put on a good programme.
Usually both of you would attend film festivals around the world to choose the programme. How different was it this year?
Allison: Although the likes of Cannes and Toronto's festivals were cancelled in-person, both were online so it wasn't difficult to access films. But the rose wine I was serving myself during Cannes wasn't as good as I'm used to during the festival!
Allan: The only thing different was we were viewing the films from home. The programme is smaller this year – 62 compared to 180 – but maybe that has made the quality threshold even higher. We had to be really passionate about a film to pick it.
Were the number of film submissions you received affected?
Allan: I don't think they were, it was roughly the same. There's been less places to show films, so at some point there comes a glut of productions looking for a showcase.
The question for filmmakers was do they wait for a theatrical release to come over the horizon or do they decide to get it out and seen somewhere that will give it a sympathetic launch? I think we've been lucky and have really good quality.
Will the audience interaction of the festival be maintained?
Allison: There will be introductions from the film-makers and Q&As with the films.
We also hope to set up virtual bar rooms to talk about the films afterwards, because usually both of us would be wandering around the cinema and hearing from people on what they have liked and not liked.
It will be a different experience this year, but I hope we can still hear what the audiences have to say.
Will there be limits on the number of people who can watch the screenings?
Allison: Yes, there's a cap on the number of public attendees, which has also been the case at other festivals. We've talked a lot to London Film Festival and feel we've made sensible decisions.
Which films would you most recommend to audiences?
Allison: An audience Marmite film might be Black Bear, one of those films you'll either really go with or think that it's not your thing. I thought it was tremendous.
Allan: I can't wait for audiences to see Limbo – my film of the year for 2020. It's about a Syrian refugee asylum seeker on the Outer Hebrides and the life he has there while waiting for his application to be processed.
It's a film that breaks your heart and puts it back together again. It looks beautiful. I would also recommend Sweetheart, which receives its world premiere with us. It's a coming-of-age tale about a teenage girl on a family holiday that she doesn't want to be on. It's fresh, funny, British, and full of promise from both the actor and director.
Glasgow Film Festival runs from Feb 24–Mar 7. The full programme can be viewed at glasgowfilm.org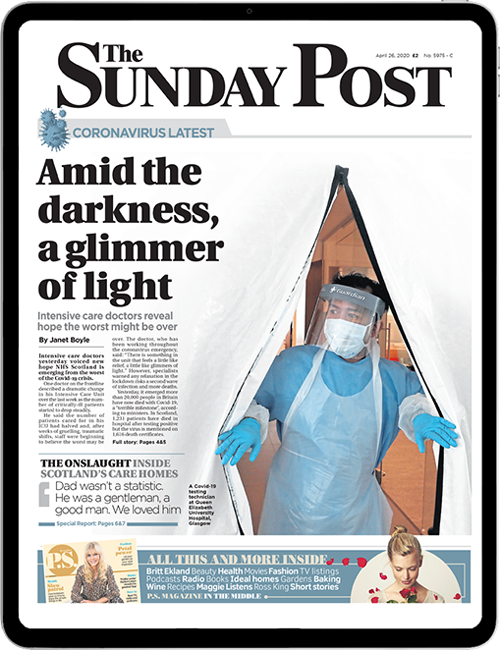 Enjoy the convenience of having The Sunday Post delivered as a digital ePaper straight to your smartphone, tablet or computer.
Subscribe for only £5.49 a month and enjoy all the benefits of the printed paper as a digital replica.
Subscribe