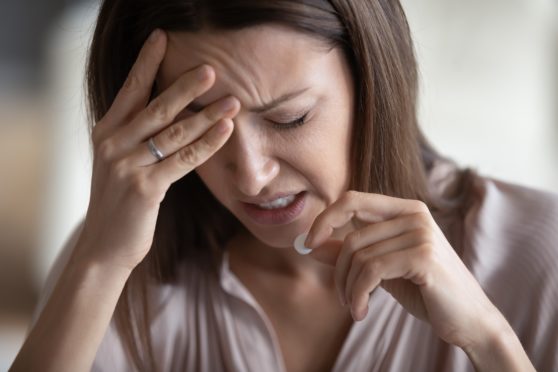 We've all had a sore head at some point in our lives. Whether caused by tiredness, stress, too much alcohol or not enough water, that distinct throbbing pain signals that it's time to reach for the painkillers.
But for the millions of people who suffer from migraines, headaches are a troubling feature of everyday life.
An estimated 740,000 people in Scotland suffer from migraines but now, a new wonder drug hailed as revolutionary by experts could offer relief to those people and millions others around the world.
"A migraine is much more than just a headache," said Dr David Watson, a GP who runs a specialist headache clinic at Aberdeen Royal Infirmary. "In fact, it is considered a brain disorder."
The condition brings other symptoms such as nausea, sensitivity to light and noise, altered vision, problems with balance or a tingling sensation, brain fog, even temporary paralysis.
Dr Watson added: "There is a spectrum of about 30 symptoms and the headache is just part of it. I can't think of any other condition where patients can be fine one day, but can't function the next.
"Migraines are genetic and occur in people who have a brain that is susceptible to being wound up.
"At the start of a migraine you get a wave of negative electrical energy that travels across the brain and starts an inflammation.
"The migraine brain can be easily upset by triggers such as stress, hormonal changes during a woman's menstrual cycle, a dip in blood sugar or even, as bizarre as it sounds, the air pressure outside.
"The migraine brain needs routine…regular meals, exercise, sleep, not getting too stressed. Sometimes all it takes is a break from this routine, like skipping breakfast or lunch, or staying up late at the weekend, to bring on a migraine. Tiredness, sweet food cravings, mood changes and feeling thirsty may signal that an attack is on the agenda in the next few days.
"So if you are susceptible to migraines, a healthy lifestyle is one of the best steps to try to reduce the occurrence."
Migraines are three times more common among women than men, the higher rate most likely hormonally-driven.
They are more prevalent than diabetes, epilepsy and asthma combined, and classed by the World Health Organisation as every bit as debilitating as dementia and quadriplegia.
In the UK, 25 million work or school days are lost every year to migraines, costing the economy £2.25m and leaving a £150m hole in the NHS.
"We don't know yet what causes migraines, but our understanding is building all the time," said Lisa Plotkin, policy and research manager for The Migraine Trust. "It's an inherited condition, and has been described as a bit like meningitis without the fever.
"Essentially it's an inflammation of the brain. While they can be problematic for some people, they can be completely disabling for others – 2% of the population suffer from chronic migraines (more than 15 attacks a month).
"A migraine attack can last for up to four days and is complex and individualised. While some people may have to spend the day in bed in the dark, others need to be close to a sick bucket."
Until now there have been a range of treatments, using drugs developed to fight other conditions, such as depression and epilepsy. Botox is another option. While the muscle-paralysing injections are a popular cosmetic treatment, their nerve-blocking effects mean they can successfully treat migraines.
There are also alternative treatments such as acupuncture and magnesium and CoEnzyme Q10 supplements which some sufferers have found helpful.
Last week, the Scottish Medicines Consortium approved a new drug, Ajovy, specifically designed to treat the underlying causes of migraines.
It is the first – and only – migraine-specific treatment and Scottish sufferers who have chronic migraines will gain access to it ahead of the rest of the UK. "It's a revolution in the way migraines will be treated," added Lisa. "It will only be available to patients who have failed three prior treatments, but hopefully it can be successful one."
Dr Watson said: "I am delighted the SMC has approved Ajovy. CGRP is a pain protein in the brain, and if we block that, it can stop migraines or make them less severe. The clinical trials show that Ajovy can reduce migraine frequency and severity and make a significant impact in patients with migraine disability.
"It may be successful for some sufferers and not for others. Only trial and error will tell. But as a practising clinician, it is always helpful to have more options to treat patients."
---
"It felt like I was being hit over the head with a hammer"
Maeve Dixon, 47, first began to have migraines in her teens – though at the time she didn't really know what it was.
"I had quite a few really bad headaches that meant missing a day of school, but only a couple. It didn't cross my mind at the time that it could be anything more serious," she said.
However, when Maeve, from Glasgow, was in her early 20s, she started taking the contraceptive pill, and noticed the headaches becoming more severe – and occurring more regularly.
"I felt like I had been hit over the head with a hammer," she said.
"The first one happened in the middle of a lecture at university and I just had to get up and go home.
"I just didn't know what was happening.
"I didn't make the connection at the time and it took me a few years, but I soon realised it happened at the same time every month and coincided with my period.
"For two or three days, I would have to lie in bed and just stay there until it subsided.
"I remember once being through at my brother's house in Edinburgh and having to lie down on his sofa for two days because I couldn't function long enough to make the journey home."
Maeve visited her doctor, who diagnosed migraines. She said the contraceptive pill could be causing them.
But despite coming off the pill, the arts development officer still experiences migraines 20 years on.
"They happen less regularly now, especially since I had my son, Gabriel, who is now five.
"But I still get migraines, probably once or twice a month. They are now less painful but more visual – I see flashing lights and it can be a struggle to focus and see clearly.
"I can tell when one is coming as I usually get a slightly bitter taste in my mouth.
"They're still debilitating and if I'm at work I usually need to go home and have a lie down or a sleep to get rid of it."
Maeve was previously prescribed opioid drugs to help, but had to come off them as they upset her stomach.
She is now on a drug called Paramax, which is a combination of painkillers and anti-sickness medication.
"It helps, but doesn't take it away. Even if I catch it before it hits full force, I still feel like I have a bit of a fuzzy head," Maeve said.
"But when you suffer from migraines and realise what a horrible condition it is, anything that can make you feel better is a bonus."
---
Top tips for migraine sufferers
Keep a diary of the foods you eat, the sleep you get and details of any migraine attacks – this will help identify any potential triggers.
Try painkilling medication. Aspirin and Ibuprofen are best to tackle the inflammation. If you find the suggested dose isn't helping, health guidelines suggest you can increase Ibuprofen intake to 600mg.
Try to stick to a healthy lifestyle and a good routine. Make sure you are eating healthily, and getting enough exercise and sleep. And manage stress… take breaks and try to relax as much as possible.
Speak to your GP if you are struggling to manage headaches yourself.
The City of London Migraine Clinic Heads Up podcasts are a great resource for migraine sufferers.
Get advice and support at migrainetrust.org