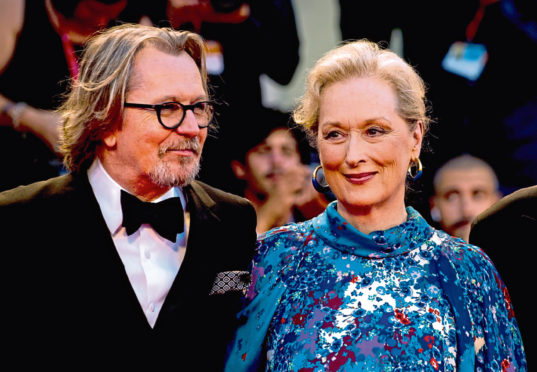 It's the only film festival where, instead of a limo, the stars hire stretch gondolas.
The Venice Film Festival was held last week and there were a good few new films making their premiere.
Believe it or not, we may be six months away from the Oscars, but the films at Venice hint at who could be nominated at next year's ceremony.
Don't be surprised if Meryl Streep gets a nod AGAIN. She was looking stunning in a cerulean dress at the premiere of The Laundromat.
I hoped it would be a big screen movie about a laundrette, but it's about something a lot bigger – The Panama Papers.
She plays the role of Ellen Martin, an elderly widow on the trail of her late husband's insurer alongside Gary Oldman.
Ellen is chasing a paper trail determined to hold someone to account – can she uncover who is responsible? Can she expose the conspiracy? Will she be nominated for an Oscar?
I'm going for yes on all counts! The movie getting the most buzz at Venice appeared to be The Joker, with Joaquin Phoenix and Robert De Niro.
This is an origin story about the Batman villain, but it's not your average comic book movie. This one was loved by the critics, and got an eight-minute standing ovation.
I can't be bothered standing for five minutes, so I certainly can't imagine being so happy I'd voluntarily stand up for eight!
Speaking of Batman, Robert Pattinson tried on the Batsuit for the first time last week.
He said he immediately felt like the Caped Crusader – sort of!
"You do feel very powerful immediately," he said. "And it's pretty astonishing, something that is incredibly difficult to get into, so the ritual of getting into it is pretty humiliating.
"You've got five people trying to shove you into something. Once you've got it on, it's like, 'Yeah I feel strong, I feel tough, even though I had to have someone squeezing my butt cheeks into the legs.'"
I know how you feel Robert – that's how I get into my leather breeks before I go on Lorraine.
I reckon Renee Zellweger is a stick-on to be nominated for an Oscar for Judy, a movie about the last days of Judy Garland.
"It was really special going to work every day with this entire group of people who were showing up with the same love for Judy and just everybody wanting to do their best to tell this story," she told me.
"The movie will tell the story of this little-known part of her when she was going through quite a bit."
I was on a cruise last week doing a little show for the guests on the Sapphire Princess.
I chatted to a very grumpy elderly gentleman – he asked me that, since it seemed I'd interviewed everyone, did I ever chat with Elvis? I exclaimed in mock horror that I was still at school when he died.
He walked way quite chuffed, but I shouted after him asking if he had ever met Elvis.
"Won't be long now," I added!