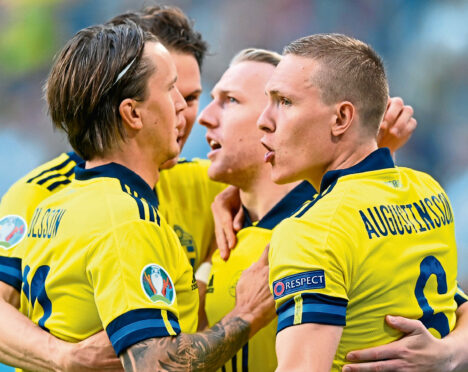 Johan Mjallby has urged Scottish footballers to consider broadening their horizons, and play their football abroad.
The Celtic legend spent a large chunk of his career away from his native Sweden, and reckons that helped his game and his career.
Many Swedes look to leave their own domestic league as quickly as possible to play at a more challenging level, enhance their earnings and flourish on the international stage.
Mjallby thinks that has helped his countrymen have many successes for almost 30 years, and Sweden topped their group in the Euros, ahead of Spain, Poland and Slovakia.
They now play Ukraine at Hampden Park on Tuesday night for a place in the quarter-finals.
Mjallby was disappointed to see Scotland make an early exit, and thinks our national team may benefit from players broadening their horizons.
Of course, he knows there are no guarantees this will help improve things, and some players might not be financially better off leaving Celtic or Rangers.
But the 50-year-old, capped 49 times by his country, thinks careful consideration is required.
Mjallby told The Sunday Post: "I watched the Scotland games, and felt disappointed for Steve Clarke, the players and the supporters.
"I regard Scotland as my 'second' country, and always want them to do well.
"The positive to take away from the Euros is that the team finally found the ability and the mentality to qualify.
"There is now a pressure on them to qualify on a regular basis, and that is the way it should be.
"There are some very talented players in the squad.
"Andy Robertson is a Premier League and Champions League winner with Liverpool. He is at the very top.
"Billy Gilmour impressed, and he is going to the very top with Chelsea.
"Kieran Tierney also looks as though he has really improved since he moved from Celtic to England.
"He is with Arsenal, but could yet go on to play for one of Europe's elite clubs, for sure.
"What is missing, I'd suggest, is a top striker – or an attacking midfielder – able to score at international level to win football games. A proper matchwinner, in other words.
"In Sweden, we have had top players in the past 25 years, such as Zlatan Ibrahimovic, Henrik Larsson and Freddie Ljungberg.
"Zlatan has been a real superstar, absolutely incredible.
"Croatia have Luka Modric. Wales have Gareth Bale. They can all score goals, and also lay things on a plate for team-mates.
"Why can't Scotland produce a superstar in that area of the pitch?
"That is the million-dollar question, and I'm sure it has been at the forefront of everyone's minds for many years.
"There is no easy answer, and definitely no easy fix. But you mustn't give up looking, and looking to coach, nurture and produce.
"People ask why there are so many Swedish players playing in some of the best leagues in Europe
"I think it's because there is a hunger in our country to progress, do well and earn good money.
"The Swedish league is not strong enough, and the clubs do not pay big wages, and that's why there is a determination to go abroad.
"Sure, some will come back and finish their careers, as Mika Lustig and Seb Larsson are doing just now at AIK.
"But they all strive to leave Sweden, and play at the highest level, earning the best money possible to look after their families, for eight, nine or 10 years, at least.
"I think that attitude also exists with the African footballers. They are quite right and they want to be the very best they can be. They are motivated to provide for their families.
"Maybe part of the problem is that Celtic and Rangers are not competing at Champions League level – and up against Europe's elite players – on a regular basis.
"Or maybe it is more about the individual, and the desire to move away from Scotland and try something different, embrace a new country and try a different language.
"Off the top of my head, in the past 35 years, there has been Paul Lambert and Murdo MacLeod at Borussia Dortmund, Graeme Souness at Sampdoria and Joe Jordan at AC Milan.
"Aaron Hickey is at Bologna just now, Jack Hendry is in Belgium and Ryan Gauld has been in Portugal for five years.
"I get that it is the dream of most kids in Scotland to play for Celtic or Rangers, and once they get there, they are absolutely delighted.
"But why aren't there more playing abroad? It's a great question.
"I'd love to see more Scottish players playing in Italy, Spain, France and Germany. Definitely.
"It should help to improve them as footballers, and also broaden their horizons as human beings."
Mjallby will now leave Scotland to reflect and assess as the weeks and months go on.
In the meantime, he will sit back and enjoy watching Sweden try to further their progress at the Euros.
He continued: "In 1982 and 1986, we did not qualify for the World Cup. But then we got there in 1990, and finished in third place in the United States 1994.
"We became quite good at getting to major tournaments and, back in my playing days, it was regarded as a disaster if we didn't qualify.
"That's exactly what happened when we missed out on the World Cup Finals in 2010 and 2014.
"But we are now a solid nation again, able to compete at any level. Indeed, three years ago, we got to the World Cup quarter-finals in Russia.
"We are tactically aware, skilful, dedicated and desperate to succeed. We have built up these qualities over the past 40 years.
"We finished top of Group E at the Euros, and we have a good game against Ukraine to look forward to.
"Finishing first in the group is not new to Sweden. We managed it in the 2002 World Cup in Japan, when I was part of the squad that finished ahead of England, Nigeria and Argentina.
"Now we have a great chance, and with the game being at Hampden, we will have players in the squad who are used to it.
"Mika has played and won there many times for Celtic. Filip Helander knows the stadium from playing with Rangers in the 2019 Old Firm League Cup Final.
"And Jordan Larsson has been there many times as a kid, watching his dad win cups with Celtic.
"It's just a pity that the Swedish fans will not be allowed to travel for the game. They would have filled Hampden Park, and had a party in Glasgow.
"The most-important thing is that we win, and we have quality players in many areas to achieve that, including Alexander Isak and Emil Forsberg.
" I'm confident we'll do it. Then, in the last eight, anything is possible."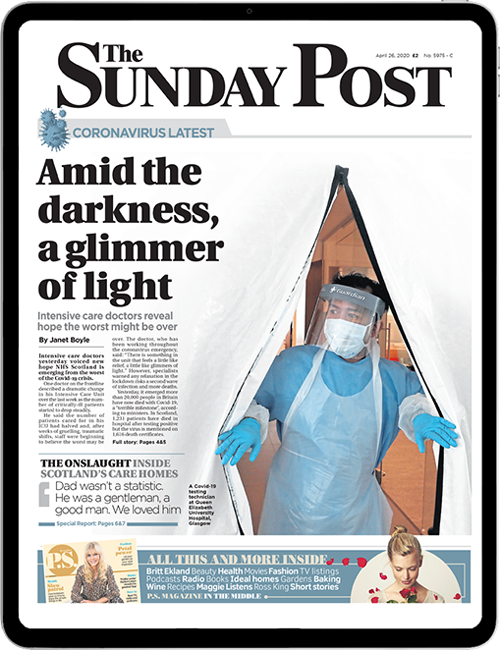 Enjoy the convenience of having The Sunday Post delivered as a digital ePaper straight to your smartphone, tablet or computer.
Subscribe for only £5.49 a month and enjoy all the benefits of the printed paper as a digital replica.
Subscribe