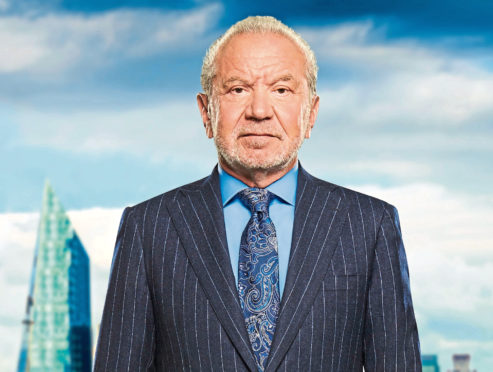 It seems hard to believe that The Apprentice has been on our TV screens for 15 years.
Indeed, nobody is more surprised than Lord Alan Sugar, who was merely Sir Alan when it launched in 2005.
"Time has flown very, very quickly," he muses. "It doesn't feel like it at all."
But the series, which pits a bunch of wildly overconfident would-be entrepreneurs against each other in the hopes of dodging the immortal line "You're fired!" still rumbles on.
In 2010, the prize changed from a £100,000 a year job in Lord Sugar's company to a £250,000 investment in the winning candidate's business idea and, according to Lord Sugar, that is how it has lasted so long.
"I don't think I would be have been doing it so long if we hadn't changed it," he admits. "I know I wouldn't have done it – it was my requisite that we change the format.
"The production company and the BBC get a good product to air, but what they do is sign off when the programme is over and then I have to take on the work after that."
And quite a lot of work it has been. Lord Sugar has now invested millions of pounds into the businesses of his winners over the years.
Last year's winner was Sian Gabbidon, who triumphed with her idea for a swimwear brand, and is one of a string of female candidates who have done well on the show at a time of increased scrutiny on the number of women in positions of leadership in business.
"I have no preference for women or men," Lord Sugar says. "I just want the best person, sometimes the best is the best bloke and sometimes the best is the best woman – that is always how it's been with me."
It remains to be seen how this year's lot will fare.
There will be enough to keep things interesting for Lord Sugar and his trusty advisers Baroness Karren Brady and Claude Littner, who keep an eagle eye on the candidates.
But one fact that is inescapable for the 72-year-old tycoon – he is 15 years older now than when the show started.
"I've often had thoughts of when am I going to give it up," he admits. "Next season will be the 16th."
He stresses that the decision to carry on with the show always lies with the BBC, but adds: "I think I would max out at 20 years. I would be 77 and I might not be compos mentis by then – you never know."
He says the show could carry on, but hints it might never be the same. "One, I've got an exceptionally good memory, and two, I've done all this," he says.
"I started with a little mini van and I've done everything and had disappointments.
"I know what selling is all about. I have sat in boardrooms and negotiated big deals with banks at hundreds and hundreds of millions of pounds.
"I've loaded lorries, sat on the production line, produced more goods on the production line than any of these people have ever done, done my own marketing, my own advertising, buying components, getting the prices right, designing products. I've done it all, so I think they would find it very hard."
Littner is even more explicit, adding: "Alan holds the whole thing together and if you listen hard to the business messages, that is what it's all about.
"So, it's very great entertainment, but I can't see a situation where if Alan is not involved, that this has got any promise at all."
Baroness Brady nods in agreement: "They would be incredibly big shoes to fill and I think almost too big."
With such high praise, was there ever any comparison between him and Donald Trump, who hosted the US version of the show before moving into the White House?
"He was useless, completely useless," Lord Sugar says dismissively. "There is no comparison."
---
The Apprentice is on BBC1 on Wednesdays at 9pm.