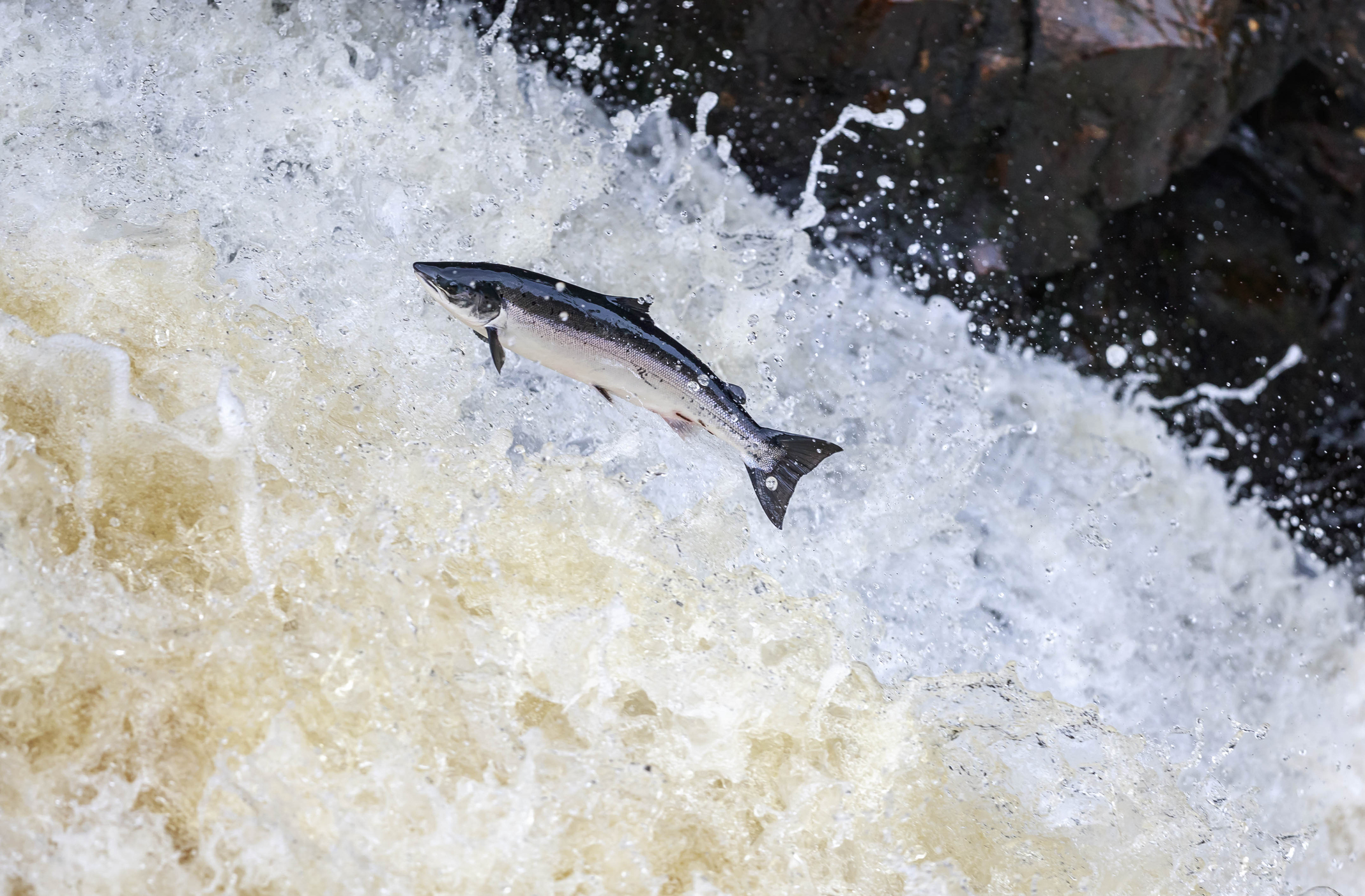 Leading environmental campaigners, conservationists and anglers today demand emergency government action to save Scotland's wild salmon from extinction.
The king of fish is in a ­catastrophic decline and eminent experts, led by Sir David Attenborough, have expressed fears for the survival of the species.
A range of factors have been highlighted for last year being the worst on record for salmon catches in Scotland.
And today the Scottish Government faces a concerted call – backed by The Sunday Post – for more urgent action to ensure salmon are conserved for future generations.
Scottish Environment Minister Roseanna Cunningham has been urged to take charge of the debate and "bang heads together" to secure urgent, effective action to save one of Scotland's wildlife icons.
Dr Alan Wells, chief executive of Fisheries Management Scotland, said: "We recognise that some of the factors impacting on wild salmon stocks may be beyond human control, but there are also a range of areas where the Scottish Government and ­regulatory authorities can make a difference.
"We are calling on all ­regulatory authorities urgently to place a renewed emphasis on salmon conservation in all decision-making.
"Salmon conservation must become a national priority in what is the International Year of the Salmon."
The calls have been backed by groups including the Scottish Anglers National Association, Salmon and Trout Conservation and the Atlantic Salmon Trust.
Last week the Atlantic Salmon Trust completed the first stage of its pioneering Missing Salmon Project by ­tagging 850 smolts in the Moray Firth.
Technology will be used to track the young fish for up to 200km as they begin their migration from seven rivers into the Atlantic.
Scientists are also working to identify a likely suspects framework of factors endangering the salmon so priority can be given to the biggest threats.
More than £1.3 million was raised to fund the first year of the project, with the Scottish Government making a significant contribution and wellwishers donating amounts between £5 and £50,000.
TV stars including Hugh Fearnley-Whittingstall, Paul Whitehouse, Bob Mortimer and Roger Allam have also helped promote an audiobook to raise funds.
Mark Bilsby, chief executive of the Atlantic Salmon Trust, said the work is essential for the environment, economy and to protect Scotland's natural heritage.
He believes the efforts should be spearheaded by the government but that responsibility should lie with society as a whole.
He said: "I think this is going to take a really concerted effort to recognise there is a major crisis going on with salmon numbers.
"It's not down to just a hot summer last year. It's a protracted, steady decline and that's the crisis. People need to realise that and act, and act with some conviction.
"If we do nothing then we will lose them.
"It needs a real concerted effort right across government and across wider society.
"So it's linking in with farming policy and forestry practices and having some difficult discussion about predator management.
"But it needs to be ­evidence-based.
"Salmon are so unique. There is nothing else like it.
"The salmon are brilliant indicators of the health of our rivers because they spend the first two, three, four years of their lives in our rivers, then they go through our estuaries and out to sea.
"They're the canary of the seas. When you have this decline it really is telling you the canary has just stopped singing and is looking decidedly peaky. This is an iconic Scottish species. Can you imagine Scotland bereft of salmon or the UK bereft of salmon?"
Mr Bilsby added that there's a conservation and economic value for the hotels when they have anglers coming in on the shoulder seasons.
"It's the difference between surviving or not surviving as a business in the rural economy. That's why it needs to be joined-up, concerted action by society," he said.
"I think there's a need for us to all come together and take this forward and play to each other's strengths."
The government has drawn up a list of 12 high-level pressures on Atlantic salmon, including sea lice and escapes from fish farms, exploitation, predation, habitat and invasive non-native species.
Documentary-maker Will Millard, a keen angler and presenter of BBC's My Year with the Tribe, gave a heartfelt speech to a Salmon and Trout Conservation seminar in Wales this year.
He told The Sunday Post: "They don't have the appeal of the panda or the tiger. It's very difficult to champion the cause of a fish. But the salmon is our tiger."
Andrew Graham-Stewart, director of Salmon and Trout Conservation Scotland, added: "Continuing low salmon numbers underline the vital importance of mitigating those man-made negative impacts, which are within our grasp to tackle, as a matter of urgency.
"One of the most critical factors is the impact of open-net salmon farms, in particular the release into the wider environment of vast numbers of deadly parasitic sea lice, on wild salmon numbers."
Rachael Hamilton, an MSP in the Borders, has also urged the Scotish Government to take a stronger lead.
She said: "The decline in salmon stocks on Scotland's rivers is a worrying trend, and the picture is varied and complex. Pinpointing a sole reason for the decline isn't possible.
"Where we need to focus our attention is in the lower reaches and mouth of the Tweed, where salmon are not returning to the river."
The Scottish Government said: "We are committed to protecting wild salmon in our waters and have identified 12 high-level pressures impacting conservation. Work is currently ongoing to address them. We have submitted a draft implementation plan to the North Atlantic Salmon Conservation Organisation setting out our plans to conserve and protect Atlantic salmon over the five-year period.
"We are currently awaiting comments on the draft and, following further discussions, this will be finalised by November 2019."
---
Jim Crumley, leading wildlife writer: What we are risking is an ecological disaster as potent as losing eagles from our skies…but there is still much we can do
Fact: a healthy population of wild Atlantic salmon equals healthy river systems, and vice-versa. Each needs the other.
Alas, both are under siege, for there is a third component in the equation – us. Without a basic reappraisal of our priorities, the salmon could vanish from our rivers altogether. Fifty years ago, upwards of 20% of Scottish salmon survived their ocean migrations and returned to spawn. Now it is less than 5%.
The decline may already be irreversible. Much of the damage is done in our polluted, warming ocean, but there is still much we can do in Scotland to mitigate the difficulties of those fish which do make it back to our rivers. In particular, we need biologically diverse watersheds. Tributaries from healthy watersheds pump nutrients downstream.
The best watersheds are wooded because of the contribution woodland makes to biodiversity but in most of upland Scotland, well-wooded watersheds are thin on the ground. Instead, there is deer forest, grouse moor, and an increasing incidence of wind farms, all of which mitigate against biodiversity and healthy rivers. Nor can you drain wetland for agriculture, nor can you undertake major civil engineering works like, say, dualling the A9 through Tayside and Speyside, without adverse consequences for river systems.
If we lose the salmon altogether, what then? A healthy run of salmon brings marine nutrients into the river system, nutrients that create feeding opportunities for other fish, for mammals like otters, birds like sea eagles and ospreys. And abundant salmon influence the habitat necessary to support the next generation of wild fish, and the next and the next. Lose the wild salmon from our rivers and none of that happens. What is at risk is not just the particularly Scottish culture that reaches from the salmon steak on your dinner plate to the literature of Neil Gunn's Highland River, but also an ecological disaster, as potent in its way as if eagles were lost from our skies.
---
The government's job is to clash heads together and bring these organisations to heel and demand some honesty and balance: Archie Ferguson, Scottish Anglers' National Association President
First and foremost, our government and tourist organisations should do more to acknowledge the contribution that salmon angling, and country pursuits in general, make to the rural economy of Scotland. Maybe then people will sit up and take notice.
The general consensus amongst anglers is that an industry worth over £120m to the economy, supporting in excess of 3,000 jobs and generating an average spend on fishing trips to Scotland by tourists of around £5,000 per trip is largely being ignored. That has to end.
I certainly wouldn't be bold enough to put my finger on a single source of the decline, and therein lies the problem. We have too many disparate organisations protecting their own self-interest and seemingly unwilling to engage with others in order to devise a collaborative and honest approach to understanding the problems and what they can do to help.
If you have an aquaculture industry in denial and cloaked in secrecy, an RSPB that simply will not countenance the control of predatory birds under any circumstances, or unchecked explosions in seal populations, what chance does the poor, endangered salmon have?
When you have the likes of HRH the Prince of Wales expressing concerns and Sir David Attenborough kicking off the international year of the salmon by taking to YouTube in order to highlight the damage that intensive fish farming is doing to wild salmon, but a Scottish Government that is reluctant to take its fingers out its ears and take on the industry, you know we currently face insurmountable problems. The government's job is to clash heads together and bring these organisations to heel and demand some honesty and balance.
Our current "natural" environment is manufactured, created over hundred years of human intervention, and whether we like it or not conservation for all species in such an environment requires balance and a managed approach. We need to be brave enough to have that conversation, and the government needs to be brave enough to drive it.
Otherwise we'll simply take our children's children along to museums in years to come, point to stuffed salmon and say: were it not for gutless government ministers, protection of commercial interests and self-serving/selfish organisations this king of fish might still be seen in the wild waters of Scotland.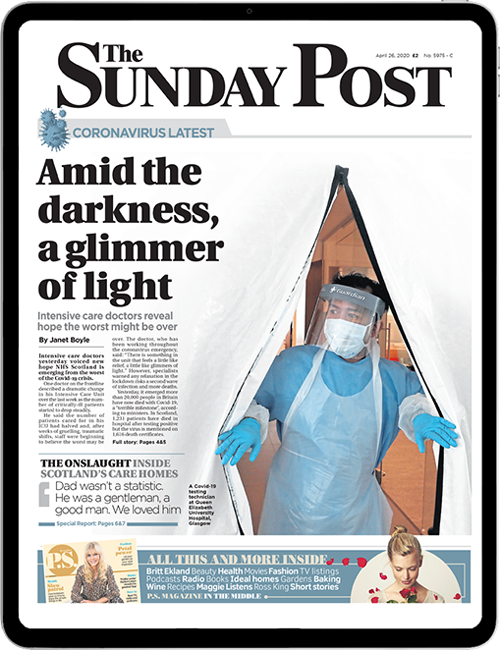 Enjoy the convenience of having The Sunday Post delivered as a digital ePaper straight to your smartphone, tablet or computer.
Subscribe for only £5.49 a month and enjoy all the benefits of the printed paper as a digital replica.
Subscribe