THERE is, of course, a common language of grief, a universal phraseology of loss.
It makes things easier, when we don't have the words, to fall back on the cliches, the pat phrases, the "Sorry for your loss" and the "Time, it just takes time."
But Julie Galante, widowed at 42, has had enough of the common phrase book of mourning and has sounded a clarion call for more open discussion about death and grieving.
She began writing to describe her feelings after losing husband Scott, 43, following his gruelling battle with leukaemia, in April 2017.
And, in Bad Widow, a piece published in a new anthology of rebellious writing, she insists that she has enough of being a "good widow" and will now henceforth be a Widow Handling Things Badly.
She said: "I had written a series of essays about life after my husband's death, and Bad Widow really came together from pieces of them."
Julie, who is originally from America, and now lives in Edinburgh, said: "I pulled out the central theme of not wanting to do what people were telling me to do – that rebellious thread. It wasn't apparent to me at first, but then I realised it was something I had been exploring in my writing.
"People want to think you're OK and want to see signs of you being OK, but everyone has their own idea of what that looks like.
"When you lose someone there isn't so much pressure to act a certain way, but a pressure to assure people that you're fine somehow. You don't want them to worry about you.
"And to me that was all about people's expectations, and how quickly you are supposed to be over your grief or back to normal life.
"We don't know how to talk about death. Often very well-meaning people will end up saying completely the wrong thing, and it's totally unintentional."
The humour, sadness and raw emotion of her writing won Julie a place in anthology book, Rebel, which was published to celebrate Book Week Scotland 2018, and distributed free to libraries and community groups around the country.
Bad Widow sits alongside stories from various authors, and Julie admits being chosen for the publication was the encouragement she needed to pursue a new career.
She said: "I've always enjoyed writing but it took on a new urgency after my husband died.
"Having Bad Widow published was part of the momentum that took me towards studying for my current master's degree. It's really nice to have your story out there and have people connect with it. I sobbed the whole way through some of my writing about Scott's death.
"At the time I became convinced I must be writing something so melodramatic nobody would want to read it, but then I would get positive feedback.
"Sometimes writing tells me what I think – often I don't know that I think something until I write it down."
Julie and Scott moved between continents, countries and cities for most of their life together, but their love was always the one constant.
The young couple had just decided to settle in Scotland when Scott was first diagnosed with leukaemia, and Julie says losing her partner at such a young age was a huge shock to the system. She explained: "It's not how I expected my life to go.
"Through all the different cities and countries I lived in, Scott was always the one constant. We had our own, two-person culture that was a combination of all the different places we had lived. And to be the only member of that culture left was really heartbreaking.
"It was hard to picture my future for a while."
Julie now hopes writing about her experience will help other people battling grief.
"I received a letter just the other day from a woman who was also widowed in her 40s," she explained. "Her letter was just so heart-wrenching, but it felt so good to be helping her to feel less alone.
"When I really connect with writing, it's usually because the author can pinpoint a truth in a way I've not heard before, and that's something I aspire to do in my own writing – to make someone feel less alone through my experience and a shared emotion."
She added: "I never want to forget anything about Scott. It's almost easier to write about my grief and my widowhood than it is to write about him directly.
"It hurts too much to write about him, but it hurts a little less to write about trying to negotiate the world after him."
Julie's piece: I want to believe everyone saying I'm doing well…but I'm really not
My husband just died but at least I'm taking it well. Everybody tells me so. "Oh Julie, you're just handling this all so well", they gush, willing it to be true. Insisting upon it.
At first I tried to play along; I wanted to believe. The love of my life died at 43 after a gruelling duel with leukaemia, but whatever, I'm so strong. I'm so competent. Look at me, I'm handling it. Just like you all want me to.
But you know what? I think you may be wrong. What makes you think I'm handling it well, anyway? What evidence can you cite? The fact that I still get out of bed most days? That I'm not wasting away due to malnutrition? That I haven't forgotten English, or where I live?
My brooding public appearances in ill-fitting mismatched clothing haven't given you pause? The six months which have gone by with no response to your email? The fact that I haven't yet bothered to change the utilities from his name to mine?
Screw this. From now on, I am officially handling things badly. Go on, try and stop me. I don't know what it will take to convince you of my utter failure to grieve with grace, but I'm going to give it my all. I shall cry in public. I will tell people about his death in completely inappropriate situations – at the car dealership or, say, a professional networking event. I will scrawl lovesick graffiti on the walls of my flat, late at night, sobbing and drunk. I've done all of these things already, but perhaps you may have missed them. Time to up my game.
Here are some ideas. Which ones do you think best fit with my new identity of Widow Handling Things Badly? I will go on lots of dates, or refuse to date, whichever you find least appropriate; stay out every night, sleep all day; get nine more cats; dress said cats up like babies and push them around town in a pram; not leave the flat for days at a time; get a life-sized blow-up doll and insist you address him as my new husband; join a cult; found a cult. (Note to self: think up ideas for a cult.)
Will you stop telling me how well I'm widowing then? Don't make me have to try even harder to get this wrong, because I will. What will it take? Face tattoos? A total disregard for the conventions of polite conversation? Stripper clothes? Not returning my shopping trolley to the designated area? Would that make you finally turn to the person next to you and whisper, "Oh my, the Widow Galante really isn't handling things well, is she?"
Because that's what I want you to say. Stop telling me that I'm good at this. I don't want to be a good widow.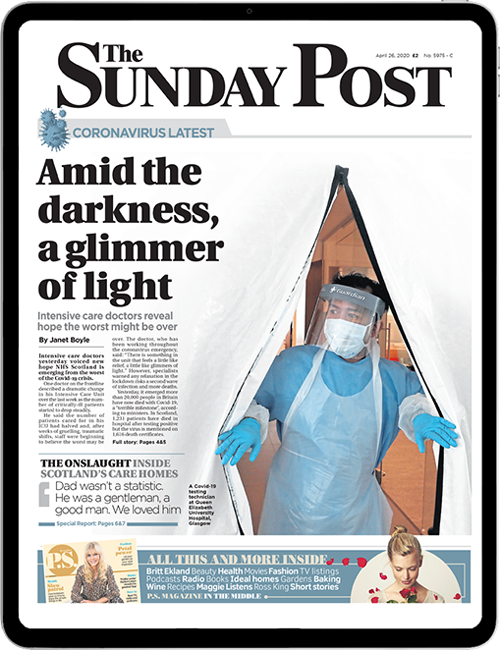 Enjoy the convenience of having The Sunday Post delivered as a digital ePaper straight to your smartphone, tablet or computer.
Subscribe for only £5.49 a month and enjoy all the benefits of the printed paper as a digital replica.
Subscribe