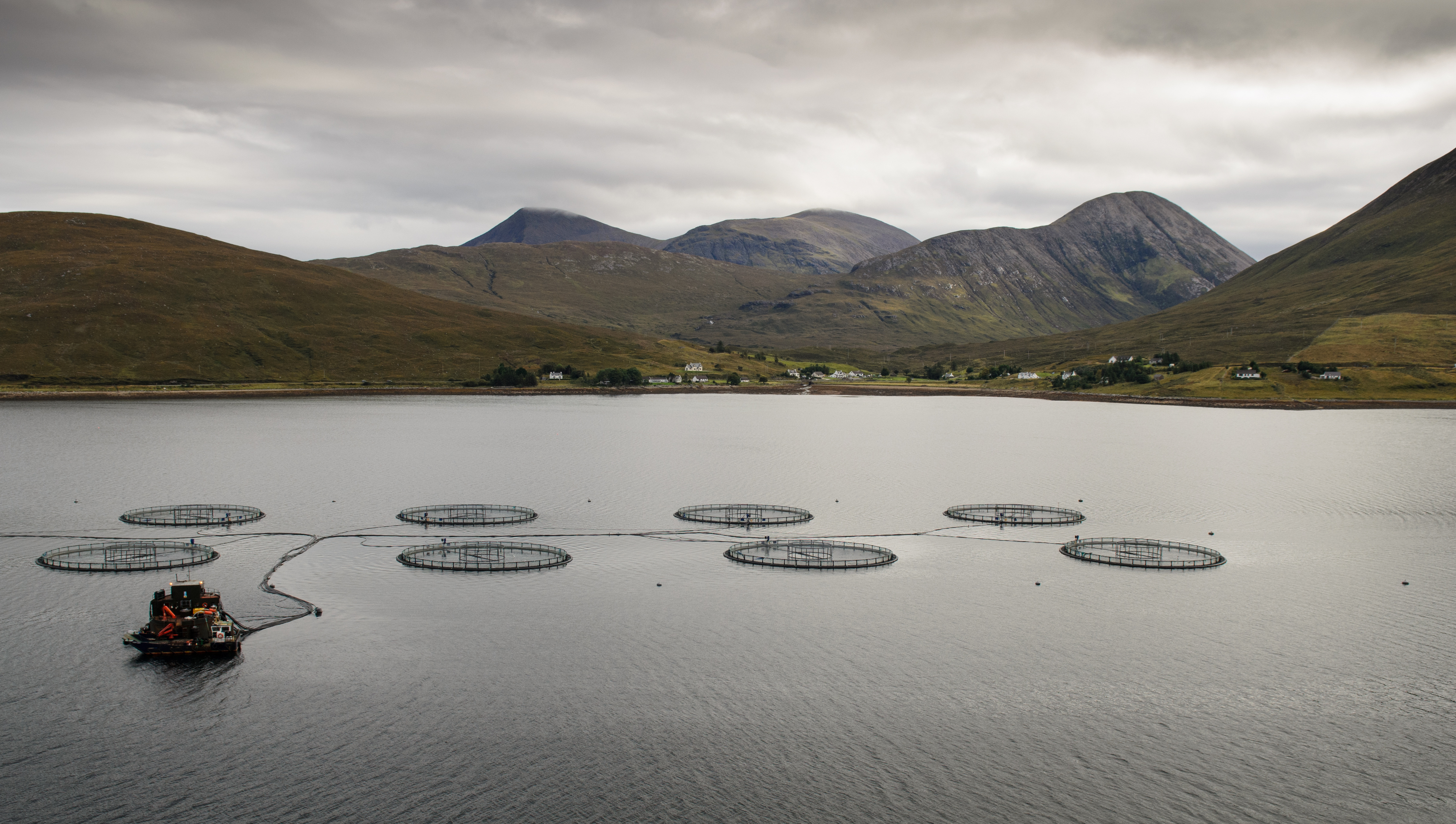 IT'S an ongoing, hotly debated topic amongst environmentalists, animal welfare activists, the Scottish Government and the business owners themselves, but what's the real impact of fish farming on the environment? 
---
Pretty much all supermarkets stock farmed fish and there's no doubt we've all eaten plenty of it.
With over 32% of the world's fish numbers depleted, fish farming has been hailed as a welcome solution to the problem of over fishing.
It's the fastest growing form of animal food production on the planet, with around half of fish consumed globally raised in these artificial environments.
However, today, figures released by the Scottish Salmon Producers Organisation (SSPO) showed that fish farm companies lost huge numbers of fish in the first half of 2018.
For example, the Scottish Salmon Company, Scotland's largest producer of salmon, lost 58% of fish at its Mull site, as well as 47.6% of its fish at Gravir Outer.
While there's no disputing that the farms create abundant sources of food for the world's fish eaters, these hugely high mortality rates, as well as a number of other issues raised, pose a threat to both the fish within the cages and the outside environment.
Environmental Issues
The most common farmed species include salmon, tuna, cod, trout and halibut, and these "aqua farms" take the form of mesh cages submerged in both natural bodies of water like sea lochs or concrete pens on land.
The sector is a pillar of the Scottish export economy, and is hoping to double its annual contribution to the Scottish economy to £3.6bn between 2016 and 2030.
In July this year, a total of 51 salmon farming sites in Scotland were accused of having poor environmental protection measures. Conservation group Scottish Salmon Watch (SSW) named the farms after obtaining documents from the Scottish Environmental Protection Agency (SEPA) which stated that these locations had been rated as poor, or very poor in their compliance with environmental regulations.
SSW director Don Staniford said: "Salmon farms across Scotland are riding roughshod over environmental regulations.
"Expanding salmon farming in Scotland yet further, with a doubling or even trebling by 2030, would be sheer lunacy."
---
"There has been a 70% decrease in wild salmon returns to Scotland in the last 25 years."
---
High stocking densities of fish result in a significant amount of pollution from fish excrement and uneaten food, which in turn lead to poor water quality high in ammonia and low in oxygen.
This increase in organic matter also has an impact on the immediate environment, affecting the nature and chemistry of sediments, and this can reduce the diversity of animals living there.
Outdoor fish farms are also a huge lure to predatory marine animals, such as sea birds and sea lions, who are often being poisoned or shot by aqua farmers for eating the fish.
Threats to wild fish stocks 
Each year, hundreds of thousands of fish escape farms and threaten the genetic diversity and survival of native species. A large escape of 11,000 salmon from the Scottish Salmon Company's Mull farm in 2017 saw many gamekeepers in the area concerned about the interbreeding of the wild fish with farmed fish. The reason being that the farmed salmon had the potential of farm bred diseases and lice, which would prove lethal to the wild fish, depleting their already falling numbers.
The number of wild salmon and trout is claimed to have been reduced significantly by the introduction of fish farms to Scottish sea lochs, thanks to the lice epidemic in fish farms.
According to campaign group Atlantic Salmon Trust, "there has been a 70 per cent fall in wild salmon returns to Scotland over the past quarter century," however conservationists do accept that fish farms are not solely to blame for the decrease.
A scientific study on the sea lice problem associated with the salmon farms claimed that in areas with outbreaks of the disease in farms, lice could directly cause the mortality of 30% to 50% of all migrating sea trout smolts and 48% to 86% of all wild salmon smolts.
Consequently, it said that in western Scotland, lice infestations are regarded as a major factor in the decline of wild salmon and sea trout populations.
Another significant issue is that rather than easing the impact on wild populations the farms often depend on wild fish species lower on the food chain, like anchovies, in order to feed the larger, carnivorous farmed species.
It can take up to five pounds of smaller fish to produce one pound of a fish like salmon or sea bass. Overfishing of these smaller fish has repercussions throughout the ocean ecosystem.
Potential Solutions
While the problems are still ongoing, many companies are hoping to find solutions to the environmental issues the fish farms pose.
Salmon and Trout Conservation Scotland (STCS) hopes to create a reform encouraging a shift to production systems where the salmon farming industry and wild fish can thrive together. They suggest a shift to closed containment salmon farming: either land-based or floating tanks in place of open nets as a way to contain the sea lice pandemic and to regulate pollution.
The Scottish Government is also to work in tandem with the country's fish farmers to address health challenges and help the industry grow sustainably with a ten year Farmed Fish Health Framework, that aims to not only enable growth but also minimise impacts on the environment.
Ben Hadfield of Oslo-listed Marine Harvest, Scotland's biggest fish farmer, said that while the sector had previously over used chemical treatments to kill sea lice, Marine Harvest had since found new ways to secure a six fold reduction in lice infestations at its Scottish farms.
"Now we have a more holistic strategy," Mr Hadfield said, pointing to "cleaner" fish that eat the lice off the salmon. They've also invested in "hydrolicer" machines that wash them off and "thermolicers" that pump the fish through heated water to remove the lice.
Aquaculture in Scotland supports 12,000 jobs, many of them well paid, and workers in the sector are the backbone of their Highlands communities, the Scottish government said.
While plans are being put in place to rectify the problems posed by fish farms, there is a worry that much of the environmental damage done by the pens, could be irreparable.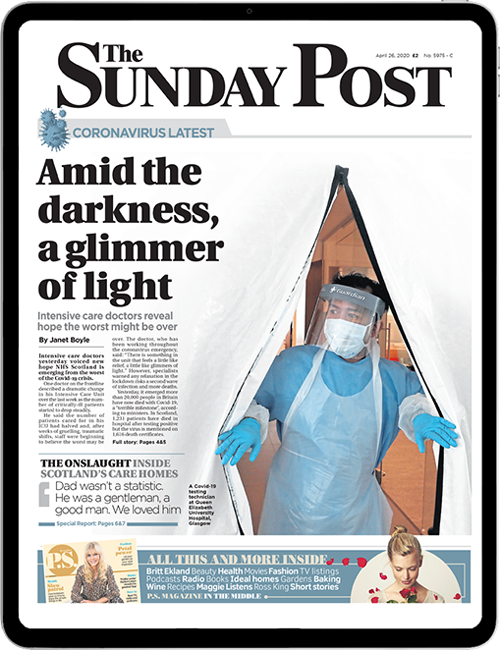 Enjoy the convenience of having The Sunday Post delivered as a digital ePaper straight to your smartphone, tablet or computer.
Subscribe for only £5.49 a month and enjoy all the benefits of the printed paper as a digital replica.
Subscribe