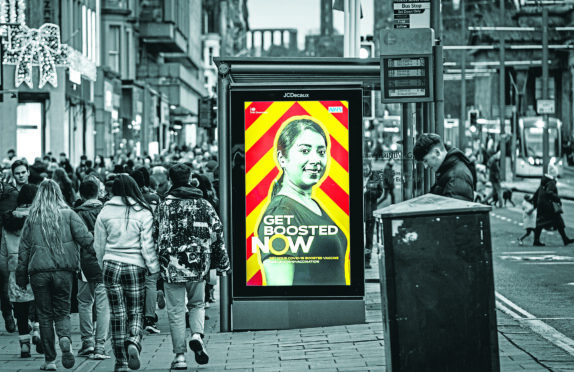 Soaring Covid infection rates in Scotland and increasingly relaxed attitudes to protection are creating a perfect storm for the coming autumn and winter, a leading infection and immunity specialist warns.
Glasgow-based Professor Denis Kinane is a top immunologist and cell biologist who among others in the medical field is concerned about the potential for overwhelming hospitalisations as the summer draws to a close.
Kinane, who is founding scientist of Cignpost Diagnostics, a UK Government-accredited private Covid screening service, tells P.S: "Despite our success in mitigating the impact of Covid through the vaccine programme, it is clear that the virus is not about to disappear.
"There are some worrying trends in the rising number of infections, particularly compared with the levels from a year ago. According to Office of National Statistics figures, last June, one in 150 people in Scotland had Covid, compared to one in 18 today. That is already leading to a gradual rise in hospitalisations.
"One of the biggest concerns is that we expected this in the autumn and not in the summer months when people are more outdoors. When you get into cold months it is likely to be worse.
"Despite what many think, Covid is still a dangerous and highly infectious disease. We have to continue to be cautious, especially for those who are in a vulnerable group or immunosuppressed."
He explains: "Several problems are happening at the same time. The BA4 and BA5 are very transmissible variants and they are capable of immune escape so that they are not curtailed by our natural immunity that has come from us having Covid previously, nor are they curtailed by our vaccination history.
"The other point is that vaccination effectiveness wanes after three months. Many of us had the boosters at the start of the year and are now away from the six-month period when vaccines would have been most effective.
"But what we are most worried about is there are a lot of people who are less concerned about acting safely than would have been the case six months or a year ago. Now they are actually catching Covid."
He says they might be asymptomatic or have symptoms they brush off as hay fever or flu. "They are not taking it seriously, and not staying off work and they are potentially passing it on to vulnerable people," he says.
He also warns that failure to keep vaccines and boosters up to date, and to take precautions against catching and spreading the disease, would spell danger for those who are most vulnerable or who might be prone to long Covid.
He says: "Long Covid is more troublesome than we thought. We don't know how long it will last for and whether those who have it will have it for the rest of their lives. They are certainly in much higher numbers than we first thought. We also have a very high proportion of vulnerable people over 70 who are unvaccinated or who have not had their boosters – something like 20% need to be boosted in Scotland. In addition to that we have many people who will be potentially vulnerable due to immune suppression.
"We are not out of the woods yet and I do not know when we will be. We have seen massive difficultly in predicting how bad Covid will be and how long it will last."
Unlike other viruses that wane, Covid mutates multiple times.
He says: "We have been through Alpha, Beta, Delta, Omicron and now we have had five variants of Omicron. The virus is changing to become more stealthy and transmissible. It can get in under our defences and cause disease, even although we have already had the virus and variants of the virus."
He urges: "I would encourage everybody to get their vaccinations up to date, to make sure they are wearing masks where possible, to have good hand hygiene, and if they are ill to get themselves tested and, if positive, stay off work and keep away from people that are vulnerable. Everybody has to be more careful. We know what to do, we have been through it for two years. We still have to take these precautionary measures and discourage passing it on to vulnerable people or those who might develop Long Covid."
For anyone still questioning the safety of vaccines, he adds: "The disease itself will cause you a lot more trouble than the vaccine. It will mean you will be less likely to be severely ill from Covid if you have been vaccinated. But it will not stop you catching it and passing it on, so taking precautions is essential."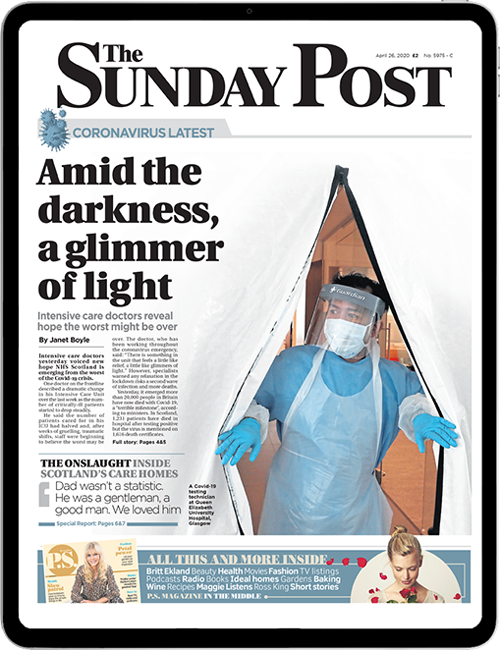 Enjoy the convenience of having The Sunday Post delivered as a digital ePaper straight to your smartphone, tablet or computer.
Subscribe for only £5.49 a month and enjoy all the benefits of the printed paper as a digital replica.
Subscribe