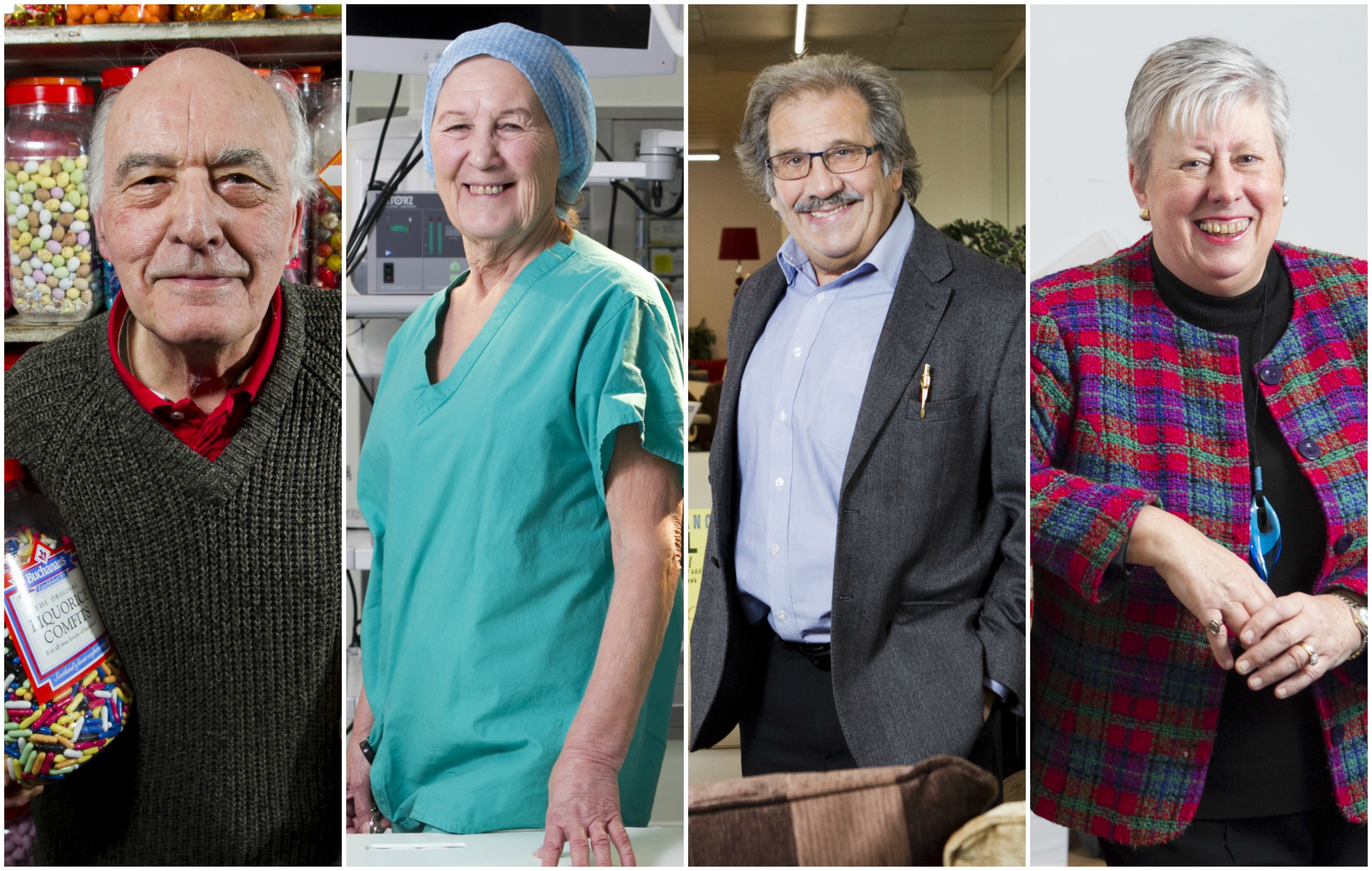 THE number of men and women working beyond their 65th birthday has more than quadrupled in the last two decades with a record 1.2 million over-65s still clocking on.
So what is it like to enjoy your job so much that you just can't give it up? Here, YVONNE BOLOURI spoke to some of Scotland's oldest workers to find out.
---
The surgeon's scalpel fell on my foot. He stitched it and we just got on with the job
SHE'S probably the oldest scrub nurse in Scotland, but that doesn't stop Lily Hendry rolling up her sleeves and getting stuck in.
At 79, Lily, of Glasgow, has no intentions of retiring and reckons that in a career spanning half a century, she's been the lucky one.
The mum-of-five, who was awarded the BEM – British Empire Medal – in recognition of her 15 years service to Glasgow's Golden Jubilee National Hospital, said: "Nursing has done more for me that I've done for nursing. It's a wonderful job.
"I worked as an auxiliary. I had five children at home and thought I was too old at 36 to train for nursing. But I went ahead and I've never looked back.
"We used to have to do everything from cleaning the toilets to serving dinners.
"And on my first day in theatre assisting the surgeon, another nurse commented on the amount of blood being lost, but I couldn't see where it was coming from until I looked down.
"The surgeon's scalpel had fallen off the trolley and sliced into my foot which was bleeding everywhere. He hurriedly gave me two stitches in the wound without anaesthetic, and we got on with the job."
But her most memorable times are helping others who are new to the job.
She said: "One young nurse was waiting with a patient who was due in theatre. She was standing at the end of his bed and I called her over and asked why she wasn't talking to him
"She said she didn't know what to say. So I went over and took his hand and started chatting. "Hi, how are you? Bet you're glad you're not here very often! Where do you live?" that sort of thing.
"You could see him visibly relax and by the time I said 'Right Willie, let's go' he was laughing and joking. The young nurse got the message. You have to make your patients feel comfortable."
When she's not working or spending time with her seven grandchildren and seven great grandchildren, Lily goes dancing.
She said: "I love rock 'n roll and I go dancing three nights a week. I just enjoy lfe."
I like to be busy and I like people. The banter keeps me going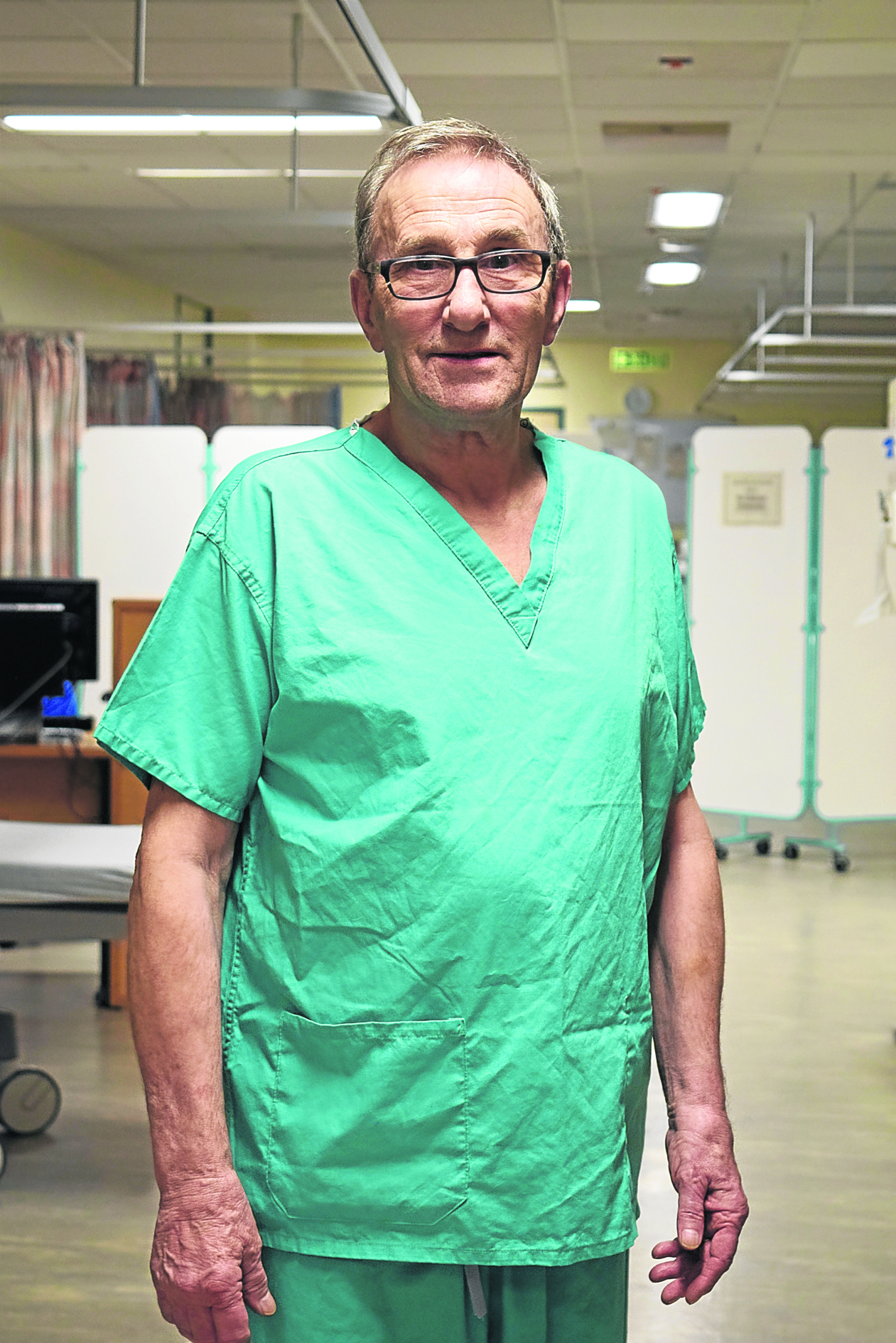 John Reilly, 71, retired six years ago. But it didn't stick.
Now working at the Daycare Surgery Unit at Dundee's Ninewells Hospital, John is a healthcare assistant whose clinical duties include taking temperatures and pulses, patient's personal care and hygiene needs and the overall safety, reassurance and comfort of those going into day surgery.
John said: "I love my work. I've been at Ninewells Hospital for 19 years and the staff are great.
"The banter keeps me going."
John admits he found it hard to put his feet up when he first retired six years ago.
He said: "At lunchtime you could go to the pub for a pint. Then what? Two pints, three pints – you see what happens?
"Or you can sit and watch daytime television and soon it becomes a rut and you barely leave the house.
"That's not me. I like to be busy and I like people."
John is called on to cover sickness absences, holidays and short staff issues.
"And the money pays for a wee weekend away, a meal out or a wee treat for me and my wife, Jeanette, who also works as a secretary as Ninewells."
Jeanette, 61, is joined by their son Chris, 34, a photographer for staff security passes.
John laughs: "Yes we all contribute in one way or another. But there's nothing like earning your own money. It's about self-esteem and self worth. I feel valued. I do a good job. I pride myself on doing my best and it keep me young."
We have an international clientele and we sell a lot online and abroad
Furniture boss Alan Minster would miss his friends too much if he retired.
He opened Allan's Furniture Warehouse in Glasgow in 1972 after moving from smaller premises, and as his business grew so did the demand for quality furniture at affordable prices.
He said: "We've got over 40 years of experience and generations of the same families have been furnishing their homes from us.
"I have a lot of Asian clients who are now friends and I've been invited to their children's weddings and all sorts of celebrations. I've watched their children grow up marry, have their own children.
Alan, 75, added: "It's always so good to see them. And it's not just houses we furnish.
"Chinese, Indian and European restaurants, temples, the list goes on. It's a really international clientele, and we sell a lot online and abroad.
"Nowadays people tend to shop on the internet and come to us with a photo on their phone, saying 'This is what we want. Can you get it?' and we usually can.
"I like the chat. I like catching up with old friends who come in and out. The young father furnishing his first family home, who is now a grandfather like me. I enjoy the hustle and bustle."
I don't want to retire – I love my job
When Morag MacKellar left uni and began her first job with the NHS as a dietician, she never dreamt that 43 years later she'd still be there!
And Morag, 65, from Doune, near Stirling, has no plans to retire despite her role changing as the NHS evolves.
She said: Instead of working within our own departments we now work in mixed teams of professionals all providing different expertise for the same goal.
"I did think 'Do I want this new way of working, or is it time for me to go?'."
She stayed, embraced the challenge and is now the Allied Health Professional Manager for Children's Services at NHS Forth Valley with a staff of 100.
She said: "I didn't want to retire because I love my job.
"I love that sense of achievement, but in a job like this, it's the people that count. "
I'm planning to retire five years after I die
IN December 1981, Jack Marshall's plans to open a zoological bird park took flight when he got chatting about coffee machines.
At that time, coffee makers were little more than pour over brewers, and nothing like the sophisticated range of equipment on today's market.
But when Jack decided to invest and opened Tapside Coffee Rentals in Bo'ness, he had no idea that the coffee industry was about to take off with spectacular results.
Fast forward 36 years, and Jack now 82, is still at the helm of his thriving empire.
He said: "I work with a great bunch of people. If I want a day off I take it. I don't sleep very well so if I wake at 5am, I get dressed and go to the office and get some work done when it's peaceful.
"I love music and travelling and this year I'd like to take my wife to Andre Rieu's concert in Maastricht. I plan to retire five years after I die."
Tapside Coffee Machine Rentals specialised in supplying designer and bespoke machines to more than 120 clients and also provides installation and barista training.
Jack said: " I just listen to what people want and find ways to supply it. I love problem solving."
The kids come in on their way home. I remember when their mums and dads did the same
Swans's Sweet Shop in Renton, Dunbartonshire is known all over the world. Ex pats on a visit home from America, Canada, New Zealand and other far flung places make a beeline for the olde worlde candy emporium to stock up on their sugary favourites – and enjoy a catch up chat with owner Tom Swan.
After more than 60 years at the helm, Tom, 81, has seen generations come and go and Tom's popularity has never waned. He even has his own Tom Swan Appreciation Society online.
He said: "The appreciation society is nothing to do with me but I do know everyone that comes in the shop and they know me.
"I've seen changes come and go, but everyone loves the old traditional sweets in big glass jars. The most popular are cinnamon balls and wine gums, but I love chocolate gingers.
"I come to work at 11am and shut up shop at 8pm, with an hour for lunch. And I love it. The kids come in on their way home from school and I remember their mums and dads coming in when they were wee."
Tom's other passions include gardening and musicals.
He said: "My wife Mary and I often travel to London to see a show. We both love musicals and in the summer I like to potter about in the garden.
"But the shop takes up most of my time. I'll keep on going for as long as I can. I'm not interested in retiring."
She's probably the oldest scrub nurse in Scotland, but that doesn't stop Lily Hendry rolling up her sleeves and getting stuck in.