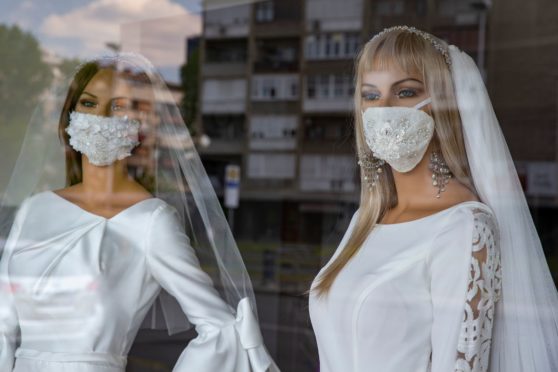 Outdoor weddings will not be permitted during phase one of Scotland's exit from lockdown, a Scottish Government spokesperson has said.
First Minister Nicola Sturgeon unveiled on Thursday a four-phase "route map", detailing how some outdoor restrictions will be eased from 28 May – including permitting people to meet with other households outside, as long as social distancing rules are adhered to.
Scottish Wedding magazine contacted the government to ask if it would therefore be possible for a wedding ceremony to take place outdoors during phase one, since, under normal circumstances in Scotland, people can get married outside and only require two witnesses plus their celebrant.
However, a government spokesperson said this would not be permitted and marriages may not be given the go ahead until phase two.
They said: "The document published today suggests that at phase 2: 'Allow marriages and civil partnerships and other types of ceremonies to take place with minimal number of attendees.'
"This is in the table on page 44. But phase two can only come after phase one – and it's phase one that may start on 28 May."
The document states that the review cycle of phase one will conclude on 18 June, but the government will only allow progression to stage two if the R number stays consistently below one.
During phase three, the document states that restrictions will be relaxed on "marriages, civil partnership and other services to beyond close family."
This suggests that during phase two, only close family members will be able to attend a wedding.
According to the document, it is only in phase four that mass gatherings – large weddings – will be able to resume, in line with public health advice.
Ms Sturgeon said on Thursday that the government will continue to closely monitor progress and the R number, and it is possible that the guidance will change over time.
If you require any help or advice with regards to a wedding, you can email natasha@scottishwedding.co.uk and they will do their best to assist where possible.