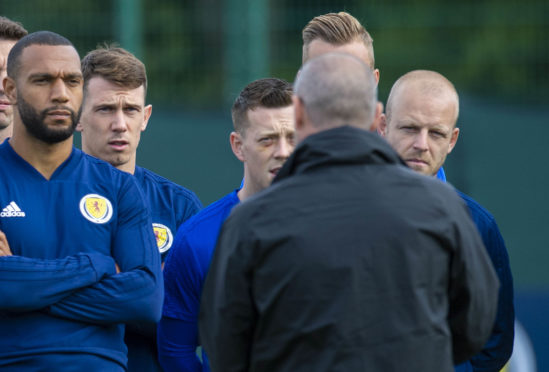 Steven Gerrard is furious with the Scotland backroom team for, as he sees it, running Ryan Jack into the ground while on international duty for the games against Russia and Belgium.
So I really wish we could hear from Steve Clarke, or one of his staff, to get their version of events.
As things stand, they have been hung out to dry by the Rangers manager.
He let his feelings be known through the week when he lambasted the SFA fitness team as "careless" for putting Jack through a double training session just 48 hours after he had played a full 90 minutes in the first Old Firm derby of the season.
Gerrard said his player had been managing an on-going knee problem, and that the Scotland backroom team should have been aware of that.
But should they have?
Did Jack tell them he had the problem?
Until the SFA people come out and give us their side of the story, we won't know the full story.
And until we get the big picture, all we can do is speculate and that does no one any favours – not the SFA backroom team, Steven Gerrard or the player himself.
As it stands, from all the information I have of the situation, I don't think Ryan Jack can be blameless in all of this.
For all we know, he may have said nothing to the Scotland staff about his knee problem, and I can understand why he might have done that.
He's a lad who wants to play for his country. He's 27 and he's only got two caps, so it's no wonder he's eager.
He must have joined up with the squad and thought: "There's no way I'm letting this chance go."
He may have been worried that it would have reflected badly on him if he said he had a problem.
Jack could have been worried the Scotland boss would mark his card as a lad without the stomach for battle. I get all of that.
But I think Ryan's relative lack of experience with the international set-up may have cost him on this occasion.
If he were a player with 20 or 30 caps under his belt, I'd imagine he would have felt secure enough to say he wasn't feeling right.
Instead, he might have just kept quiet.
He didn't want to let Steve Clarke down.
But if he has stayed silent while away with Scotland, he has ended up letting Clarke, Steven Gerrard and himself down.
And for all Gerrard's anti-Scotland-camp talk, I suspect he knows Jack is due a share of the blame for returning to Rangers injured.
The fact Stevie said he was "too annoyed" to speak to Ryan about the issue says everything for me.
The only thing he can be annoyed with, as far as I can deduce from the information we have, is his player for his failure to speak up.
Like I said, if that was indeed the case, I understand why he did it.
When I think back to my playing days, representing my country – I got 13 caps and would have loved more – was a huge thing for me.
I would have been tempted not to mention anything if I were carrying an injury.
But as you mature as a player, you realise that you do yourself no favours by keeping quiet.
If you're carrying a knock, you only ever make it worse by playing through it, which causes further problems down the line.
Remember, I'm a guy who had to stop playing early because of chronic back problems.
Ryan Jack isn't in that camp.
But for everyone's sake, maybe he needs to learn that saying "no" isn't the same as giving up.