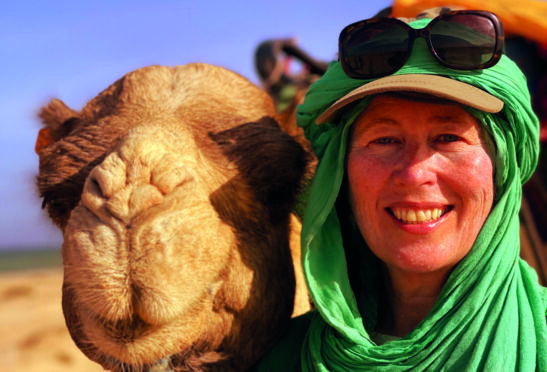 Snow is falling on Alice Morrison's home built into the rock in Morocco's Atlas Mountains. She's just back from a wild walk. Outside in the yard she shares with neighbours, children are calling her to play.
Morrison is something of a curiosity in these parts. The adventurer became the first woman to walk the country's Draa River valley – all 932 miles of it. A single woman, with her three guides and five camels, she completed the trek in three months in 2019. Even more remarkably, at its end, she decided to keep going, crossing the whole of Morocco on foot, a total of almost 2,800 miles. The expedition saw her dodge landmines in the Sahara's disputed territories, narrowly escape quicksand, and discover dinosaur tracks and the relics of ancient civilisations – all the while charting the harrowing impact of the climate crisis and the changing lives of the region's nomadic people.
Today, as she publishes her account of the epic journey, Walking With Nomads, she reveals the expedition was almost derailed after the beheading of two young European tourists.
The former chief executive, who began a life of adventure after swapping the rat race for a bike race, the gruelling 7,770 mile 100-day Cairo to Cape Town Tour D'Afrique, said: "We had agreed the route that I would be travelling. Then, on December 17, 2018, the bodies of Louisa Vesterager Jespersen, a 24-year-old Danish woman, and Maren Ueland, who was 28 and from Norway, were found decapitated about five kilometres from my house, killed by terrorists from the Islamic State of Iraq and the Levant who had found them camping alone.
"It was a dreadful crime that sent shockwaves through my village and across Morocco."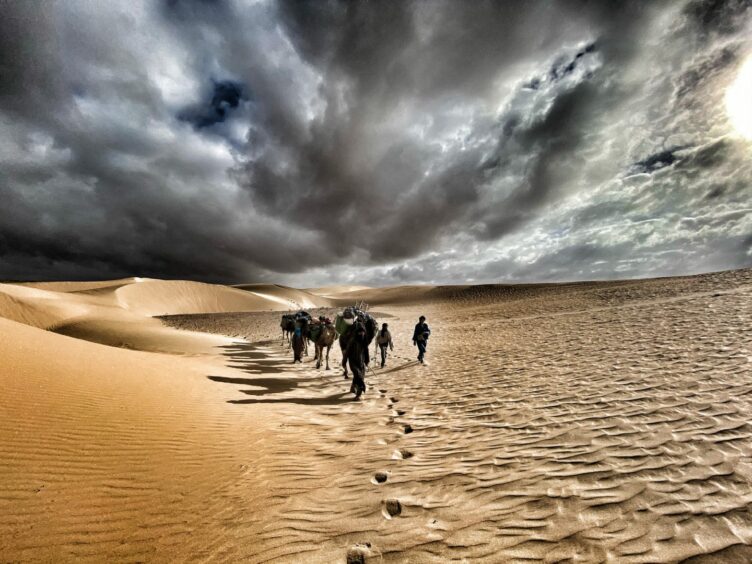 Edinburgh-born Morrison, who studied Turkish and Arabic at university in her home city, said: "The authorities hesitated on their approval of our trip, taking a lot of persuasion to let us go. But I am quite pragmatic and practical. I'm very Scottish that way. It was a case of, 'You have worked really hard to get this trip organised, so don't let it derail you'. I had lived in Morocco a long time, six-and-a-half years at that point. I live in the community and don't live the expat life. You don't stop going on the London tube because of what happened on 7/7."
So she set off as planned in January 2019 with the camels – each of whom she gave a Scottish name – and her Amazigh, Muslim guides who included Brahim Ahalfi and Addi Bin Youssef, soon to become her "constant and true" companions and to whom the book is dedicated.
But Morrison, who they officially named Zahra (flower) and later Tafilfilat harran (the hot chilli pepper, because of her temper) admitted to initial reservations. She said: "Before I started the trip the one thing I was worried about was being lonely. I'm Scottish and a woman and Christian. We come from different cultures and different countries. I thought they wouldn't approve of what I was doing because it is not what Moroccan women do. I knew they were traditional men and very religious."
The issue came up quickly, as she reveals in the book: "I'm walking at the back of the camels feeling a bit sorry for myself when Brahim shouts back at me, 'Zahra, come up here. Why are you walking alone at the back? Come and walk here with me. One hand can't clap.' I scurry to the front and take my place beside him, one of the gang. My worry about loneliness disappears."
She told The Sunday Post: "I had made a ridiculous assumption. I laugh at myself for making it because we got on like a house on fire."
Turning their backs, she writes, "on the city and modern life to walk back into history in the old way with our caravan of camels, following the nomad paths", Morrison told The Post: "The real pleasure of the trek was waking up to the sound of Brahim saying prayers. Me, like a true Scot, having porridge for breakfast while the camels munched oats and the team laughing and teasing me for eating 'camel food'. And then setting off, walking across the world under a vast sky, with empty space all around, and the rhythm of the camel; that's a fantastic feeling."
It was the antithesis of her old, Western life. Morrison was one of only three BBC female news editors, helped launch the BBC News Channel, and at one point co-edited of all of its daytime news output before her eventual appointment to CEO of a Vision+Media quango. She explained: "When I was in a successful corporate job and living a fast-paced and complicated life, I sometimes looked at myself and thought, 'I want to be the person who is a bit more in tune with nature and with people around her. I want less focus on success and more focus on the deeper currents of life'.
"I had a beautiful house, a nice car, lovely clothes, loads of friends, and enough money to eat out and go on fantastic holidays. But I wanted to be free, I wanted to travel. So I set off to cycle across Africa when I was 48 after making myself redundant and then this whole new stage opened in my life."
She moved to Morocco in 2014 to train for the Marathon Des Sable, the toughest footrace on earth, six marathons across the Sahara in six days. Morrison said: "I was earning no money, and it was all scrimping and scraping. It still is. But my life is incredibly rich and wonderful."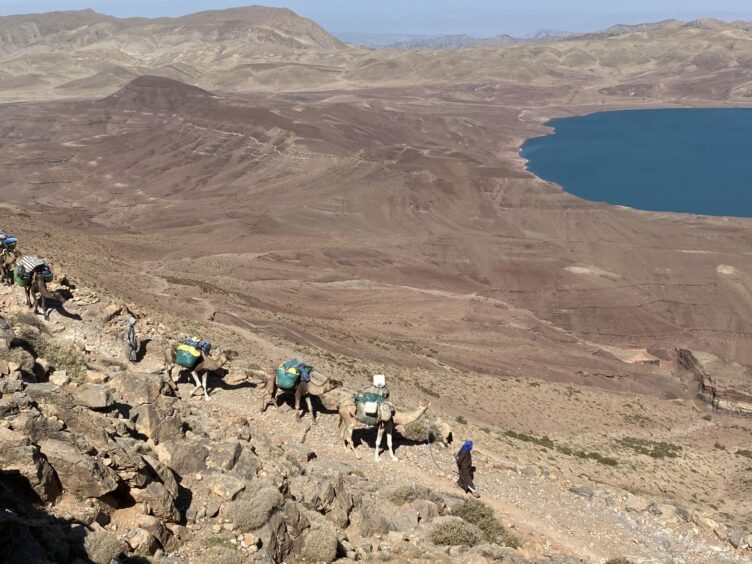 The wonders of her Walking With Nomads expedition were awe-inspiring; finding "spaceships" in the early stages and towards the end, dinosaur prints. Of the huge wing-shaped stone structures measuring around 250 metres, shimmering in the sun high above the Draa Valley, she said: "It was like this extraordinary Starship Enterprise-shaped edifice. Photos taken from above by drones show it's absolutely symmetric. Months on in the Sahara, I met a professor of archaeology who explained they were, as far as they know, prehistoric funerary monuments. And they were still there, looking out towards the west.
"Putting my hand into a dinosaur footprint was amazing. We had to rope up and climb sheer cliffs, which terrified me, but once I had located the prints (documented by others), I wanted to find some of my own. They are not that easy to spot but we went exploring further and found quite a lot more. It was enormously exciting.
"There was so much joy and pleasure and light on the trek but the darker experience was when the water dried up. Iriqui is 25 kilometres of dead, cracked sand but when there is good rainfall it is a lake. The last time it happened was in 2014. I remember going to a palm grove and it was as if there had been a bush fire. Everything was dead purely because the water underneath had dried up. We were in the wilderness where there had been wells, but now they were dry. And it is entirely because of climate change. The Sahara used to support a lot of camel nomads, but social change, as well as climate, is affecting their lifestyle. One day on the horizon we could see enormous trucks, as we came closer we discovered it was one family loading all their camels on to vehicles to go further east where there was more vegetation. Camels can exist on almost nothing, very dry thorny bushes, but even those were gone."
Reliving other frightening moments, she said: "In the Sahara section we went across a military zone and an area seeded with land mines. They were vehicle mines so they would not have exploded me but would certainly have exploded a camel. There were about 10 days of that. We were fine, but it was frightening."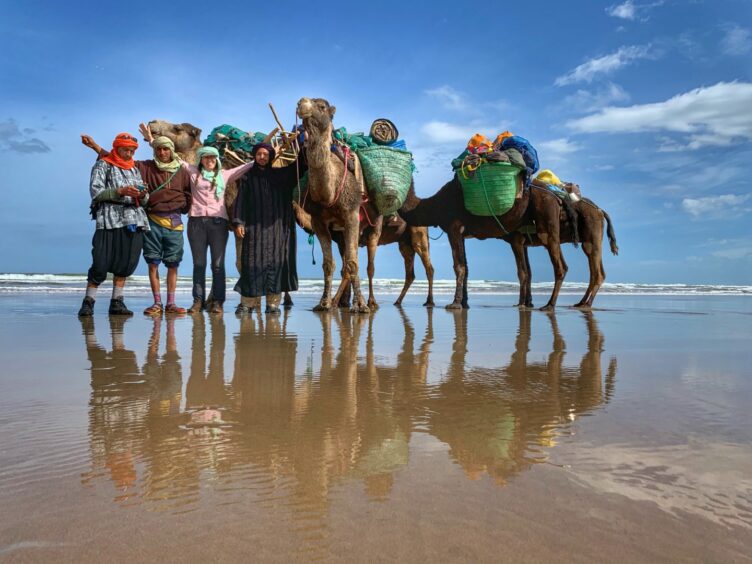 Equally terrifying was the moment their lead camel Callum sank, fully laden, into quicksand. "He was thrashing and roaring and screaming and was tied to the second camel Alastair who was also being dragged down." They were rescued, only for Hunter, another lead camel, to sink up to his chest.
She said: "Brahim pulled him up while I was left holding the other distressed, frightened and agitated camels and trying to keep them in one place because I knew all around us was quicksand. But we made it." She laughed: "That night we had a celebration of escaping death by quicksand."
Morrison's stories are cut short by young voices pleading for her to help them build a snowman, and she's off, leaving just her words on a page: "We live in a time when the world is in crisis in so many ways. I want to bear witness to what is happening to the planet as our climate and our society changes and I want to tell the stories that bring we humans together rather than the ones that drive us apart. Together, we can strive towards solutions and a happier world. What better place to start than with the places and people that are furthest away."
---
From the book
Walk half a day towards the sun with the wind on your right
March 15, 2019 – South of Ain Ouin Mesdour: The sea
Water has now become our major preoccupation. We are nearing the sea and the end of our journey but the Draa has disappeared underground or dried up and wells are fewer and further between.
I am learning how to try to find those occasional wells. The first and best way is to ask a nomad. We pass a person every couple of days or so and, after greetings and enquiries about their health and the health of their family, we ask where the nearest well is. The directions are always brilliant. "You walk for half a day towards the sun with the wind on your right. When you are entering an oued between two lines of hills, look to your right and you will see a tafrukht (palm tree). There, you will find water."
The second way is to use animal tracks. Camels and desert foxes, as we know, can survive long periods without drinking but most other animals can't. If we are in an area where nomads still have flocks, it's relatively easy, as the tracks from the herd will lead us to a source.
Another good guide are the wild donkeys, who never stray too far from water. Palm trees are also a sign. They need water to grow, so there is a chance of finding it there. The only problem with that is if there isn't an associated well and the water hasn't surfaced. Then, you need to dig. Fortunately, we never got to that state of emergency.
On this day, the terrain is flat with canyons eroded into it where water has been at one stage but no longer exists. It's getting near bivouac time and we're down to our last 25 litres.
We're now in March and the temperature has risen into the late 30s Celsius. Ahead of us, a grove of palms emerges and we all get excited. It's quite big so surely there's water there, but when we arrive we find we were wrong. There's none. We hadn't passed any nomads or animals that day and there are no visible animal tracks.
We are running out of options. Addi and I are left with the camels and BB and Brahim take to the hills on either side of us to gain some elevation and see what they can. They come back with nothing and we carry on.
There is a well shape in the distance and we aim straight for it, but when we get there it's been concreted up. There are lots of different reasons for wells to be concreted over – usually it is when the water is gone and it's been made safe but sometimes it is because of water wars. At one camp, we had been told that the well was disputed between two tribal families. Both wanted exclusive rights and they started to fight each other over it, carrying out raids. Attempted negotiations failed and eventually, to stop the violence, the authorities came in and poured concrete into the living well. Each family then had to dig a new well in their own undisputed territory.
Beside the concreted well is a square metal container about a metre and a half across and a metre high. It is covered in cloth with plastic on top. It's a cistern and Brahim explains that if there are nomads in the area then the military will come and fill it for them. Addi wrestles the top off to check if there is anything inside, but again we are disappointed.
By now, we're all really tired and the canyon that we've been following has deepened and widened. It's filled with acacia trees which could mean some kind of source. We still have 25 litres and since both the team and the camels have had enough, we stop and set up camp.
Addi takes off straight after we have done the tents to scout and arrives back, drenched with sweat, just as the rest of us are finishing up lunch. He has run all the way and is flushed with success, as well as the heat, because he has found a well.
When I ask him how, he laughs, "Don't you see them, Zahra? The nomad tracks. They took me straight there." I can't see anything.
---
Walking With Nomads: One Woman's Adventures Through A Hidden World From The Sahara To The Atlas Mountains by Alice Morrison is published by Simon and Schuster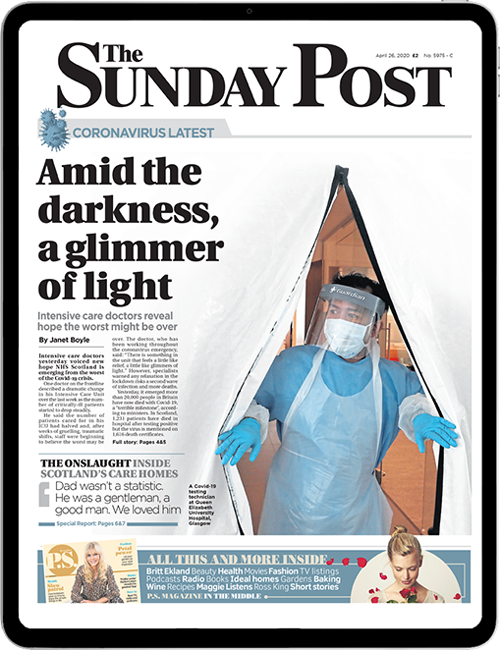 Enjoy the convenience of having The Sunday Post delivered as a digital ePaper straight to your smartphone, tablet or computer.
Subscribe for only £5.49 a month and enjoy all the benefits of the printed paper as a digital replica.
Subscribe