Fraud in Scotland has increased by 10% since the Covid-19 lockdown was imposed, police revealed yesterday.
Crooks have been targeting people by phone, online and door-to-door in an attempt to cash in on the pandemic.
They have even been doorstepping people and impersonating NHS staff to try to con them out of money. Fake websites selling bogus Covid-19 cures or asking for donations have also been set up.
Police Scotland has uncovered evidence that some criminals are taking advantage of the lockdown to commit offences. Public nuisance reports have also more than doubled – accounting for a fifth of all calls – and mainly involve people ringing police over failures to stick to the guidelines on distancing.
Noise disturbance rates are up, and patrol officers believe that is due to residents spending more time at home.
But overall crime levels fell by a quarter between the day after restrictions were announce on March 24 and April 19 compared to the same period last year. Serious assaults dropped by 40% and common assaults fell by just over a quarter as people have been keeping their distance and restricted to only essential journeys.
Housebreaking has also declined by 30%, according to the figures released by Police Scotland today.
Deputy Chief Constable Fiona Taylor said: "The significant changes that everyone is having to adjust to are undoubtedly having an effect on the nature and level of demand on policing.
"While decreases in assaults and housebreaking are to be welcomed, this information covers a relatively short period of time and care must be taken to avoid assumptions about trends.
"These early indications suggest that there are fewer crimes committed on the streets and in our town and city centres because the overwhelming majority of people are stepping forward to do their part to protect the NHS and save lives.
"I would like to thank people for their continued co-operation and support as Police Scotland carries out our role in supporting the national effort to make the changes needed to combat the spread of coronavirus."
The rise in fraud has come as crooks attempt to exploit people's fears about coronavirus.
East Lothian Council has warned of scammers going door-to-door pretending to be NHS workers collecting donations or offering to do people's shopping for money.
Fraudsters have also offered to spray paths and driveways with anti-bacterial treatment for cash.
Text messages containing links have also been sent out posing as official guidance.
Marjorie Gibson, head of operations with consumer advice.scot, said: "This kind of despicable behaviour will cause anxiety and stress at a time when so many are finding the lockdown difficult to cope with.
"It's sickening that rogue traders are looking to prey on the vulnerable during this crisis, and we urge everyone to be vigilant."
Police Scotland launched a Shut out Scammers awareness campaign on March 24, within hours of the lockdown restrictions being imposed.
The official police advice on fraud is: "Never be afraid to say 'no thank you' and close the door on a cold caller.
"Do not feel pressured into making a decision on the spot. Any legitimate trader/helper will be happy to return at a later date.
"Be sceptical if you receive an email, text or WhatsApp message about coronavirus, and never click on any attachments or links.
"Don't allow yourself to be pressured into donating money, and never make donations by cash or gift card, or send money through transfer agents such as Western Union or MoneyGram.
"Remember, it's your home. There's no reason why anyone should ever enter your home against your wishes."
But the vast majority of Scots have been keeping on the right side of the law during the period covered by the lockdown restrictions.
Breach of the peace has fallen by more than 50%.
The number of people caught in possession of illegal drugs has also dropped by about a fifth.
The rate of domestic abuse reported to police has dropped slightly as well, though officers are not convinced the figures are a true reflection of what is happening in households where an abuser lives.
DCC Taylor added: "We are seeing a slight decrease in domestic abuse incidents but are acutely aware this may not reflect what is happening behind closed doors and we know that people don't always report abuse immediately.
"For some, this period of physical distancing and isolation may expose them to a greater risk of abuse, harm and neglect.
"We have been using our social media channels to highlight our concern and raise awareness in communities. We want people to feel safe and we want to prevent harm by identifying people who may be at risk, and putting in place measures that will help keep them safe.
"There will be no change to how we respond to child protection issues. Protecting children and reducing harm remains a priority for Police Scotland."
Police chiefs also believe it could be a long time before the full impact of Covid-19 on the crime figures – which are released quarterly – can be assessed.
The figures released today are provisional and may be subject to adjustment.
DCC Taylor added: "It could be months or years before we have a clear picture of the effect that physical distancing requirements have had on some crime categories in Scotland.
"What I want to emphasise is that we remain committed to making sure that every one of Scotland's citizens is looked after. Our primary responsibility is to prevent crime.
"We strive to leave victims of crime feeling safe and we will continue to make sure that those who are living alone, the elderly, the vulnerable are given full protection.
"If you need the help of the police, please contact us."
---
---
Police were out in force yesterday as many Scots tried to enjoy the warm weather despite the lockdown. The parks seemed busier than usual as officers encouraged people to go home after taking exercise.
The national force has issued nearly 2,000 fixed penalties to people for flouting new laws aimed at protecting people from coronavirus. Hot weather has added to the number of people breaking the restrictions on social distancing as experts warn more people are tempted to ignore restrictions as the lockdown enters its sixth week.
Yesterday the Queensferry lifeboat had to be launched after reports of people swimming in the sea near Cramond Island, Edinburgh. Four young men have also been charged after a police officer was pelted with rocks after she tried to break up a gathering.
The officer needed hospital treatment for her injuries after police had been alerted to reports of a group of youths at a building site in Cambuslang, South Lanarkshire, on Friday night. Two 16-year-olds and two men aged 20 and 21 have been charged.
Last week Police Scotland said 78 people have been arrested for breaking the new public health laws. More than 1,600 fixed penalty notices have also been issued since the lockdown began. Deputy Chief Constable Malcolm Graham praised "remarkably high levels of public co-operation".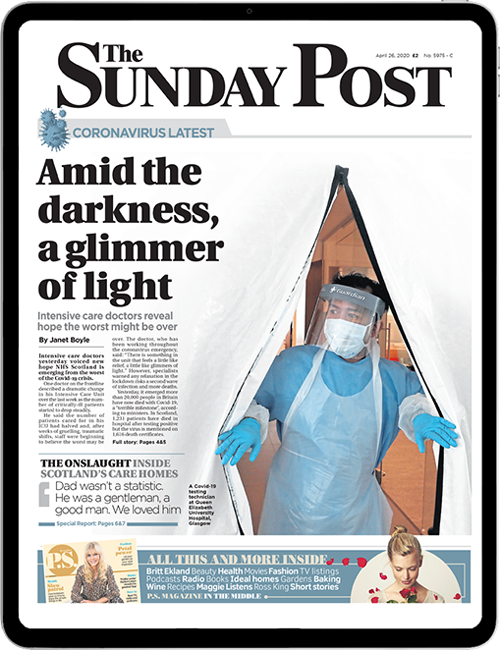 Enjoy the convenience of having The Sunday Post delivered as a digital ePaper straight to your smartphone, tablet or computer.
Subscribe for only £5.49 a month and enjoy all the benefits of the printed paper as a digital replica.
Subscribe