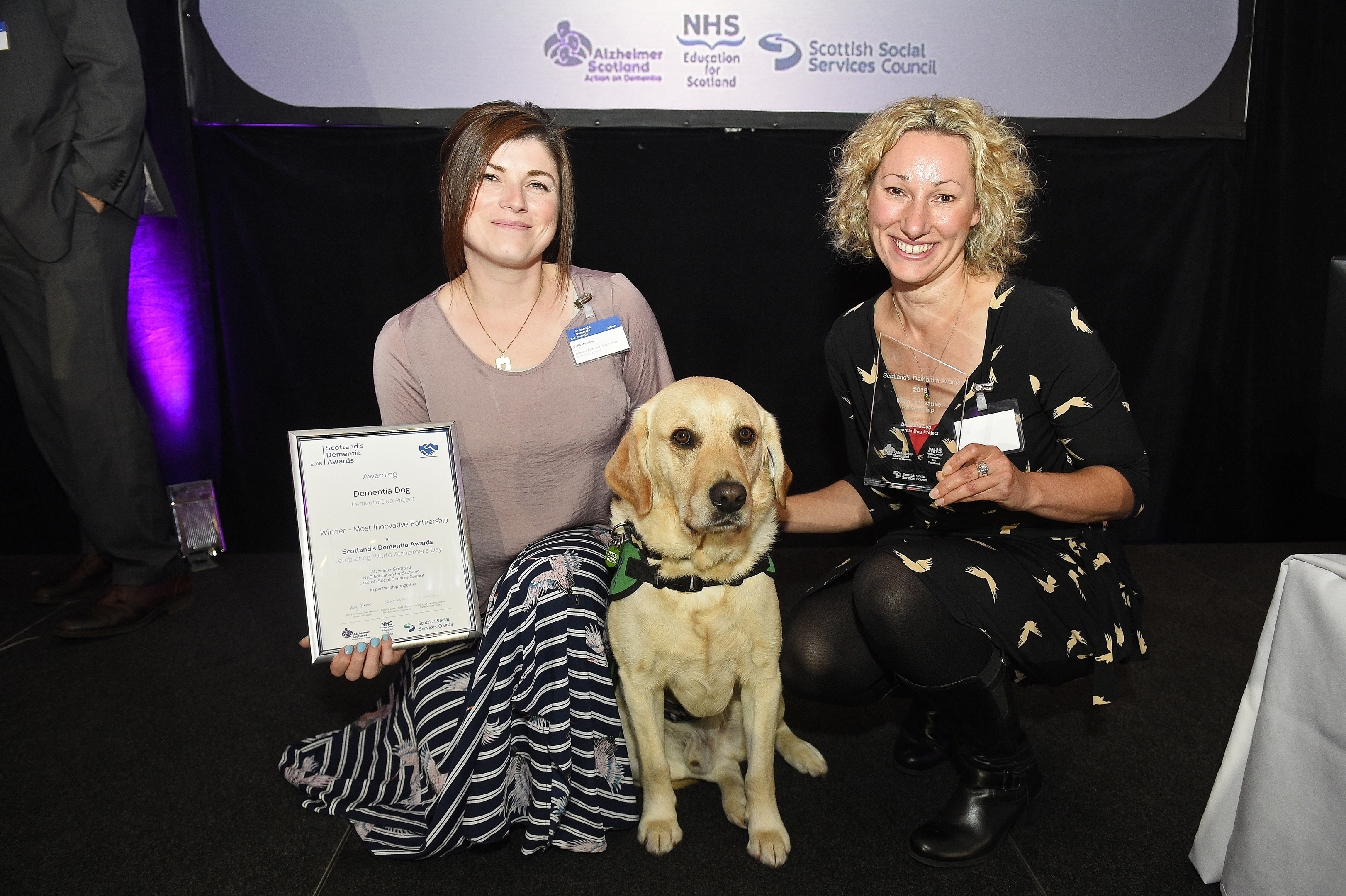 INITIATIVES in making a difference to the lives of people living with dementia and their families have been celebrated at Scotland's Dementia Awards 2018.
A3Z7dOcX
The event, at Glasgow's Marriott Hotel, recognised a number of creative approaches, collaborations and innovations surrounding dementia care across the country.
This included an initiative to allow a friend or family member to be a 'theatre buddy' for a dementia patient undergoing surgery, as well as a partnership which sees prisoners train dogs to help people living with the condition.
A special Lifetime Achievement Award was also presented on the day to Hugh Masters.
The former Associate Chief Nursing Officer to the Scottish Government received recognition for his outstanding contribution and dedication to educate and promote dementia care and support across acute general and specialist dementia care hospitals.
Henry Simmons, Alzheimer Scotland's Chief Executive, said on behalf of the partners: "It is a fitting tribute that we are celebrating the wonderful contribution that individuals and teams have made across the dementia care sector in Scotland to mark World Alzheimer's Day.
"We have been thrilled to celebrate the work of so many innovative and dedicated individuals alongside the hugely impressive positive collaborations that are taking place.
"Their combined efforts are helping to dramatically improve services, address stigma, break down barriers and ensure that nobody faces dementia alone.
"This year's winners have set a new precedent and we are delighted to see everyone congratulated for their efforts to support people living with dementia and their families."
Dementia is the biggest health and social care challenge faced by society today.
There are 90,000 people living with dementia in Scotland and it is now estimated that 20,000 people every year will be diagnosed with the condition by 2020.
---
The winners
Best Community Support Initiative 
Bridging the gap between acute and community care, NHS Ayrshire and Arran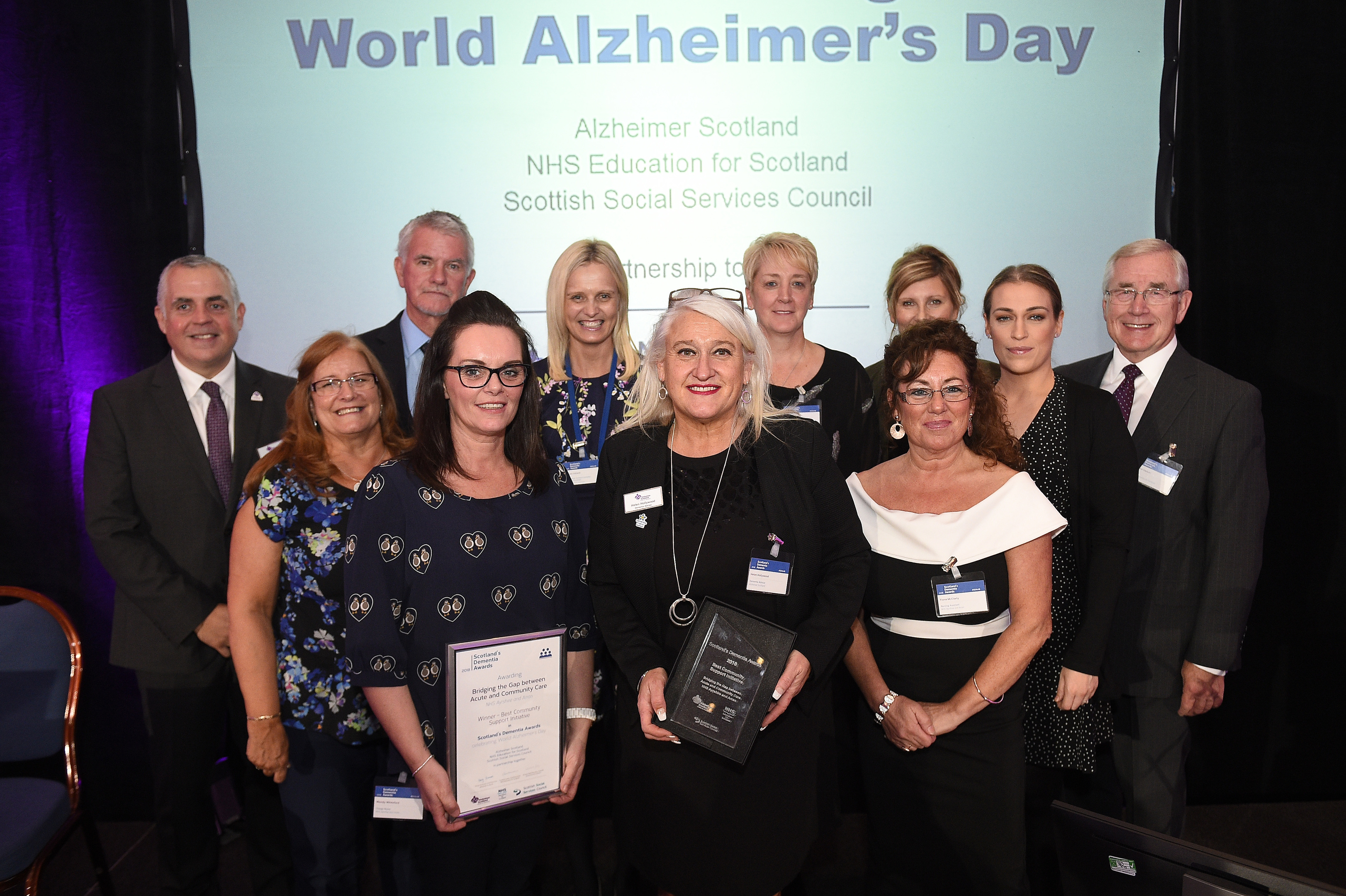 This initiative was developed with the aim of creating a referral process which would enable people with dementia and their families/carers to have access to individualised dementia-specific support and advice from an Alzheimer Scotland Dementia Advisor, both during and post admission to acute hospital care.
Through supporting the implementation of this initiative, the Dementia Advisor and acute care staff have enabled people with dementia and their family members/carers to experience feelings of increased comfort and hope during difficult times; to feel supported in making informed decisions about care and to facilitate successful discharges home from hospital.
Best Dementia Friendly Community Initiative
Music, Fun and Laughter, Stonehouse Jubilee Club
The Stonehouse Jubilee Club is a social afternoon for people with dementia and their carers, run by volunteers.
They offer various activities including reminiscence quizzes, entertainers and outings, but focus mainly on music.
The Jubilee Jammers are four volunteers who taught themselves ukulele and as well as being the club resident band, they receive invitations to entertain other community organisations for a donation to the club.
The SJC offers a support service to people with dementia who otherwise wouldn't be able to get into the Club.
Their motto is: Music…Laughter… Friendship
Best Educational Initiative  
Enhancing inpatient care using the Promoting Excellence Framework, NHS Fife
A bespoke two-day interactive training programme was developed at skilled level of the Promoting Excellence Framework in which staff are encouraged to share their wealth of knowledge, skills and experience.
A variety of teaching methods are included to promote learning and discussion. The programme also includes a module dedicated to Cognitive Stimulation Therapy.
Staff are asked to consider a small change that they would like to carry out in their ward, focusing on enhancing patient, relative or staff experience.
There has been amazing work initiated which has been recognised by the Mental Welfare Commission, patient, carer and staff feedback.
Best Hospital Care Initiative
Theatre Buddy, University Hospital Wishaw
Going to theatre for surgery is a terrifying experience for patients with dementia. Often the stress and distress before and after can have a significant impact on their recovery and outcomes.
Theatre Buddy affords patients the opportunity to have a relative, carer or friend accompanying them to theatre, to be present in the anaesthetic room until they go to sleep and to be the first person they see in the recovery room.
Patients are less stressed in theatre and returning on return to the ward.
Rehabilitation can start earlier, length of hospital stay is reduced as is the need for supportive medication.
Most Innovative Partnership
Dementia Dog, Dementia Dog Project
Dementia Dog Project is a collaboration between Alzheimer Scotland and Dogs for Good, pioneering new ways that dogs can enable people to live well with dementia.
To achieve this, they work in partnership with Scottish Prison Service and Paws for Progress at HMP Castle Huntly, establishing the UK's first prison-based assistance dog training programme.
Through the combined input of Paws for Progress and Dementia Dog, men in custody learn new dog training skills to enhance their future employability and dementia awareness, while enabling them to make a significant, lasting contribution to society through the provision of life changing assistance dogs.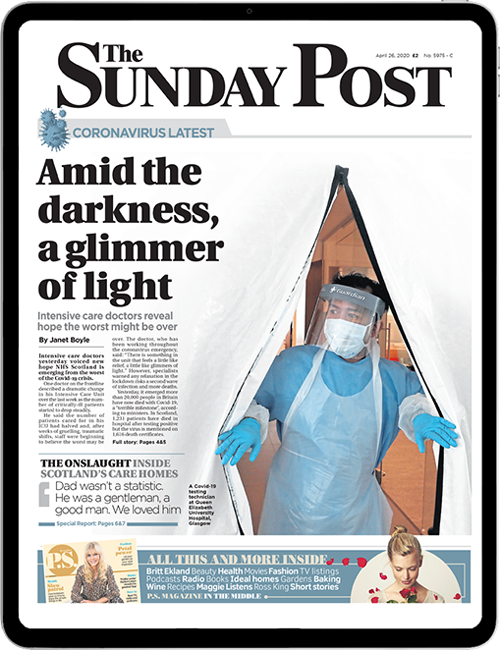 Enjoy the convenience of having The Sunday Post delivered as a digital ePaper straight to your smartphone, tablet or computer.
Subscribe for only £5.49 a month and enjoy all the benefits of the printed paper as a digital replica.
Subscribe