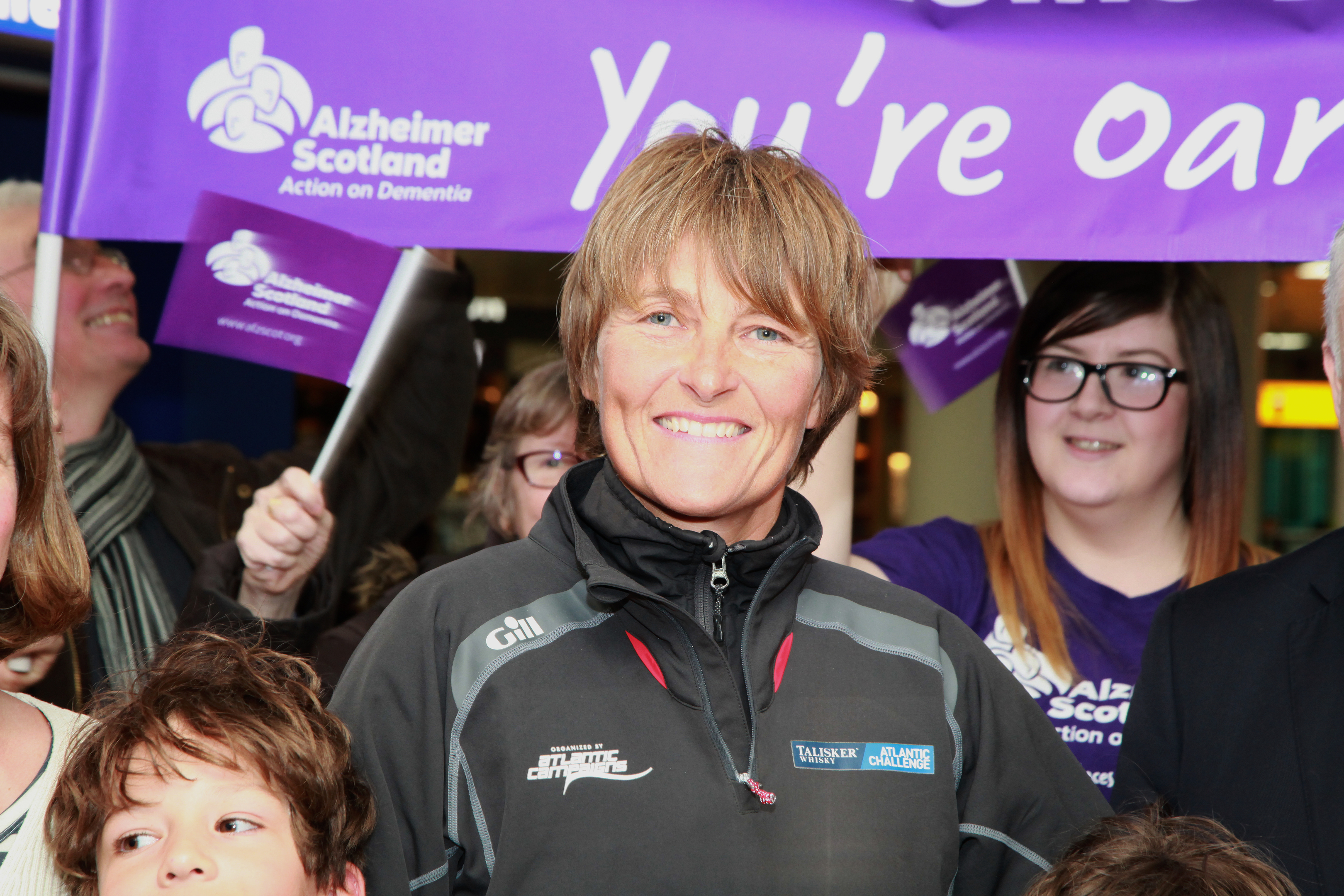 A SCOTS mum-of-two who broke the solo female record in a rowing race across the Atlantic Ocean has returned to Scottish soil.
Supporters were on hand to welcome back 44-year-old Elaine Hopley at Glasgow Airport on Friday afternoon after her incredible journey in the Talisker Whisky Atlantic Challenge.
The event is known as the world's toughest row and she had to endure huge waves and tropical storms as she made her way unaided across the ocean, raising funds for Alzheimer Scotland.
She told the Sunday Post: "I've always wanted to cross an ocean and to race as well so it was the perfect combination to go and race in the challenge.
"My mum had dementia for 17 years so it was quite a big part to raise money for Alzheimer Scotland."
It took just 59 days, 19 hours and 14 minutes for Elaine to make her way from the starting point in Spain all the way over to Antigua in her boat, which was named Jen after her mother.
Over the course of the gruelling journey, race organisers say she burned around 8,000 calories a day and lost approximately 20% of her body weight.
She also had to contend with sleep deprivation, heat, jellyfish stings and the fact she was spending Christmas alone in the middle of the ocean in horrendous conditions.
https://www.facebook.com/ehoceanrow/posts/1169656519814982
"There were loads of [obstacles], winds from all directions, we had huge swells, big seas, two tropical storms to deal with so a lot of different conditions to get through," she said.
"It really completed my crossing I think because I had such a variety of different weathers."
So what's next for Elaine?
"I'll try to get back to normal," she laughed.
"I'll get my business back going again because I've been away pretty much three months so it's back to work!"
She remains tight-lipped, however, over any future fundraising challenges.
"There'll be something but I'm not saying anything at the moment…Watch this space!"
Jan's Journey home is under way. Gosh felt a bit emotional she is truly a awesome boat and I had an incredible journey with her @RannochNews pic.twitter.com/KI2cPvvOHU

— Elaine Hopley (@elaine_hopley) February 25, 2017
Alzheimer Scotland thank Elaine for her fundraising efforts
Among the crowd welcoming Elaine home was Alzheimer Scotland's chief executive Henry Simmons.
"It's unbelievable what she's done," he said.
"She's set a world record and rowed across the Atlantic single-handedly, but perhaps for us she's raised the awareness of our cause and of dementia.
"She's really helped Alzheimer Scotland and all round it's an amazing achievement.
"She deserves all the credit and thanks that we can give her for what she's achieved, it's remarkable."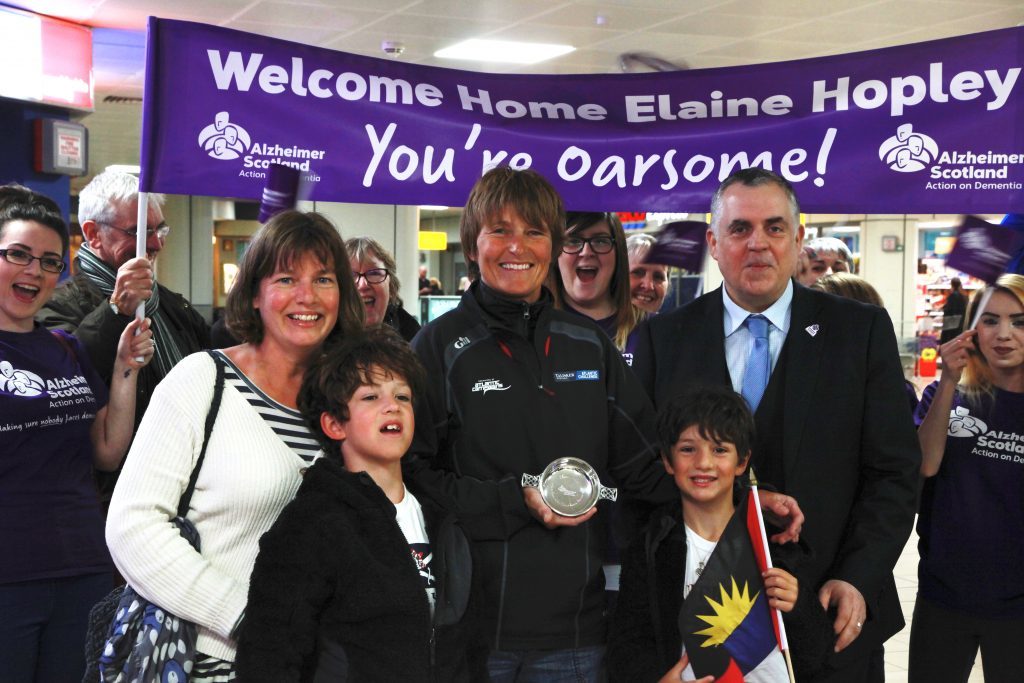 The charity relies heavily on fundraising income to help pay for nurses, research staff, advisors and to help fund vital lifelines for those living with dementia, including resource centres and a 24 hour helpline.
"Elaine's raised an awful lot of money for that but also inspired other people to go on and raise money to support our work," said Henry.
"We're facing one of the biggest public health issues in our country today and dementia really is so significant.
"The more people who help us deliver support, the more we can do to help people to make sure they never have to go thorough the experience of dementia alone."
He added: "You don't have to row the atlantic to help Alzheimer Scotland, there are lots of things that you can do from the smallest activity to the biggest event.
"There's lots that we need people to do so get in touch and help support our cause."
Visit http://www.alzscot.org/ for more information.
To donate to Elaine's crowdfunding campaign to bring her boat home, click here.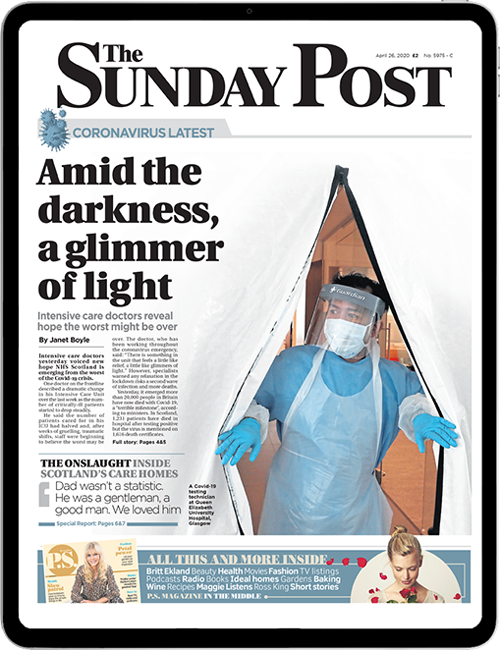 Enjoy the convenience of having The Sunday Post delivered as a digital ePaper straight to your smartphone, tablet or computer.
Subscribe for only £5.49 a month and enjoy all the benefits of the printed paper as a digital replica.
Subscribe