PRIME Minister's Questions was plunged into chaos after the SNP's Westminster leader was kicked out for repeatedly challenging Speaker John Bercow.
Ian Blackford defied numerous demands to retake his seat after he claimed Scotland was being sidelined in Brexit debates.
Mr Bercow ordered him to leave the chamber and said he could not return for the rest of the day.
SNP MPs stormed out in protest and shouted at the Speaker.
Conservatives accused Mr Blackford of orchestrating a publicity stunt because Mr Bercow had agreed to hear his motion for the House to sit in private at the end of the question session.
I asked for a vote to divide the @HouseofCommons. As ever we were promised one thing and another was delivered. @theSNP will not stand idly by and allow the power's of @scotgov to be demeaned. pic.twitter.com/JQ8sPdk46h

— Ian Blackford (@IanBlackfordMP) June 13, 2018
My SNP colleagues and I were treated to the same braying and disrespect that we receive on a continual basis. Scottish Tories told me to sit down. Let me be clear, the SNP shall not 'sit down' and allow the people of Scotland to be treated in this way. #PowerGrab #PMQs pic.twitter.com/GUT984iJNg

— Ian Blackford (@IanBlackfordMP) June 13, 2018
Mr Blackford said the SNP would take the Government on "every way" including through parliamentary devices.
He told BBC News: "Scotland's voice has not been heard. We have had changes to the devolution settlement that were pushed through last night without Scottish MPs' voices being heard. That is a democratic outrage.
"I asked the Prime Minister to bring in emergency legislation so we can conduct a proper debate, with respect, on the powers of the Scottish Parliament. Let's discuss the power grab that is coming from Westminster.
"That is not acceptable and the Speaker refused to allow a division which I rightly called for. It is an absolute disgrace.
"My job, my colleagues' job, is to stand up for the powers of the Scottish Parliament. I will do that."
The Speaker can kick out MPs who "disregard" his authority.
Labour's Dennis Skinner has been ordered out for the day four times since 1992.
Mr Blackford is the ninth MP to be asked to withdraw for the remainder of the day over that period.
SNP leader Nicola Sturgeon said she was "right behind" Mr Blackford and accused Westminster of treating Scotland with "contempt".
Scottish Secretary David Mundell said the SNP was about to be granted a debate on the devolution aspects of the EU Withdrawal Bill.
He added: "Disappointed, if not surprised, that if they really felt so strongly about it, they chose a stunt over holding the Government to account."
Today @theSNP MP's have walked out of PMQ's in protest at Scotland being disrespected by Westminster. Here's why. #snpwalkout #PMQs #EUWithdrawalbill pic.twitter.com/tS4g8HbQE6

— Hannah Bardell ????????️‍? (@HannahB4LiviMP) June 13, 2018
Asked about the SNP walkout, a senior Downing Street source said: "That sort of stunt effectively means that the SNP members who were down on the order paper to ask the Prime Minister a question can't represent their constituents.
"We've said on a number of occasions that the politics of independence can be divisive and I think this is probably an illustration of that."
The source added: "We've been talking with the Welsh and Scottish devolved administrations for a year. The Welsh Assembly has accepted the proposals we've put forward.
"The offer is a clear one. The vast majority of powers that come back from the EU in terms of the devolved administrations will go directly to Edinburgh, Belfast and Cardiff."
Following Prime Minister's Questions, a series of points of order were raised with Speaker John Bercow about the conduct of the SNP.
Right behind @IanBlackfordMP and @theSNP MPs. Scotland and @ScotParl are being treated with contempt by Westminster and it needs to be highlighted. https://t.co/Mbrriq6RPL

— Nicola Sturgeon (@NicolaSturgeon) June 13, 2018
Particular criticism was laid at Mr Blackford, who was due to apply for an emergency debate on devolution following Tuesday night's Brexit bill debacle but because of his exclusion from the chamber could no longer do so.
Scottish Tory MP Douglas Ross spoke of his frustration, telling MPs that the SNP had taken the "pathetic theatrical route" rather than representing their constituents.
Lib Dem former Scottish secretary Alistair Carmichael accused the SNP of "pulling a stunt" and asked Mr Bercow if there was any way the emergency debate on devolution could be resurrected, as under parliamentary procedure applications have to be received by 10.30am.
Mr Bercow told MPs that it was not possible, but the issue could be raised in another form.
Labour MP Ian Murray (Edinburgh South) also raised the point, again asking if the debate could be revived after the SNP's "childish antics" – to which Mr Bercow said: "Tomorrow is another day."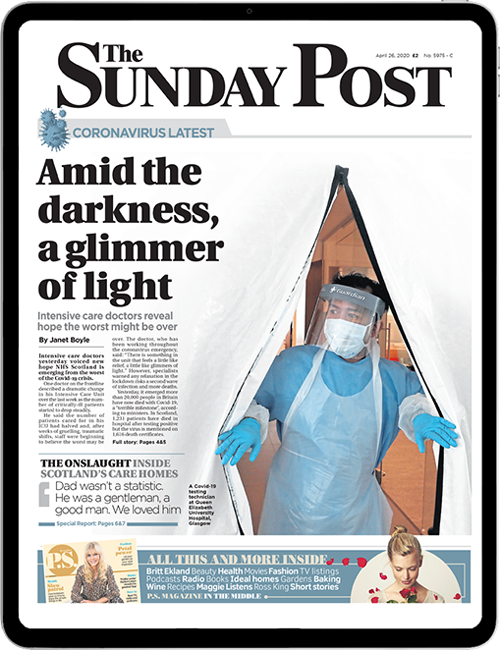 Enjoy the convenience of having The Sunday Post delivered as a digital ePaper straight to your smartphone, tablet or computer.
Subscribe for only £5.49 a month and enjoy all the benefits of the printed paper as a digital replica.
Subscribe