People in the sleepy village of Pirnmill on the Isle of Arran were gasping for a pint.
Located in the north west of the island, the nearest pub a seven mile trek one way and an 11 mile trek the other, the villagers in this little community would have to walk over two hours home if they'd chosen to have a drink in one of the nearest watering holes.
If they wanted to catch a bus home after a couple, they'd be home by 8pm, when the last mode of public transport in this part of the island finishes.
Until, finally, one day earlier this year, they decided they'd had enough.
Taking it upon themselves to pour their own pints and dash their own vodkas, the village – population 110 – have set up the 'Pirnmill Pop Up Pub,' which once a month sees the little village hall transformed into an establishment Peggy Mitchell herself would be proud of.
"It began as a way to get people out their houses and get folk in the village connecting after a few community events stopped happening due to a lack of numbers, as well as a place for people to get a cheap drink," says Pirnmill Pop Up Pub founder, and village shop owner, Hazel Cranstoun.
"When the rural and the guild closed especially, the older people in the village basically stopped coming out of their houses.
"They're the ones who seem to be enjoying the pub the most out of everyone – just being able to get themselves out for something, have a blether and feel connected to the community again."
Applying for a temporary license each time, and putting the now rarely used hall to some good use on the first Saturday of every month, Hazel also says it's been a simple solution to the lack of activities available for the villagers.
"We have a pool table, darts board, ice hockey table and a quiz – basically, we just create a really fun space then put it all away again when we're done."
Never having had a pub of any sort (thanks to villagers of times gone by thinking it might attract the wrong sort or create too much noise) this remote village has, for as long as anyone living can remember, been dry.
So why the change of heart?
"It's got to a point where there's so little going on for people to come out their homes for, whereas before there might have been more happening when there was a slightly larger population here," says Hazel.
"And it's been really popular – people are loving it. There's a core group who come every month and it's always really busy with locals and visitors too."
Before now, people living or staying in Pirnmill would only be able to venture to the nearest pubs in neighbouring villages to drink between the hours of 7am (12pm if you wanted to actually be served) and 8pm, with no returning bus to bring home those having had a few.
Also, the previously nearest pub – located four miles away in the village of Catacol and perhaps just within walking distance for the more hardy of drinkers – recently closed, to be turned into a private home.
"The main problem really is the busses," says Pirnmill local John Rhodes. "It'd be great if they carried on until midnight but there's not enough demand for that. We are a pretty small community.
"But just because there's a small number of us doesn't mean we don't want the chance to get out and meet one another.
"The pop up pub has been so good for getting to know people properly in the village that before I might just have nodded at, or said hello to.
"Breaking down those barriers when you're a bit more relaxed after a drink or two means you start making actual friends with people you were previously just acquaintances with."
Just having had its fifth night and now looking forward to its sixth in July, the pop up pub is proving a hit with everyone who walks in.
Especially with a beer only costing £2.00.
"It's the best thing that's ever happened here, since I've been here anyway," says Ash Outram, who's lived in Pirnmill for six years.
"Pirnmill has always had a shop, always had a post office and an unlicensed restaurant but in the evening there is nothing else to do.
"So once a month, in your own village you now get to have a very cheap drink – the prices are probably the cheapest on the island.
"Also, I've lived here for six years and there's some people I'm only just meeting now through the pub, which is wonderful."
Going back a couple of hundred years to the 1800s, in the older hamlets of Penrioch and Banlicken high up in the hills behind Pirnmill, alcohol was never something you'd struggle to find.
Illegal distilling of whisky was rife in this part of the island, with its bountiful areas for hiding illicit stills.
The crofters would cart the whisky down the cart track – still in use today – and further down the hill to the smuggler's caves at the shore. From there, it would be quietly shipped to Kintyre, where a ready market was waiting. Indeed, many crofters were willing to kill to protect their stocks.
And it seems today that love of a good tipple is returning to this far-flung part of Arran.
"We all love a wee drink now and then," says Hazel.
"And yes, before you could sit and have one in your house, or take a bottle of wine to the village's BYOB restaurant to have with dinner.
"But having a wee night out, a wee laugh, a wee quiz, enjoying company and having fun is what socialising in a pub is all about.
"It was really missing before, but we have it now."
Cheers to that.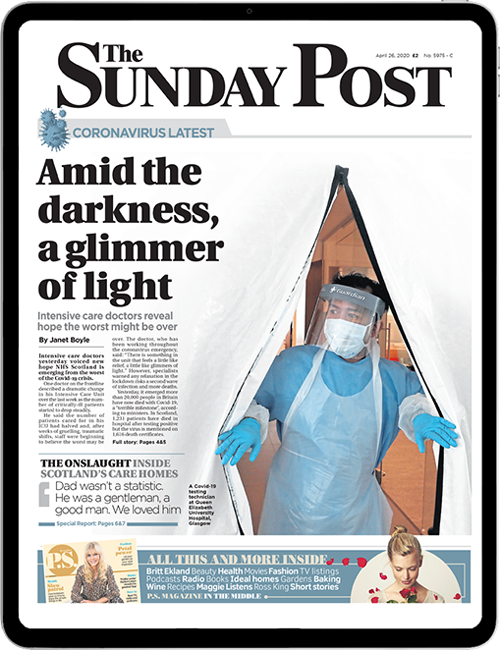 Enjoy the convenience of having The Sunday Post delivered as a digital ePaper straight to your smartphone, tablet or computer.
Subscribe for only £5.49 a month and enjoy all the benefits of the printed paper as a digital replica.
Subscribe