Auntie Flo celebrated with fans on the Isle of Skye as his album Radio Highlife scooped the top prize at a glittering Scottish Album of the Year Award ceremony in Edinburgh.
The Glasgow-born musician, a.k.a. Brian d'Souza, had played a set at the Skye Live Festival as it was announced that he had been honoured with the prestigious accolade.
Accepting the award in his absence, his tour manager, driver and DJ Phil Connor read a message written on a napkin by Auntie Flo saying: "It's been a privilege to document 7 years of adventuring around the globe in this record.
"It has taken me everywhere from Cuba to South Africa to East Asia. Thank you to everyone who made that happen over the years."
Missed the party but here's my speech. Much love to @brownswood @gillespeterson , the talent that played on the record and @huntleyspalmers for being there from day 1 https://t.co/6zrSAlpStg

— Auntie Flo (@Auntie_Flo) September 6, 2019
Originally from Glasgow but now residing in London, Auntie Flo travelled the world extensively pushing his unique 'Afro-futurist' sound either with his live band and solo as a DJ.
His new album is described as an expansive summation of his career thus far, presenting a kaleidoscope of different encounters that sparked its patchwork of ideas.
Its 14 tracks tell tales of wild travelling and the encounters along the way, and they also contain some deeply personal moments.
Mixed in are field recordings and studio sessions from everywhere from Cuba to Cape Town, Bali to Kampala and voices from Russia, Istanbul, Senegal and the UK.
The moment @Auntie_Flo found out he won the #SAYaward 2019 while closing the tower at #SkyeLive! ? pic.twitter.com/J4s7famRAY

— Skye Live Festival (@SkyeLiveFest) September 6, 2019
Alan Morrison, Head of Music at Creative Scotland said: "Radio Highlife is absolute proof that Scotland's music travels a two-way street with the rest of the world.
"Brian d'Souza as brought the sunshine of Africa into The SAY Award and gives us a worthy winner. Congratulations to him and to all of the Shortlisted nominees."
Auntie Flo was announced as the winner at the end of a glitzy bash at Edinburgh's Assembly Rooms, the first time the event had been held in the capital.
A celebration of Scottish music, there were performances on the night from up and coming acts LYLO, Heir of the Cursed, Cucina Povera and Man of Moon, with each showcasing their music in front of a crowd of 800.
293 eligible albums were submitted for the award, whittled down to a longlist of 20 and then a shortlist of ten.
Included were records from Aidan Moffat and RM Hubbert, Andrew Wasylyk,  C Duncan and Carla J. Easton, as well as releases from Fergus McCreadie Trio, Free Love, Karine Polwart, Kathryn Joseph and Mastersystem.
Each artist received a £1000 prize, as well as a unique trophy memento inspired by the Salisbury Crags.
After a recap of the longlist of 20 exceptional albums from the last year, Kayus Bankole of last year's winners Young Fathers announced Auntie Flo as the recipient of the £20,000 top prize.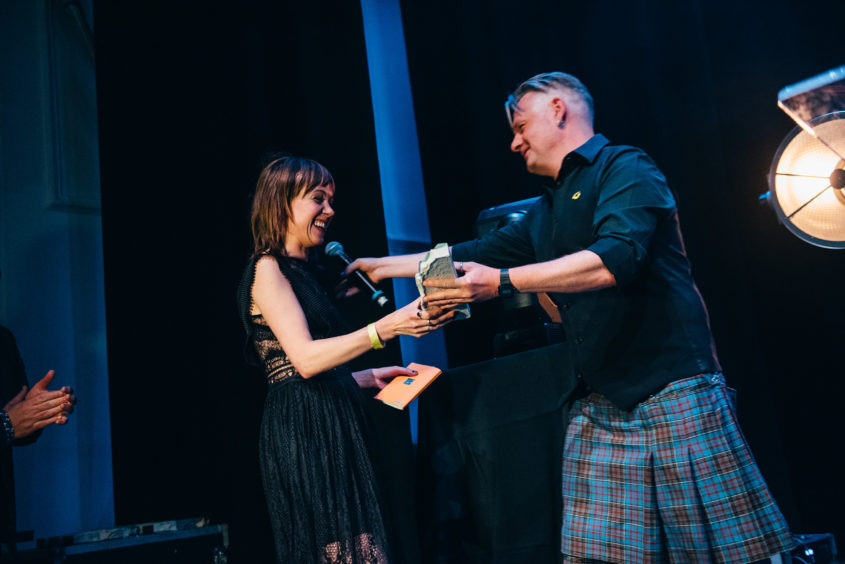 Robert Kilpatrick, General Manager of the Scottish Music Industry Association, said the record number of entries showed that the country's musical output was in great health.
He added:  "In spite of being in the age of algorithm-driven playlists, the album as a format still deeply matters to both artists and music fans.
"Albums remain the best delivery mechanism for artists to truly showcase their creative output and artistic identity.
"I'm incredibly proud that year-on-year, The SAY Award continues to go from strength to strength, showcasing the undeniable talent and diversity of Scottish artists and illuminating our music scene with the ambition, credibility and commitment it so richly deserves."