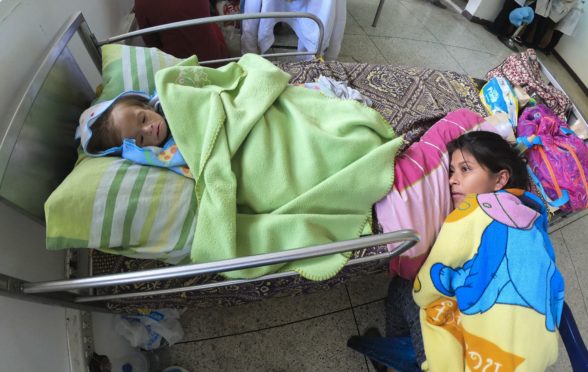 A Venezuelan doctor who fled to Scotland has revealed the plight of patients treated in his ailing country's hospitals.
Dr Miguel Cevedo told how shortages of medicine and equipment were leaving desperately ill Venezuelans at risk of infection and death.
After battling to protect his patients, Dr Cevedo fled his hospital fearing for his life after security forces threatened to arrest him.
He and fellow army medical staff had been using army kit to treat patients without permission from their commanding officers.
Political turmoil in the South American country is inflicting skyrocketing hyperinflation, power cuts and shortages of food and medicine.
President Nicolás Maduro has blocked humanitarian aid from crossing into Venezuela from Colombia and Brazil, and continues to cling to power despite opposition chief Juan Guaidó being recognised as the country's leader by dozens of foreign nations.
Now Dr Cevedo, who is living with a Venezuelan friend, Jorge Lama, in Aberdeen, has described the shocking conditions in the country's surgeries and hospitals.
He said: "The three hospitals where I worked didn't have any resources and as far as I have been able to find out, things have not improved.
"We didn't have any anaesthesia, suture material of any kind or even surgical cauterising equipment.
"There were no basics like needles or injectables of any kind, no chemicals to analyse blood or test for blood types.
"We worked blind. The three large hospitals where I worked now function as if they were in the middle of the Amazonian jungle with no resources available whatsoever."
He said families of patients needing surgery would be asked to bring their own medical supplies, including gloves, sutures and even anaesthetic from local pharmacies.
Dr Cevedo, 44, says he and colleagues created a non-political group called ALFA, made up of doctors, nurses, instrument technicians and gurney crews, willing to help in humanitarian efforts.
"Each of us paid our own way and covered all our own expenses," he added.
"Many times, we would end up in some farm or large abandoned building sleeping in hammocks and eating out in the open whatever food was made available.
"Small children, babies and mothers who had just given birth died for lack of basic antibiotics," he said.
"Many amputations are taking place because of the lack of medical equipment to repair massive bone injuries.
Doctors who protested about the lack of medicine or equipment have been arrested by government security forces swooping on hospitals.
"Any time we reported wrongdoing by any of the military officers in the hospital we were threatened both by the military and the police with beatings and going to jail.
"None of the unions or organisations that could have helped us intervened as everyone was afraid of the police and the military," Dr Cevedo added.
"Being in the military offered me an opportunity to use their resources made available to me to transport patients, medical personnel and supplies.
"This worked well for a few months until I was found out and I was about to be arrested when I decided to leave the country."
Dr Cevedo says he would be arrested if he returned.
He has left his wife and four children – a daughter now 14 and three sons now 13, 11 and five-years-old – back home in Venezuela and is working in labouring jobs to earn money to send home for food.
"I am sending money to my family because inflation makes basics like even bread and cheese hugely expensive," he added.
Bread now costs £4 a loaf when the average weekly salary is £4.50.
"People are struggling to buy basic food on average salaries," Dr Cevedo added.
"I have a wife and four children. Hopefully, my family will be able to leave soon and join me.
"My youngest son was just three when I left Venezuela.
"I miss them so very much."
To escape Venezuela Miguel walked more than 2,000 miles down the Pan-American highway to Peru.
"I left in October 2017 with my colonel uniform on and was able to travel to the Colombian border city of San Antonio del Tachira," Dr Cevedo said.
"From there I walked across the border to the Colombian city of Cucuta.
"I then turned my military-issued handgun in to the Colombian authorities, and got rid of my uniform.
"I joined a large group of people who had gathered to walk through Colombia on their way to Ecuador, then Peru.
"For 26 days I walked with this group down the Pan-American highway route stopping only for short meals given to us by the local people.
"I rested at night in old abandoned buildings that many of the locals had refurbished with mattresses and tin roofs to protect us from the rain."
The UN says more than three million Venezuelans have left the country in recent years.
Dr Cevedo's move to Scotland was only possible because he was able to get a Spanish passport as his mother was born there.
A university friend Jorge Lama, an oil worker in Aberdeen, helped him fly to Aberdeen.
Scotland and Venezuela's common link with oil and gas has made the city a natural oasis for fleeing refugees.
Many are sending money home to starving families.
Dr Cevedo is unable to practise as a doctor in Scotland because he is unable to access verification documents from his old university.
Further higher medical training in the UK may also be necessary.
"The priority just now is to work at whatever I can here and send money home for food," he added.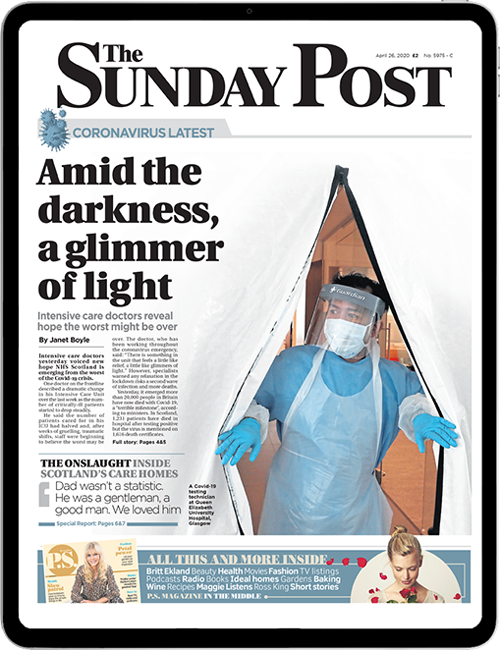 Enjoy the convenience of having The Sunday Post delivered as a digital ePaper straight to your smartphone, tablet or computer.
Subscribe for only £5.49 a month and enjoy all the benefits of the printed paper as a digital replica.
Subscribe