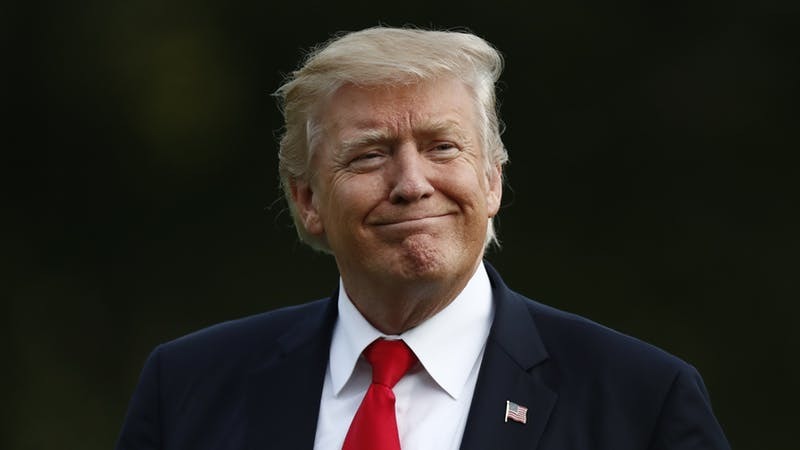 DONALD TRUMP was given an unlikely mention on the Antiques Roadshow when one viewer presented a vanity box that had come from his former yacht.
The blue plastic container, which was found "full of tat" in a Cirencester charity shop by Jeff Evans 12 years ago, was used to keep toiletries and vanity kits for guests aboard the US president's vessel, the Trump Princess, which he owned between 1987 and 1991.
Originally bought for £5, show experts filming the programme at Helmingham Hall Gardens in Suffolk on Thursday valued it at between £100 and £200.
Mr Evans said: "I wanted to put cufflinks and watches in, but found it full of tat.
Huge crowds as Fiona discovers a unique piece of @realdonaldtrump memorabilia from his Yacht the Trump Princess. Can you guess what it is? pic.twitter.com/bIM8hLjw5D

— Antiques Roadshow (@BBC_ARoadshow) August 31, 2017
"My wife wouldn't let me throw any of it out and it's been a cupboard ever since.
"When we heard Antiques Roadshow was coming to Helmingham Hall Gardens I thought, 'I've got to find out how much it is worth'."
He described the valuation sum as "unbelievable," but admitted: "I probably wouldn't sell it and will most likely put it back in the cupboard."
Presenter Fiona Bruce quipped: "This has been my favourite item of the Antiques Roadshow this year – I wanted to see if the comb within had ever been used to style the presidential coiffure!"
The episode will broadcast on BBC One later this year.
In pictures: Behind the scenes as Natasha Raskin Sharp, Anita Manning and Paul Martin film Flog It