We've had murder, mayhem and relationship dramas pop up on our screens lately, but now it's time for a little political intrigue.
In Roadkill, a four-part tale starring House actor Hugh Laurie, a charismatic politician called Peter Laurence is a rising star with a bright future ahead of him after winning a newspaper libel case.
While celebrating his triumph, he receives a call from the Prime Minister (played by Peaky Blinders star Helen McCrory) who has big news – she's considering promoting him, which would mean swapping his current role as Minister for Transport for a more eye-catching office of state.
But Laurence shouldn't be feeling too pleased with himself, or resting on his laurels – already vultures are circling.
Of his role, Laurie, 61, said: "He begins the story at mid-Cabinet level as Transport Secretary and has ambitions to move up the greasy pole.
"The story is in some regards about the price he is prepared to pay to get to the top position and the price that he forces everyone else to pay, principally his family but also those who pledge their loyalty to him.
"He is a man who is relatively free of the gravity of guilt and whose life mission is to keep moving forward and not to look back. It sounds as if the story is entirely about me, but it isn't – there are three or four different stories interlocking in different places with different hopes or dreams being realised or dashed."
Screenwriter David Hare first worked with Hugh in 1989 on Strapless, a 1989 movie about an expat US doctor living in London.
Back then Laurie was best known for his work as one half of Fry And Laurie with his best pal Stephen Fry.
More than 30 years on, he's now an established actor, having won numerous plaudits for his central role in US medical drama House, The Night Manager, Veep and Catch-22.
"I first worked with Hugh Laurie as he set off on his riveting change of direction from adroit comedian to commanding dramatic actor," says Hare. "I can't wait to see him embody the fictional future of the Conservative Party in Roadkill."
Viewers will meet Laurence as he mounts a libel case against a newspaper.
Laurie said this was "generally speaking something that politicians don't do, or are not advised to do, and certainly the political establishment do not approve of them doing it.
"It's been enormously enjoyable to say David Hare's words and also to work with the cast that's been assembled for this."
---
Roadkill, BBC1, tonight, 9pm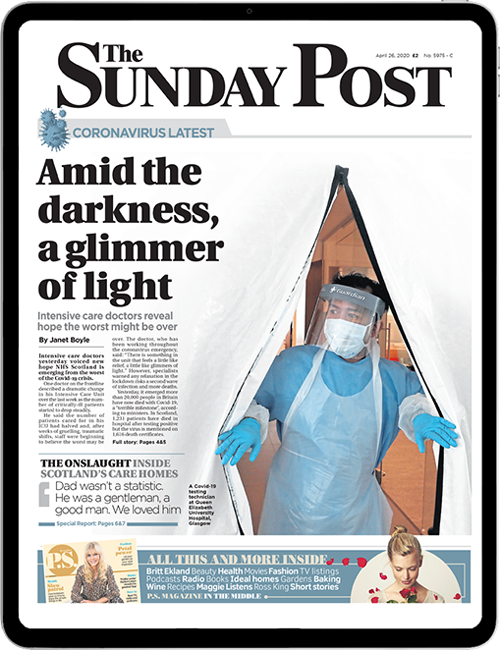 Enjoy the convenience of having The Sunday Post delivered as a digital ePaper straight to your smartphone, tablet or computer.
Subscribe for only £5.49 a month and enjoy all the benefits of the printed paper as a digital replica.
Subscribe