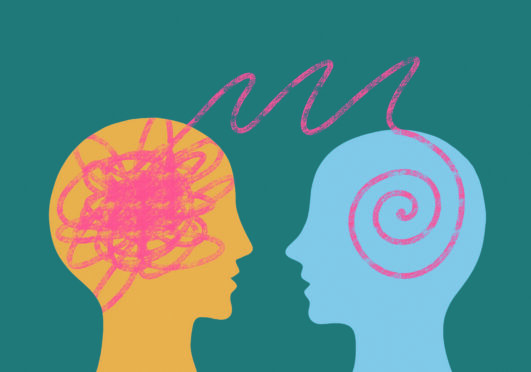 When you think of hypnosis, the first thing that springs to mind is probably stage shows where hapless volunteers are mysteriously compelled into clucking like a chicken or tricked into thinking they are a moustache-twirling Bond villain, maniacal cackling and all.
Yet in recent years the idea of using hypnosis as a therapy tool has taken off, and many are using it to overcome past trauma and to ease chronic anxiety disorders.
Michael Malone, a crime author and hypnotherapist, explained to P.S. magazine how exactly hypnosis works on the brain.
He said: "When you are deeply relaxed, your brain goes into a different type of brainwave. When you are in that state, you are more likely to take in positive suggestions by your hypnotherapist. It can help you break bad habits like smoking, or even the way you think about yourself.
"With most people who have poor mental health and/or struggle with anxiety, the trigger for their uncomfortable feelings is often external. It is how we internalise those thoughts that can compound the problem. When you are in an anxious state, your mind flips into fear mode and becomes hypervigilant for any danger, even when you are safe. It can feel impossible to get out of that mindset.
"Hypnotherapists promote a feeling of relaxation that flips your brain from its sympathetic nervous system into your parasympathetic nervous system. The term 'sympathetic nervous system' is a bit of a misnomer because it isn't that sympathetic – it is basically your fight-or-flight response.
"The point of it is to give us enough adrenaline and energy to get us out of danger and then the parasympathetic nervous system would kick in and that would recalibrate all those stress hormones that are flooding your system and bring you back down to a relaxed state. We need the fight-or-flight response to get us out of legitimate danger, but therapy is about bringing about a more measured, balanced response when anxiety triggers arise."
Getting on top of mental health problems does not just improve your day-to-day life, it protects your health into the future. Malone explained: "To be constantly stuck in a fear response is really not good. It floods your body with adrenaline and cortisol and other stress hormones to give us the energy to spirit ourselves out of said dangerous situations.
"If you are not in danger, however, and you're having high levels of them in your system consistently over a long period of time, it can lead to serious health conditions. We are talking a long time, but there are illnesses and diseases that can be linked to them if you've experienced high levels of anxiety in your body for years and years."
Malone believes a healthy mind is important for a healthy body. He said, "The mind and the body are intrinsically linked. We often approach them as two different entities but the health of both are connected to each other. We have to approach them both in a holistic way."
A recurring theme of Malone's crime novels is past traumas coming back to haunt his characters. In his work as a hypnotherapist, he sees how past traumas can influence someone's day-to-day life up close. "When people internalise trauma, they tend to have such a poor view of themselves that it affects every aspect of their lives.
"When I work with people, I am trying to get them to move past that and look towards being more compassionate about themselves. I always tell people to observe how they talk to themselves.
"We all do it to an extent, but if we talked to our friends the way we talk to ourselves, we wouldn't have very many friends."
Malone makes it clear he would never use a client's story in the narratives of his fiction books. Yet working closely with people through hypnotherapy has helped him understand why people do the things they do. He said: "I would never use a real-life person, especially a client, in my fiction. I keep those two worlds separate. It betrays the trust we have built together.
"The truth of their emotions, however, may come through in a character I am writing. I think through my work in hypnotherapy, I am able to understand why people take the actions they do. In crime fiction, there's obviously some really nasty characters. If I can see into their motivations, where they've come from, and perhaps demonstrate why they are the way they are, they are more believable and not just a cardboard cut-out of a bad guy."
Malone cites childhood trauma as a main cause of adult mental health problems. He explained why traumatic events as a child can live with us long into adulthood: "As a child you are reliant on the adults around you. They are what keeps you safe. Therefore, when something goes wrong, the child doesn't think it could possibly be the adult's fault, because that rocks the foundation of their world.
"They internalise what is going on and blame themselves. Childhood trauma can kick off a lifetime cycle of shame, guilt, self-recrimination and self-loathing.
"Sadly, some people will never seek therapy because they think they can't be helped. Others feel desperate, and feel they have to do something, and try to find a way to make a change. Hypnotherapy can help shift an internal story the person has been thinking about themselves. Hypnotherapy can help shift the way you think, and can challenge the negative narrative about yourself you have in your head.
"There is fact, and there is opinion. For example, it is a fact that I am bald, but it is an opinion that some people find that unattractive – because other people find it especially attractive! So when we have these internal conversations, we have to ask ourselves, is this fact or is this opinion? Then you can start to challenge that narrative."
Michael Malone's new thriller, Quicksand Of Memory, published by Orenda Books, is out April 14.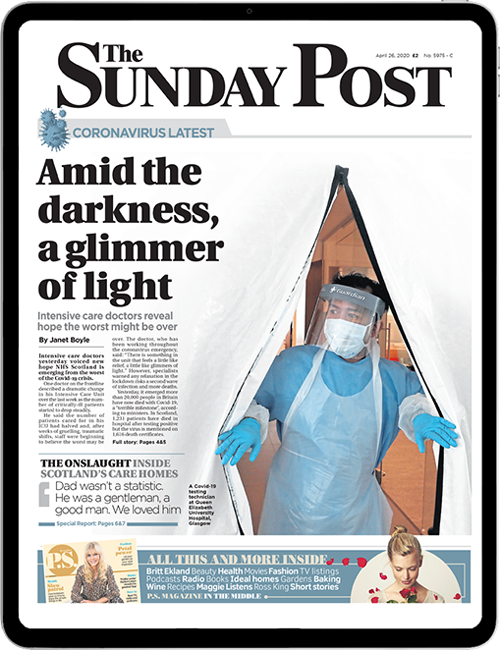 Enjoy the convenience of having The Sunday Post delivered as a digital ePaper straight to your smartphone, tablet or computer.
Subscribe for only £5.49 a month and enjoy all the benefits of the printed paper as a digital replica.
Subscribe