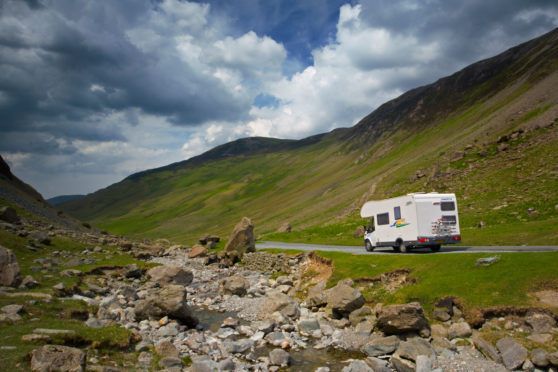 It is a traveller's dream, having the liberty to go where you want, when you want, with who you want.
A road trip has never had greater appeal, whether it's exploring the countryside, hopping islands, driving through majestic highland passes or just enjoying a holiday on your own terms, caravan and motorhome holidays let you set your own itinerary.
Simply put, taking a caravan, motorhome or campervan on the open road is good for your soul.
There are 262,000 miles of road in the UK, from mountainous peaks and rolling hills to lakes and lochs, the Great British countryside is a haven for campervanners.
Darren Brechin, show director of the Scottish Caravan, Motorhome and Holiday Home Show said: "There are so many benefits to caravanning.
"Not only does this type of holiday give you more freedom to explore multiple locations but it allows you to take more frequent breaks.
"Many visitors, after their first trip away, say they felt an independence and confidence they've never experienced before."
Here's our round-up of some of the best areas in the UK to visit in your tourer:
1 Lake District
The Lake District is one of the UK's top camping locations and offers a multitude of different routes to explore in a campervan.
A location fit for former US presidents, business titans and Brad Pitt, the Lake District offers the perfect means of escapism from everyday life, one mile at a time.
Spectacular driving routes include Windermere to Ullswater, which tackles the highest mountain pass in the area or Whitehaven and Silloth which takes in some beautiful sandy beaches.
With such untouched beauty, it is little wonder the Lake District has been used as a location for many TV dramas including ITV'S recent The Loch.
2 North Coast 500
The ultimate road trip around Scotland's simply stunning highland scenery, the North Coast 500 is an absolute must-visit.
Covering 516 miles, the routes takes you through outstanding coastal scenery and a wilderness packed with adventure and awe-inspiring nature.
From mountains, moorlands and hidden hill lochs to Highland glens and deserted Caribbean-style beaches, this is a route that will never disappoint.
Travelling by campervan is a great way to discover this area of Scotland. With the freedom to go at your own pace and create your own itinerary, it's relaxing and invigorating.
3 Devon
Devon boasts two coastlines, two national parks, five areas of outstanding natural beauty, a UNESCO Biosphere Reserve, a UNESCO Geopark, and a UNESCO World Heritage Site…what's not to love?
Its typically warmer climate makes it an ideal choice for the spring and summer months and with two cities, Plymouth and Exeter, you can combine urban exploring with uninhabited countryside.
Probably best known for its beaches, you are never far from the coast – in fact Jacob's Ladder Beach in Sidmouth is a contender for one of the best beaches in the UK.
And if you are a Devon fan then you are in good company. Hollywood director, Steven Spielberg, while filming scenes for War Horse, said: "I have never before been gifted with such an abundance of natural beauty."
4 Snowdonia
One of Wales' three national parks, Snowdonia is a spectacular setting at any time of year and touring its mountainous scenery in a campervan is the perfect way to explore.
Ideal for thrill-seeking families, the UK's biggest dedicated mountain bike trail centre, Bounce Below, is an underground playground in a former Victorian slate mine.
You can also challenge yourself at the Bear Grylls Survival Academy, a must-go for adventurer families.
5 Cheddar Gorge
Cheddar Gorge in Somerset is a must visit location for campervanners.
This limestone gorge in the Mendip Hills was named the second greatest natural wonder in Britain and is cared for by the National Trust.
Driving through by campervan is an absolute must-do.
Somerset is a country of surprises. Wildflower meadows, beach waterfalls, underground reservoirs and delicious cheddar cheese, are just a few of the many things waiting to be discovered.
And not forgetting the legendary Glastonbury which is made for campervan luxury!
---
P.S. The number of motorhomes and caravans in the UK has doubled since 2012. And 72% of people are expected to opt for a staycation rather than going abroad this summer, according to a recent survey.
---
Factfile
Head to The Scottish Caravan, Motorhome and Holiday Home Show at the SEC, Glasgow February 6-9. Tickets from £11 and children under 16 go free. caravanshowscotland.com