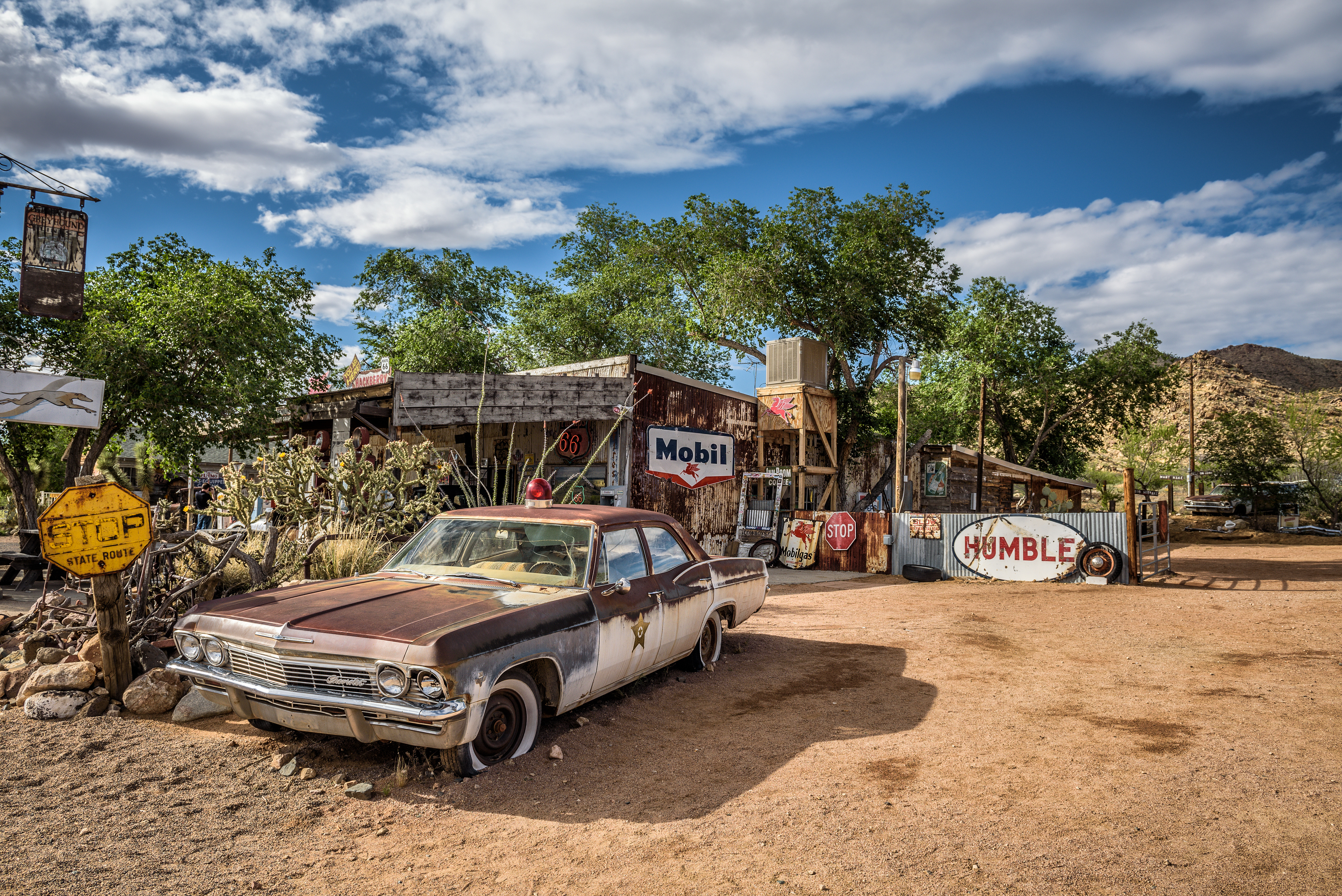 THESE days, many of us are conscious of how we discard things, using different bins and making big plans to rid the oceans of plastic.
Some folk, however, don't throw away just their tins, bottles and cans. When they get tired of the town they live in, they simply move, leaving houses, cars and everything else to rot and rust.
For a certain breed of holidaymaker, getting to see such places — whether they are ghost towns, abandoned prisons and asylums, or dilapidated churches and motels — makes for a fascinating vacation.
The United States, it's fair to say, boasts more such sites than most countries, and there is a whole tourism industry growing up around places that are falling down.
Here, we look at 10 of the best such places in America, all of which are abandoned but far from unloved.
THE BLUEBONNET HOUSE, TEXAS
Set in dreamy wildflower and bluebonnet fields in sleepy Burnet County, this two-storey limestone house was built in the mid-1800s.
Bluebonnets got their name from the bonnets pioneer ladies wore to shield them from the sun as they got used to their new surroundings.
Once upon a time, this lovely old house would've done much the same for a large farming family, but today, it sits spookily empty.
As every inch of the fields were being developed for commercial and industrial pursuits, workers found themselves living further away, so such houses were no longer needed and often demolished.
Thankfully, local preservationists are hoping to get this one back to its former glory, but in the meantime, it attracts countless visitors as it is.
DUNGENESS, GEORGIA
Thomas Carnegie, brother of the renowned philanthropist Andrew, started building a mansion here, and in fact the family owned 90 per cent of Cumberland Island.
When the Civil War heated up, however, they abandoned the house, which wasn't completed till after Andrew's death, and it was burned down in 1866.
Today, you're more likely to find gorgeous wild horses grazing in front of the ruins, rather than some of the richest men on the planet.
It was 1925 when the Carnegies left Dungeness altogether, but to this day, it is looked after by the National Park Service and visited by many a holidaymaker.
ABO RUINS, NEW MEXICO
Boy, do these ruins have stories to tell. A trading station in the 1300s, Spanish explorers mentioned it two centuries later, and another hundred years on, a church was built here.
Its parishioners? Over 1,600 Pueblo Indians, who were eventually forced to abandon the place after Apache attacks.
They moved to the Rio Grande valley, where they sided with the Spanish in a huge rebellion.
It's said to be a particularly eerie, spooky site, but when you think of all those tales from its tempestuous past, that should come as no surprise.
HACKBERRY, ARIZONA
The few citizens left in this place might be a tad irked to hear that their home has been described as abandoned!
In truth, only parts of Hackberry have been totally left to wrack and ruin, but you'll find all sorts of weird scenes here, such as a police sheriff's patrol car just left to turn to rust.
A former mining town, it came perilously close to being a complete ghost town, but members of the Grigg family who had lived in these here parts since the late 1800s weren't for moving, even if everyone else was leaving.
Many of the abandoned items you'll see are part of a huge museum featuring aspects of Hackberry's past. Hopefully, in another hundred years, there'll still be a few Griggs living among it all!
CHAPEL OF EASE, SOUTH CAROLINA
The St Helena Parish Chapel of Ease Ruins, to give it the full name, is a historic site at Frogmore, on Saint Helena Island.
This Anglican chapel was built by planters in the mid-1700s, for locals who couldn't get to a large church in distant Beaufort.
It must have been a nice alternative to the main place of worship, because even what remains looks splendid, and visitors come to get a real sense of how things were back then.
OLD SHELDON CHURCH, SOUTH CAROLINA
We mentioned a church in Beaufort above, and this is another beauty — or at least it was — from the same place.
First known as Prince William's Parish Church, it was another church of ease. As in English versions, these are small churches for the faithful who can't reach more distant large houses of worship.
It's thought that the British burned it down during the Revolution, and it was rebuilt only to burn once more during the Civil War.
To locals' amazement, however, not so long ago, a letter from 1866 turned up, claiming that while the church's insides were gutted to rebuild homes burned in the Civil War, the church itself was not burned down a second time.
Whatever the truth, we should just be grateful that there is something left to admire today!
NELSON, NEVADA
With a total population of 37, Nelson isn't one of America's sprawling cities — but it has more weird sights to see than some of its bigger rivals.
Set in El Dorado Canyon, north of Cottonwood Cove, it was first coveted by the Spaniards, who found lots of lovely gold around the area.
Silver was also found in abundance, but it was a rough, tough and dangerous place to hang about during one of the biggest booms in the Gold Rush.
During the Civil War, deserters from both the Confederate and Union armies would head straight here, as their commanding officers would be too scared to send men here to look for them.
Today, floods have decimated much of it, but the place is often used as the backdrop to movies, and quirky holiday fans go well out of their way to set eyes upon it.
SLOSS FURNACES, BIRMINGHAM, ALABAMA
This is one of those places for those who like wandering around dilapidated factories rather than golden beaches or plush museums and galleries.
They once produced pig iron here, but the site closed at the dawn of the 1970s and today it's often used for Hallowe'en events instead.
You get the picture. Dark, rusting, spooky, and one of those places you swear eyes are watching you from somewhere!
HOLMESBURG PRISON, PHILADELPHIA
Even Birmingham's old furnaces don't give you the jitters quite like this place. In fact, there are many former asylums and prisons right across the States worth seeing.
Like the former KGB cells across the former Soviet states, you get a real, chilling sense of what it was like to be in here, whether as a prisoner or a warder.
FRONTIER MOTEL, ROUTE 66, ARIZONA
WITH its vintage neon signs, gaudy colour scheme and café that once housed who-knows-who, this would be the ideal location for you to start writing that sinister crime novel you have in you.
Like all these abandoned but still-loved places, it really lets your imagination — and fears — run wild!