OUR image of Queen Victoria is of the stern-faced monarch on all of those imposing statues throughout the land.
That cold and haughty personage couldn't be further from the truth as we are seeing every week on our TV screens, and also in the brand new movie Victoria And Abdul, released later this month.
Even with artistic licence, it's clear there was a lot more to her than a wee dumpy, grumpy woman all dressed in black.
In the ITV series Victoria, we see Jenna Coleman in the lead role as a passionate, high-spirited young woman at the very beginning of her reign.
She's just become a mother and is struggling to properly assert herself as Queen. I know it's fiction, but you do get the sense she is a woman who has so much love to give and clearly adores her husband Albert.
The movie takes place almost 60 years later, towards the end of Victoria's very long life.
Dame Judi Dench portrays the Queen once again.
The last time we saw her in this role was in 1997's Mrs Brown alongside our own Billy Connolly.
This showed the relationship between the Queen and her beloved Highland servant John Brown. It was a scandal at the time, but it proved that class mattered far less to the Queen than to those around her.
There are clear parallels in Victoria And Abdul. The Queen is growing old and she's very bored and lonely. Her relationships with her children, especially the eldest Bertie, are toxic. He is waiting for her to die so that he can become king and she is tired and weary.
Then into her life comes Abdul, a ridiculously handsome Indian servant who becomes her friend.
He teaches her Urdu and, although the age gap is enormous, they become close.
I spoke to Dame Judi this week and also to Bollywood star Ali Fazal who plays Abdul. The affection off screen is almost exactly the same as in the movie
Ali clearly adores Dame Judi and said he learned so much from working with such a legend.
We spoke about how interesting it was that Victoria was way ahead of her time.
She was empress of India and genuinely saddened that she was too old to visit a country that held such a fascination for her. But her advisers believed there might have been attempts on her life.
When her stiff, bigoted courtiers complained about the time she spent with Abdul and the way he was being "raised above his station", she bluntly told them to stop being racist.
Victoria just saw a young man who paid her attention, treated her like a human being and made her laugh.
Dame Judi is exceptional in the role and shows the vulnerable woman behind the throne.
Queen Victoria actually died aged 81.
Immediately after her death Abdul was sent back to India and all of his precious photos and letters from the Queen were burned and destroyed. It's only in recent years that the story came to light thanks to Abdul's family keeping his diary safe.
Astonishingly Dame Judi is older than Victoria and at 82 shows no sign of slowing down.
I wrote recently about how wonderful it is that she has found love again and now has a man in her life who makes her very happy.
She was bereft after the death of her husband Michael William 16 years ago and never expected to share her life with someone else again.
It proves that no matter how old you are, you still need love and affection.
After her beloved husband Albert died, poor old Queen Victoria never found that sort of solace or comfort from her family.
She had to turn to a gruff Scottish servant and a young Indian man for happiness.
Victoria And Abdul is released on September 15.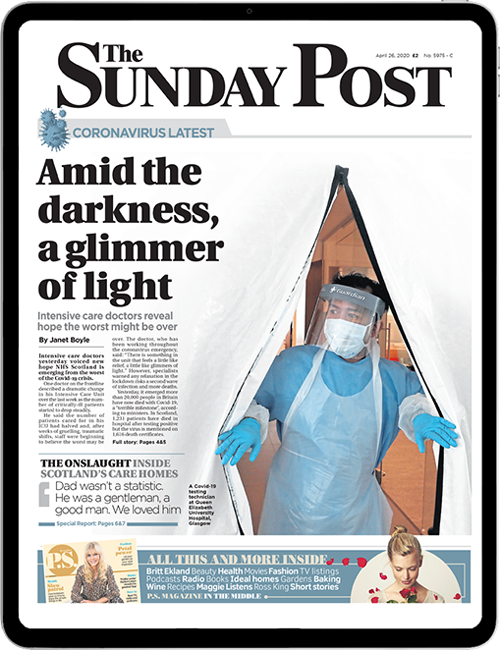 Enjoy the convenience of having The Sunday Post delivered as a digital ePaper straight to your smartphone, tablet or computer.
Subscribe for only £5.49 a month and enjoy all the benefits of the printed paper as a digital replica.
Subscribe