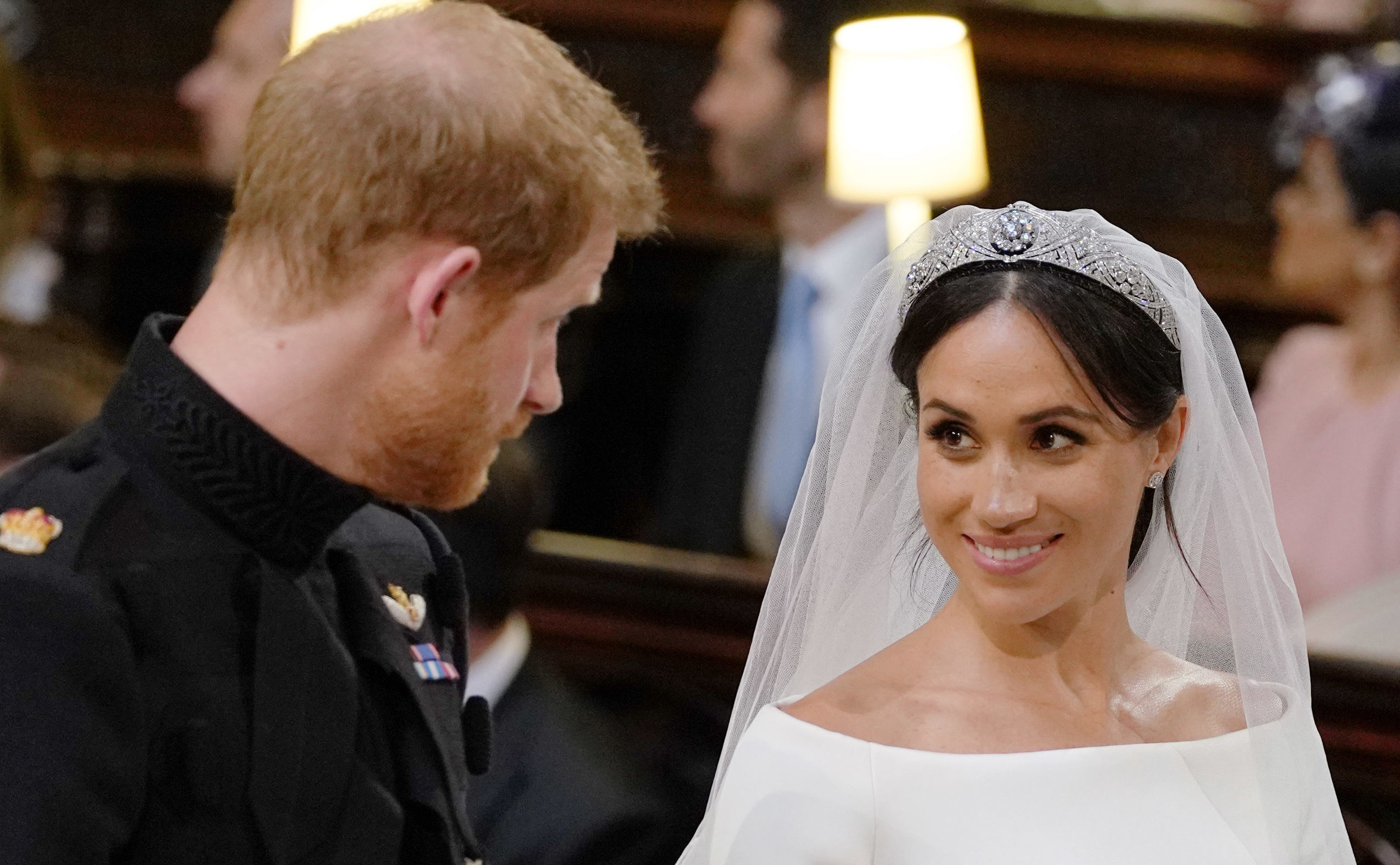 IT had all the pomp and ceremony of a royal occasion, but with added A-list celebrity guests, a fiery American preacher and a gospel choir.
Prince Harry and Meghan Markle were married yesterday in a thoroughly modern service unlike any royal wedding which has gone before.
The Queen's grandson, 33, and the American former actress, 36, who is now an HRH and a member of the British royal family, said their vows in front of 600 guests including the Queen and more than 30 royals, watched by a global television audience of millions.
The setting was St George's Chapel in Windsor Castle, surrounded by crowds of royal well-wishers who had camped out overnight to witness the historic occasion.
The bride wore an elegant white gown by Clare Waight Keller for Givenchy, with three-quarter length sleeves and an open bateau neckline.
Prince Harry, who had endured a visibly nervous wait for her arrival, greeted her at the altar with the words: "You look amazing", to which Meghan replied: "Thank you".
And after exchanging their vows, the new Duke and Duchess of Sussex delighted crowds with a kiss on the steps of the West Steps at Windsor Castle.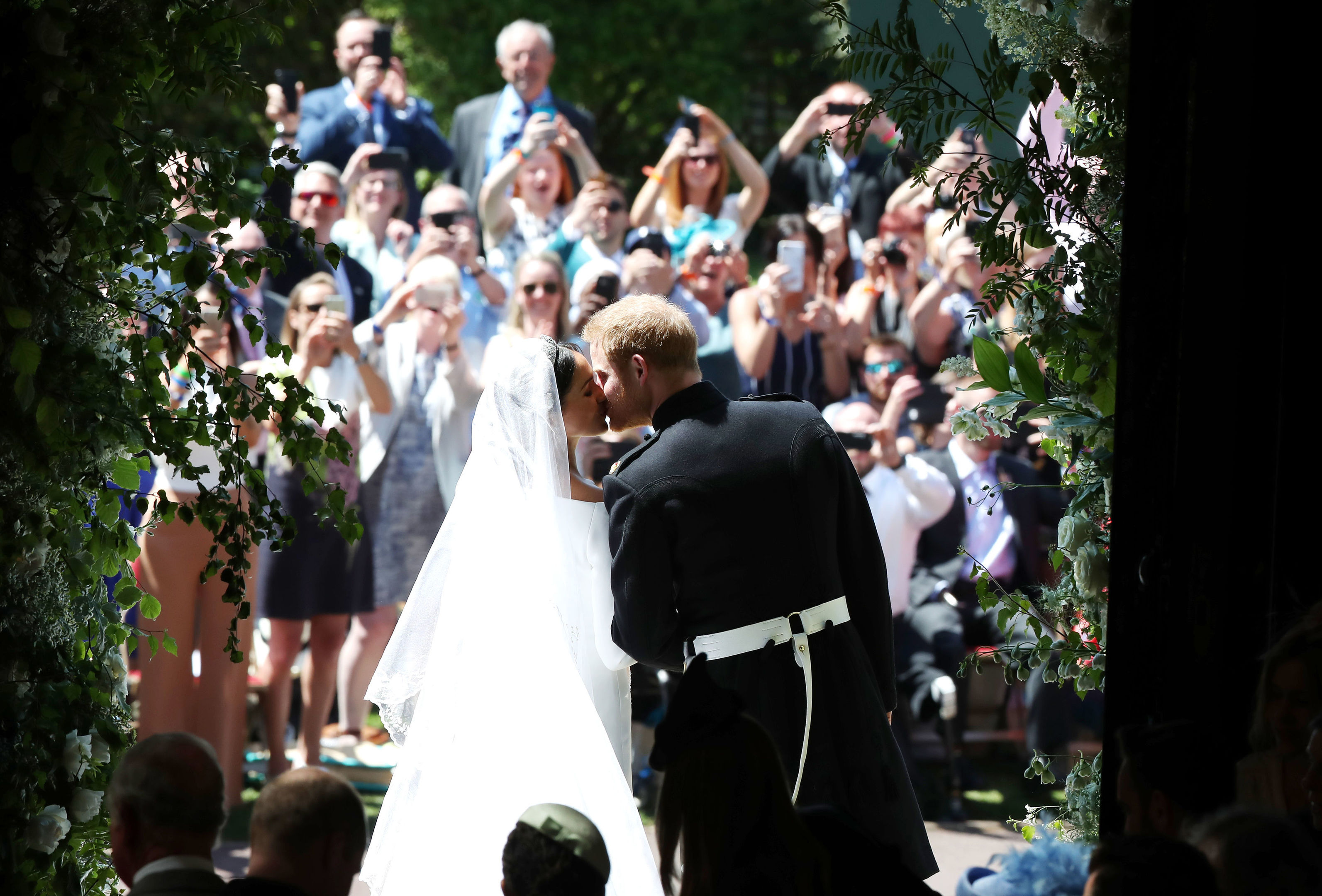 Meghan had looked up at her new husband and asked: "Do we kiss?"
Harry replied with a discreet: "Yeah."
The newlyweds departed in a grand Ascot Landau horse-drawn carriage for a wedding procession through Windsor, with more 100,000 people lining the route.
But in many other aspects the wedding was far from traditional.
While the guest list included a host of royals – Prince Philip, 96, made a defiant and unaided march into St George's Chapel less than two months after major surgery – the wedding had been branded the biggest A-list celebrity event of the decade.
Stars joining the happy couple in the chapel included US chat show queen Oprah Winfrey, tennis champion Serena Williams, actor George Clooney and his barrister wife Amal Clooney, Sir Elton John, David and Victoria Beckham and actor Idris Elba.
Meghan has become the first mixed race person in modern history to marry a British senior royal and the influence of African-American culture was apparent throughout the service.
The Archbishop of Canterbury Justin Welby officiated with the measured solemnity common to Church of England services.
But in contrast American bishop Most Reverend Michael Curry gave a dramatic 14-minute address entitled The Power of Love.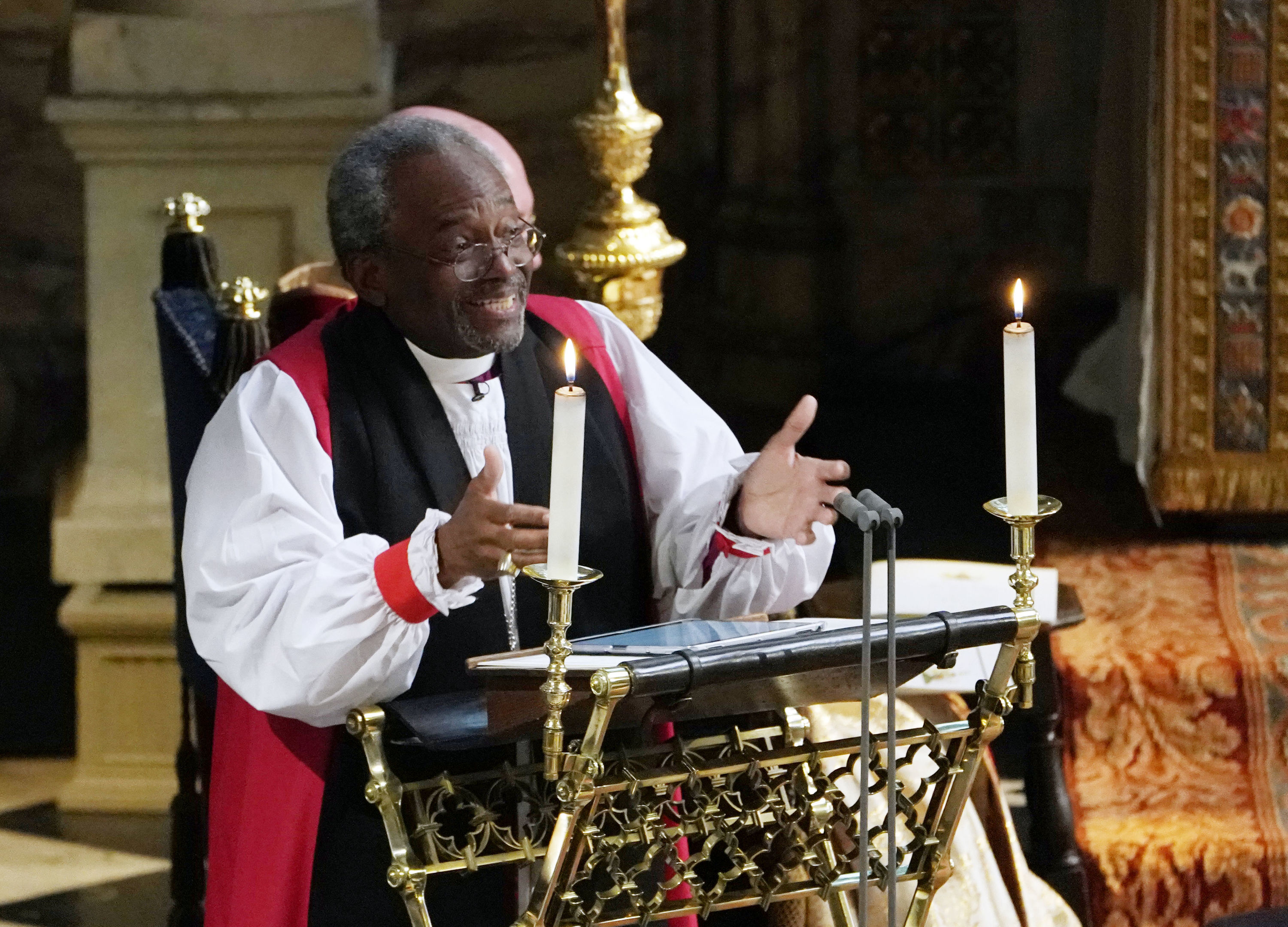 His passionate speech touched on issues including slavery and poverty, and even channelled the spirit of civil rights leader Martin Luther King Jr.
In his speech the bishop, the first African-American presiding bishop and primate of the Episcopal Church, said: "We must discover the power of love, the redemptive power of love. And when we do that, we will be able to make of this old world a new world. Love is the only way.
"There's power in love. Love can help and heal when nothing else can. There's power in love to lift up and liberate when nothing else will."
The uplifting sound of gospel music, with The Kingdom Choir singing Ben E King's soul classic Stand By Me, was another touching moment. It also performed Etta James' version of Amen/This Little Light of Mine as the newlyweds left the chapel.
Meghan's five metre-long train, held in place by Queen Mary's diamond tiara, emphasised cultural diversity by featuring flowers from all 53 Commonwealth nations. She also chose to start the walk down the aisle by herself, before being met half-way by Prince Charles.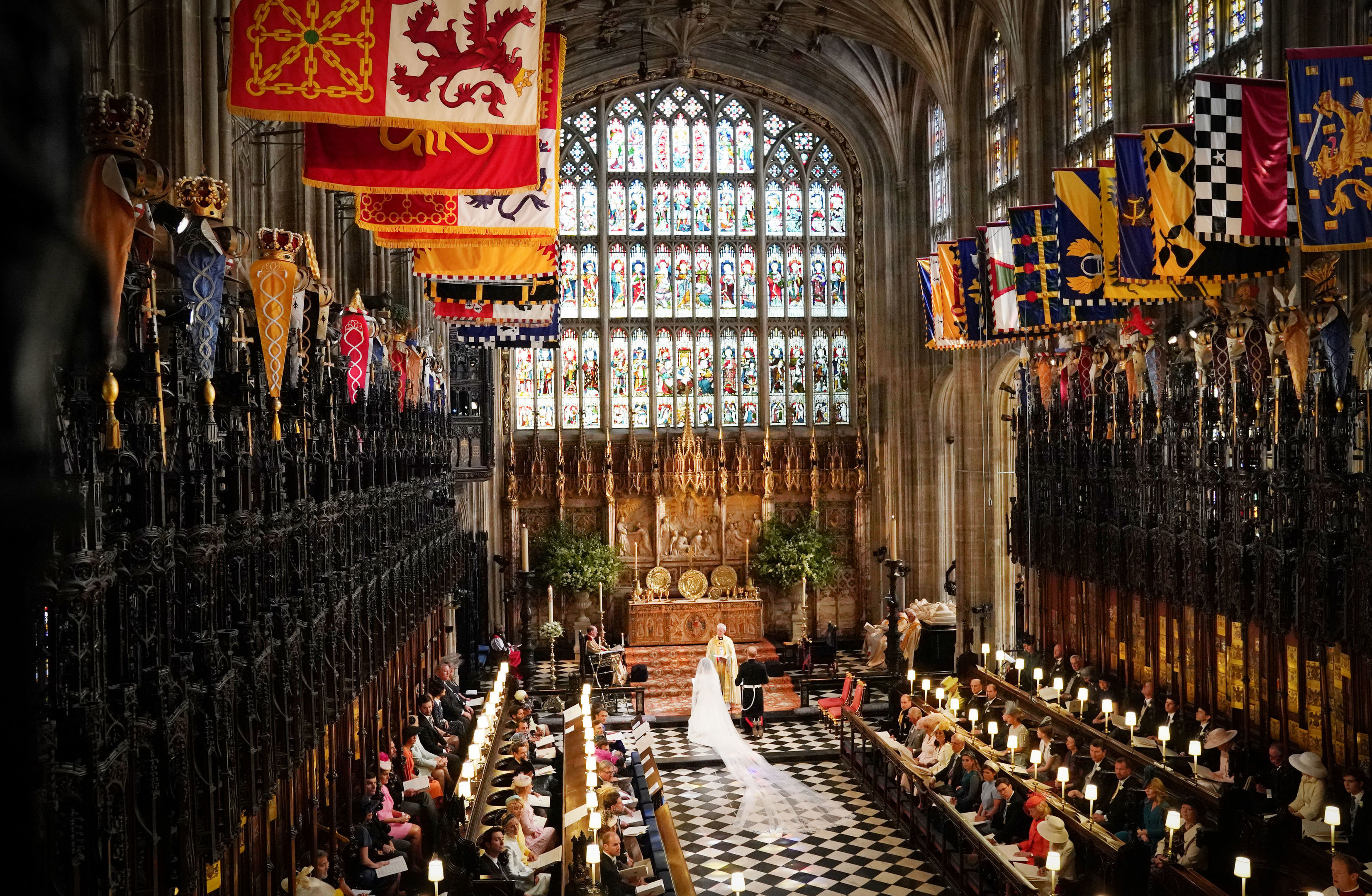 The run-up to the wedding had seen drama more in keeping with reality TV stars the Karshadians than the Windsors, as the bride's father Thomas Markle became caught up in controversy after allegedly staging photographs with the paparazzi.
He was unable to travel to the wedding due to having to undergo heart surgery in the US, but reportedly watched the ceremony from California.
He said afterwards: "My baby looks beautiful and she looks very happy. I wish I was there and I wish them all my love and all happiness"
In another departure from the norm, Meghan did not promise to "obey" her husband in the vows, while Prince Harry has broken with royal tradition by choosing to wear a wedding ring.
He was also given special permission from the Queen to sport facial hair while wearing the Blues and Royals military uniform.
It is customary to be clean-shaven when dressed in Army uniform.
Prince Harry and his father, the Prince of Wales made speeches at the lunchtime reception hosted by the Queen.
His new wife chose to give a speech at their evening wedding reception.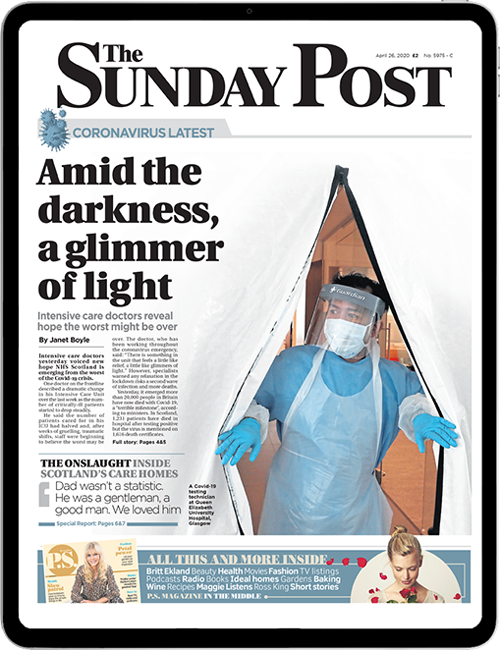 Enjoy the convenience of having The Sunday Post delivered as a digital ePaper straight to your smartphone, tablet or computer.
Subscribe for only £5.49 a month and enjoy all the benefits of the printed paper as a digital replica.
Subscribe