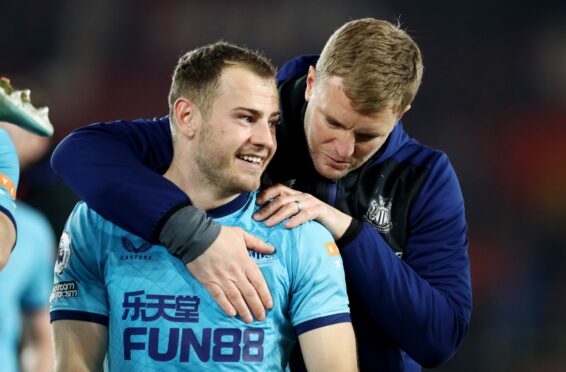 Ryan Fraser is a talented footballer – but he's no Ronaldo.
The Portuguese superstar could easily give up the game tomorrow and live an extravagant lifestyle without ever worrying about the gas bill.
At the age of 37, however, he has no thought of stepping back from taking part in international football.
Instead, he's desperate to add to his 184 caps, and keep going beyond the double-century mark.
His attitude seems to be that it's about what he can do for Portugal's national side, not what it can do for him.
Ryan Fraser seems to have taken a different view when it came to answering his country's call.
He decided to opt out of Scotland's double-header with Moldova and Denmark last November, but continued to train with Newcastle United.
Fraser's omission from the squad to face Poland on Thursday, despite his excellent club form, tells you that the Dark Blues' boss, Steve Clarke, wasn't impressed.
The pair have talked, and Clarke says the player has apologised.
Will Fraser get a recall at some point? It's possible. I can't see Clarke cutting off his nose to spite his face if he ends up short of players.
But it very much looks like the manager has sent a clear message that you can't pick and choose when you play for your country.
There are, of course, reasons why players might ask for a leave of absence.
Aside from injury problems, there are plenty of personal reasons which will always trump a game of football.
Clarke can come over as a dour character at times, but he's not without compassion.
He's a family man, and I'm sure he'd be understanding if one of his players had difficulties off the pitch.
Being without one player is rarely a disaster – Scotland recorded two 2-0 victories minus Fraser – but the underlying message is the important thing.
Unity, commitment, endeavour and sacrifice are needed by a small nation, trying to punch above its weight.
Supporters don't pick and choose when they get behind the team.
There have been some grim times for the Tartan Army over the last 20 years, but they have continued to follow their favourites in remarkable numbers.
I know fans often say they would crawl over broken glass to play in a Scotland shirt.
Of course, we know eleven pickled Tartan Army foot-soldiers wouldn't be much use on the field, but their hearts would be in the right place.
And they want players who care just as much as they do.
It's an increasingly-expensive business to attend football matches, and millionaire stars shouldn't ignore that.
When it comes to achieving the dream of playing for your country, Fraser might reflect on the players who came so close to getting a cap, but didn't quite make it.
I give you the example of two men who played with distinction for Kilmarnock.
Brian Rodman sat on the bench at Wembley when Scotland were thumped 5-1 by England in 1975.
Despite the game obviously going against the visitors, he was hoping Willie Ormond might give him the nod to shore up the defence with the score at 3-1.
In the event, Rodman didn't get to dirty his boots, but the dark-blue shirt remains a prized possession.
Alan McCulloch, like Rodman a part-timer, also had an international disappointment.
He was in line to play in Hungary in 1980 when a freak accident stopped him in his tracks. A dislocated finger in training meant he wasn't fit to play – and he didn't get as close again.
There will be countless others who sat by the phone, hoping for a call that never came.
The debate over whether some players put club success before their country seems to have been raging for 50 years or more.
Remember the regular suggestion that "Anglo-Scots" weren't as committed to the cause as those playing in Scotland?
One Anglo who was extremely proud to play for his country was Burnley's Jock Aird.
He played in both of Scotland's games at the 1954 World Cup in Switzerland, but didn't receive a commemorative cap. In those days, they were only awarded if you played in a home game.
Jock, who passed away at the age of 94, was living in Australia when I tracked him down in 2009.
Although he'd heard that caps were now being awarded retrospectively, he hadn't asked the SFA for one. He didn't want to make a fuss.
With my encouragement and assistance, his 55-year wait ended with him receiving a cap.
He was extremely proud. His main pleasure came in showing it to his grandchildren.
Perhaps Ryan Fraser should think about Ronaldo – or even Jock Aird?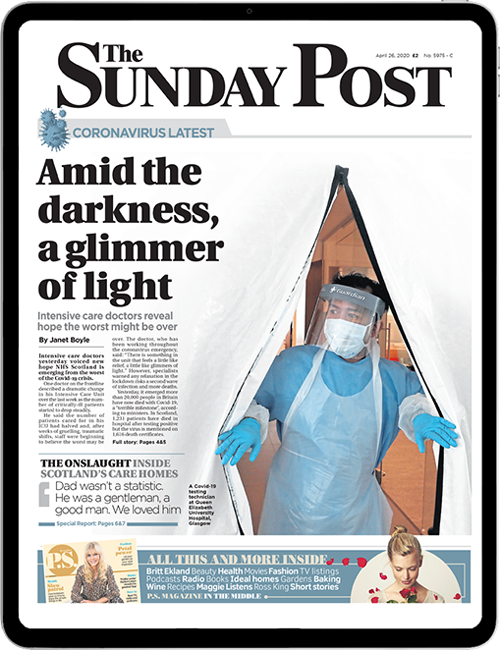 Enjoy the convenience of having The Sunday Post delivered as a digital ePaper straight to your smartphone, tablet or computer.
Subscribe for only £5.49 a month and enjoy all the benefits of the printed paper as a digital replica.
Subscribe