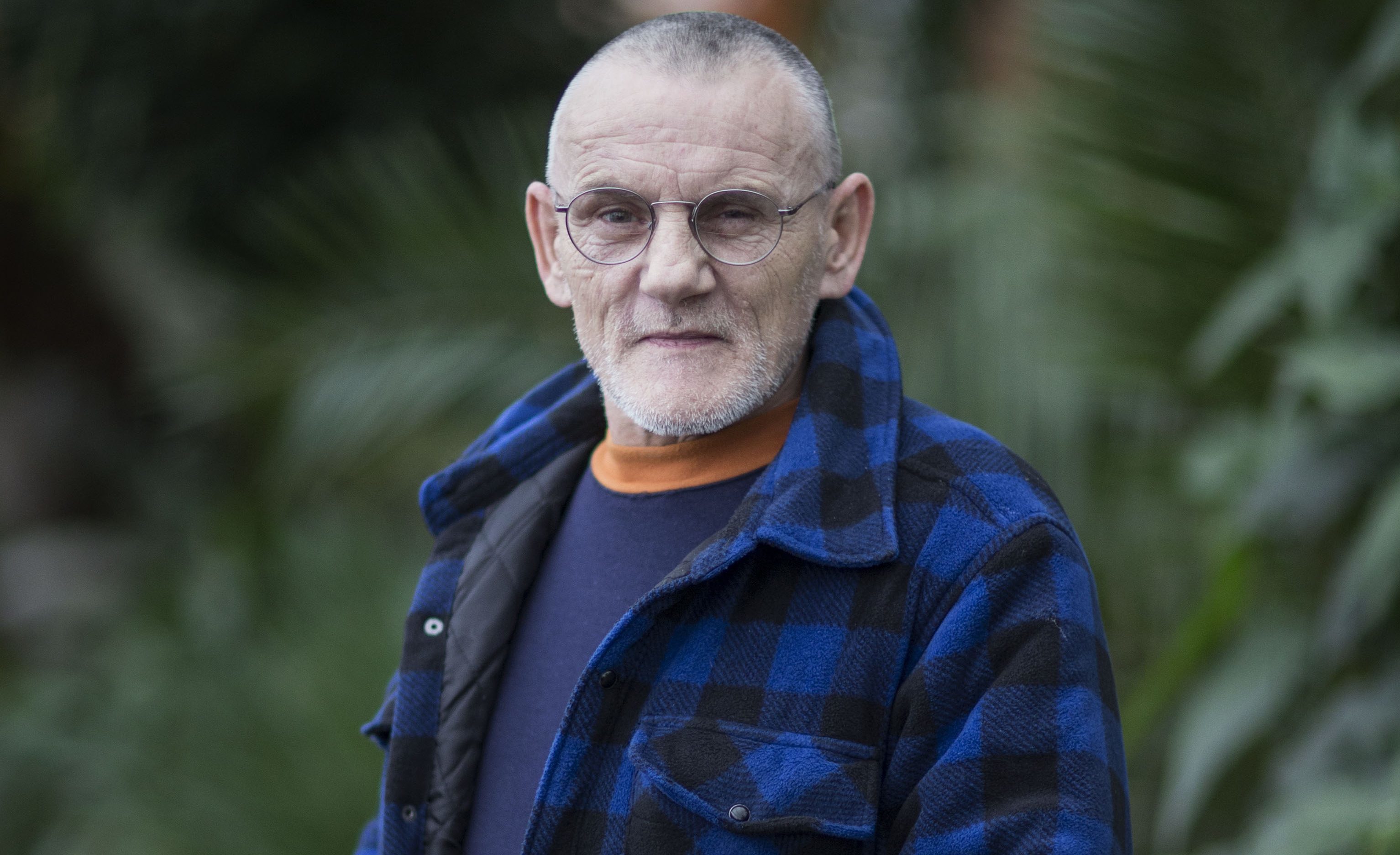 A VICTIM of abuse at Smyllum orphanage has revealed how Jimmy Savile later tried to rape him in the back of his Rolls Royce.
Adam Taggart, 58, was on a camping trip in the Highlands when the DJ stopped his car and lured him and another boy into the back with offers of alcohol and cigars.
Adam, then aged 12, revealed how the paedophile ordered his driver to take the other boy for sweets and ice cream at a shop so Savile could attack him.
He said: "I was only alone with Savile for a few minutes, and in the time it took for his driver to take my pal to the shop for ice scream and sweets, Savile sexually abused me.
"If we'd been alone for any longer, I believe Savile would have raped me."
Afterwards, Savile told Adam, who was on a trip to Aviemore with children from the Dunavon children's home, nobody would believe him if he told anyone what happened.
Later, the TV presenter, whose extensive sexual abuse of children and young people was only exposed after his death in 2011, even sent Top Of The Pops tickets to Dunavon.
Adam, who had earlier lived at Smyllum orphanage where nuns have been accused of overseeing a cruel regime marked by physical abuse, was in a party of boys taken camping to Loch Morlich when he and a pal tried hitching a lift to the campsite.
He said: "We were thumbing a lift when a white Rolls Royce stopped at the side of the road.
"When we got to the car, we recognised Savile immediately.
"My pal said, 'You're Jimmy Savile' and Savile replied he wouldn't need to introduce himself.
"He asked what we were doing. We explained we were camping. He asked where we lived and we told him a children's home."
Adam, who reported the abuse to police as part of the nationwide investigation into Savile after his death, believes the DJ attacked him in 1972 or 1973.
He explained: "Time had no meaning because we never celebrated birthdays at the children's home. The summer it happened was very hot and I was about 12 or 13 years old.
"Savile told us to get into his car, so we did. It was really posh. There was a cabinet with drinks and a box of cigars. Savile told us to take them.
"When we passed other pals, we hung out the window with a cigar in one hand and a miniature of alcohol in the other, showing off."
Adam believes Savile singled him out.
He claimed: "I'd been in care at Smyllum Park from weeks old. I was abused there before going to Dunavon. Savile sensed I was the one he should pick."
Savile asked if the boys wanted to see Cairn Gorm, and ordered his driver to take them to a tourist area with a view of the mountain.
Once parked, Savile asked if they wanted sweets, and told the driver and the other boy to go to the shop. As soon as they were alone, Adam claims Savile molested him. The dad-of-four said: "Savile grabbed me on to his knee and abused me.
"He only stopped when we could see my friend coming back to the car with the driver. He said nobody would believe me if I told.
"I was in shock. Savile acted like nothing had happened.
"I remember refusing to take an ice lolly.
"Savile was wearing shorts and a T-shirt, and lots of rings on his hands. He wore gold chains and a crucifix."
Adam said he ran from the car.
He did not expect Savile to send the Top Of The Pops tickets, but he did and five girls from Dunavon went to see the show. Adam said: "The girls talked about it for months afterwards. I kept silent, but couldn't watch him on the television without feeling sick."
Adam said he only ever talked about Savile's abuse to one social worker, but was devastated when nothing happened.
He said: "I think I was about 14 or 15 when I confided what had happened to a social worker I thought I trusted. He said he would do something about it, but he never spoke about it again. I stayed silent until Savile died."
Adam, who gave evidence of the abuse he claims he suffered at the notorious Smyllum children's home in Lanark to the Scottish Child Abuse Inquiry in November, reported what happened to the police.
The national inquiry into Savile's decades of abuse, identified five other Scottish cases. The grandfather is due to return to give evidence about Savile and Dunavon children's home, in Strathaven, to the inquiry.
He is speaking out publicly for the first time because he believes other victims may still be suffering in silence.
Adam said: "Savile behaved as if he could do what he wanted and nobody would believe someone like me, or do anything to stop him.
"I'm speaking now because I hope it gives courage to the others I suspect are still out there, suffering in silence. The only way to lift the burden of abuse is to speak out. I regret not doing so more forcibly years ago, but we lived in different times."
Adam, who admits his life spiralled into homelessness, drink, drugs and even prison as he struggled to cope with what had happened to him while in care, said Savile's taunts never left him.
He said: "I must take responsibility for the stupid things I bitterly regret doing in my life.
"But I now understand the abuse I suffered as a child had such an overwhelming impact, it destroyed the person I should have been."
Lawyer Cameron Fyfe said: "It is not at all unusual for child abuse victims such as Adam often go on to develop problems in later life, such a drink, drugs, or even crime. He should be commended for turning his life around and getting the help he needs."
Police Scotland said: "We received a report and the relevant information was passed to Operation Yewtree in January 2016."
He targeted the vulnerable. This is absolutely typical of how Savile operated
By Professor David Wilson, Criminal Psychologist
---
Savile was one of the most prolific child abusers we have ever seen in this country.
He was an indiscriminate predator who abused both boys and girls, although the majority were girls.
He not only used opportunities to abuse the children who came his way, he also constructed opportunities like the one described by Adam Taggart, to give him access to victims.
Savile spent a lot of time befriending children who came from children's homes, as well as the people who ran them.
His behaviour in this case is entirely typical of instances when he had little time. We call this opportunistic grooming.
Savile also used his celebrity to dazzle victims.
Telling them he would send them tickets to Top Of The Pops was part of his modus operandi.
He was also careful to pick children or young people who had a measure of vulnerability.
He would have picked up on something most of us would not have seen, almost like a predator's sixth sense, and chosen someone he believed would not have "told".
That was why he was able to continue abusing from the 1950s.
Savile hid in plain sight and was extremely adept at using his celebrity status to hide the abuse he was inflicting on children.
Many people close to him would have known what he was doing, evidence shows Savile worked in tandem with several of them. But others may have been dazzled.
However, a number of people reported that they did not "like" Savile, and his behaviour towards someone he saw as a threat would be adversarial.
The author Val McDermid, who based a character in one of her Wire In The Blood books after meeting him while she was a journalist, was a very astute judge of Savile's character.
He could almost be described as "nasty" towards anyone he perceived to be challenging the public persona he had created for himself.
I agree with Adam when he describes feeling the sense of a burden being lifted from his shoulders once he was able to talk about what happened.
I echo his encouragement to anyone who is still suffering in silence to speak out.
Criminal psychologist Professor David Wilson is presenter of television's hugely popular Voice Of A Serial Killer series
Shamed paedophile priest tells child abuse inquiry:  It is abhorrent that I could do that…I'm totally sorry
A paedophile priest convicted of abusing four young boys in his care has told the Scottish Child Abuse Inquiry he is "sorry".
We revealed last week how Bernard Traynor, 64, had been called to give evidence to the investigation into care home abuse.
He was convicted of six charges of indecent assault in 1995 for abusing boys in the 1970s while helping out at a children's home in Newcastle, but said he regretted his "abhorrent" crimes.
The care of the four boys had been arranged in Scotland and, on Friday, Traynor said it had been "totally wrong" that he had been allowed to be a house parent at the St Vincent's home without training or proper supervision.
Traynor said: "It is abhorrent to me now that I could do that. I don't in any way feel proud for what I've done."
The paedophile abused a 10-year-old boy after the child was moved from Smyllum Park orphanage in Lanarkshire where he had been in the care of nuns.
Traynor said he was "ashamed", and added: "I hate that aspect of myself and there's nothing I can do, nothing I can say other than I'm totally, totally sorry."
He stopped being a priest when his crimes came to light in 1995 but had not been formally defrocked until 2012.
The inquiry also heard evidence from a nun, 73, who denied she had "blacked out" an incident in which she is alleged to have brutally beaten a young boy who found her in the arms of another nun.
In September, we revealed 402 residents at Smyllum died between 1864 and when it shut its doors in 1981. They are feared to be buried in a mass unmarked grave at St Mary's Cemetery in Lanark.
The inquiry will also examine other care institutes across Scotland with Lady Smith not expected to report her findings until 2019.