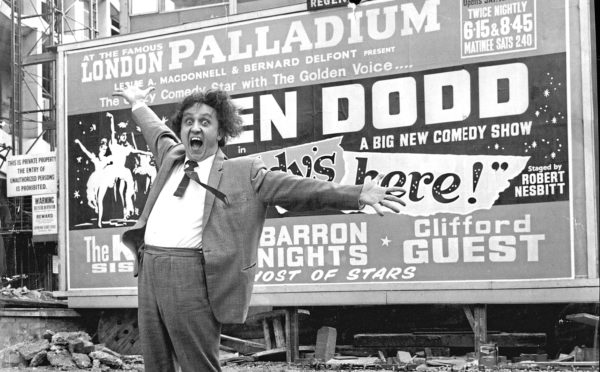 Clearly Doddy was inspired by the world of entertainment.
"I used to eat, sleep and dream about being a success," he said. "I was committed – or should have been!"
Eat, sleep and dream – Doddy's early years as an entertainer. The dream came true.
"I had five approaches from people like the great impresario Bernard Delfont as well as Lew Grade," he revealed.
"Then I had a letter from David Forrester and he offered to come up and meet with me at the Adelphi Hotel.
"I was impressed he was going to come and see me rather than have me travel down to London.
"Also the Adelphi was one of the centre points of Liverpool. A posh place with a great history.
"There we were, him from London and me from Knotty Ash. He ordered a selection of cream cakes. When we had to pay for them, he just looked at me and I felt obliged to sort it.
"It was very clever – he didn't actually say anything but the look was enough to get me to put my hand in my pocket.
"It struck me that here was a man who not only knew show business but how to get a deal from people without trying hard.
"The fact he looked a bit like my dad also helped."
Doddy listened and agreed to go full-time professional and let David Forrester look after him.
No contract was ever signed.
It was a gentleman's agreement to which both gentlemen adhered to for the next two decades.
The years that followed produced great things as Doddy's career soared from touring on variety bills to summer seasons at Blackpool and panto as well.
He was soon acclaimed in the north and made many radio and television appearances.
His appearances in the south were limited, though, by his own choice – he didn't think Londoners were really ready for the Squire of Knotty Ash.
The act grew and grew – the tickling stick became an essential part as did the Diddymen.
Ken introduced the Diddymen as part of his show by bringing them to life with colourful costumes, little people dancing and singing.
"They were all very friendly and fun, even Mick The Marmalizer, who carried a shillelagh and offered to 'marmalize' anyone who was a problem," said Doddy.
"They had their own songs and even got into the record charts."
Doddy's own singing voice was also a major part of his act and he was recommended to get in touch with a record producer and that is how he met the head of Keith Prowse Records, a gentleman by the name of Jimmy Phillips.
"Mr Phillips played me a couple of tunes, one of which was really beautiful and I wanted to record it.
"That song was to stay with me for the rest of my life because Love Is Like A Violin not only reached the top 10 of the pop charts during the summer of 1960 but it became my signature tune for the rest of my life."
The recordings kept coming and they kept breaking into the charts.
By the time 1964 was coming to a close, Ken had released six more singles and they had all reached the charts.
One of them – Happiness – was to prove to be just as important as Love Is Like A Violin.
Doddy's shows started with Love Is Like A Violin to bring him on stage and always ended with Happiness.
The really big year was still to come – 1965!
Sunday Night At The London Palladium was the biggest variety show ever seen on television and thus the biggest shop window for any act, new or established.
It was a surprise then that Doddy turned the show down not just once but twice!
"I just didn't feel it was right at that time," he later told me.
However, it was announced he'd be starring at the London Palladium in his own show for a summer season starting in April 1965.
Everyone hoped it would work but nobody guessed that it was going to be such a massive hit.
The show was called Doddy's Here! and it opened on April 17.
"I was scared, there's no other way I can describe it," he said. "The thought of trying to make all those Londoners laugh was frightening.
"I had played the outskirts of London but this was the big one.
"This was me, Kenneth Arthur Dodd, former coalman and kitchenware salesman.
"Even when I saw posters of myself advertising the show, I still couldn't quite believe what was happening.
"I had no idea how the tickets would sell. This was a real departure from everything I knew to something untried and untested by me.
"David Forrester had masterminded the fact I was not just going to appear in a Palladium summer show but that it would be called Doddy's Here!, which made it my show."
Doddy admitted first-night nerves got to him all the more because of it being at the Palladium.
"My mouth went dry and my lips kind of stuck to my teeth and gums," he said. "I started to worry that when I went out, I'd just mumble as I couldn't move my mouth properly.
"I went over and over the act in my mind. I knew all the tickets had gone and there would be two and a half thousand people sitting there."
What Ken didn't know was that there were coach-loads of Merseysiders who had bought tickets to see him on his opening night at the London Palladium or "this magnificent shed" – as he called it.
When his walk-on music struck up and he faced them, he was almost overwhelmed by the instant ovation.
The Merseysiders appointed themselves his cheerleaders and the rest of the packed audience responded.
He gave them the full Doddy works – a quick-fire barrage of jokes that set off roars of laughter.
The audience rocked and some even cried as they were overcome with the laughter they could not suppress.
They did not want the show to end.
Ken added bits here and there until he ran out of time – about five minutes before the second show of the day was due to start.
In the foyer and out on the street, it was chaos.
Police had to close Argyll Street to traffic as there were 2,500 people trying to get out of the Palladium, some finding it hard to walk as they had laughed so much.
There were another 2,500 waiting to get in. They looked at their watches, wondering why there was such a delay. They were about to find out.
The second performance ran about three-quarters of an hour longer than it should have, and the stage door was thronged with people hoping to catch a glimpse, get an autograph or at the very least shout a greeting.
"People make a lot of effort to come and see us," Doddy once said. "I have always appreciated people going to so much trouble just to get here.
"I've always tried to make sure tickets were not over-priced, that we gave them a value-for-money show and we showed them the respect and appreciation of spending a bit of time after the show with those who want to speak to me."
The crowds outside the stage door of the London Palladium were no different and that is why on that opening night, it was nearly one in the morning before he left the great theatre to go to a Champagne reception elsewhere.
"I had with me about 700 telegrams and letters from well-wishers and I took them with me as I wanted to be able to read them all when I woke up the next day," he said.
"I read every single one and cherished them all."
It was one of the great milestones in the history of show business that Doddy's Here! ran for so long – a total of 42 and a half weeks, which meant the "summer season" ran until the start of February the next year.
The London Palladium was packed for every performance and came dangerously close to running out of chocolates and ice cream on more than one occasion.
Those who had invested around £80,000 to stage the show made much more than their money back.
The theatre manager was so pleased, in fact, that he presented Ken with a gold watch!
On November 8 1965, Doddy finally agreed to appear in the Royal Variety Show, which was, appropriately, being staged at the London Palladium.
"I was nervous, of course," Doddy later revealed. "It was my first Royal Variety Show but it was at the Palladium, which had become my second home.
"I don't think any entertainer really has no nerves before they go on stage. There is a difference between nerves and cold fear and nerves can be a good thing as it means that you are on edge and ready to do your best.
"I was very aware of the great privilege it was to appear before the royal family at that show.
"It was my first but not my last and I did also have a special request for private performances for the royal household and that is where I found out the Queen knew all the words to Happiness.
"It was also a wonderful privilege to be on stage alongside so many great stars.
"You are surrounded by them behind the scenes and then on stage in the finale and that last lovely time when you line up to meet the biggest star of the evening – the Queen or whoever may be representing her."
As if the triumph at the Palladium and the Royal Variety Show were not enough success for one year, Doddy went into the recording studios again – the world-famous Abbey Road studios and recorded two new singles.
One was The River and the other was simply called Tears.
The latter went into the shops in August 1965.
Because of Doddy's popularity, it was expected to be popular but nobody was ready for what actually happened.
Tears entered the charts at the start of September and climbed – and climbed.
By the end of the month, it had reached No 1 and stayed there for six weeks.
Doddy was atop an incredible who's who of pop's greatest names – not bad for a former salesman from Liverpool with strange teeth and stranger hair.
Tears not only remained at No 1 for six weeks but stayed in the charts for around six months.
Only The Beatles sold more records, which means Doddy was the biggest-selling single artiste of the decade and was awarded two gold discs as sales grew.
Tears remains one of the biggest-selling singles of all time in Britain.
When Doddy later reflected on the importance of 1965, he simply said: "It was a wonderful time and people were very kind.
"All those people who came down to London for the opening night at the Palladium and all the other people who came to see the show afterwards, some of them several times.
"All those people who bought Tears. Nobody HAD to do that. I often think about that. You go on stage and do your best for your audience and they cheer you on.
"They don't have to but they do.
"When I think back to 1965, it was hard work but I was carried along by all these people. It was something I will never forget and always appreciate.
"Thank you to all of them."
---
Extracts taken from Sir Doddy! by Bernard Bale.
Available in bookshops and online now from www.ypdbooks.com