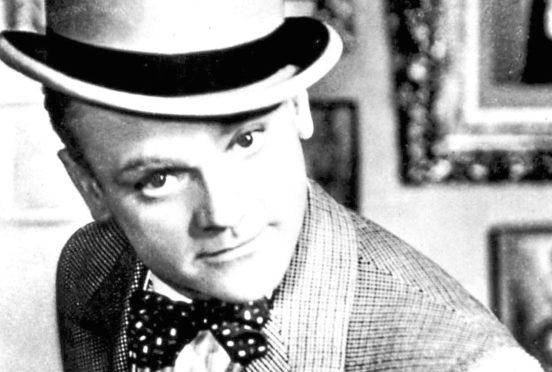 The 1940s began very well for James Cagney, and just got better and better.
He came out fighting, with City For Conquest, in which he played Danny Kenny, a truck driver who had been a boxing champion in New York City.
On his way up through the ranks, he falls for Peggy and they are due to get married when a dancer, Murray Burns, played by Anthony Quinn, persuades her to become his dance partner.
Seeing a chance to further her own dancing career, she tells Danny the wedding is off, and he angrily focuses on his boxing while she does likewise with her career.
Only then does it become apparent that Burns is really not a nice chap at all, and things start to unravel for both of them.
Danny is cheated in the ring and takes a dreadful beating, leaving him with permanently damaged eyesight, and Peggy hears the fight on the radio and is so affected that she can't dance that night.
As both their careers nosedive, Danny's brother Eddie becomes a successful Broadway composer. The pair eventually get back together after one of his concerts.
A fraught, emotionally-powerful film, it was a huge hit and demonstrated that Cagney could be much more than a tough guy.
The Strawberry Blonde, playing opposite Olivia de Havilland and Rita Hayworth, saw him take on comedy with aplomb, and the following year, 1942, Captains Of The Clouds gave him yet another massive hit.
Produced by William Cagney, his brother, Jimmy played a Canadian pilot in the Second World War. Made when it was, with the US lagging behind its northern neighbour, it gave the war effort a great push.
Cagney played Brian MacLean, a bush pilot in northern Ontario as the war started. After hearing a Churchill speech, he tries to enlist but is told he's too old.
Desperate to help, he and his colleagues become flight instructors instead. MacLean then pretends to be another pilot and when the bombers he's protecting are attacked by a Luftwaffe fighter, he sacrifices his own life to crash into it.
The inspirational movie probably made many a young man get involved in the war, too, and it's still a great-looking film.
A few months later, Cagney was doing even bigger business with one of his best-known classics.
Yankee Doodle Dandy was the musical story of George M. Cohan, dubbed The Man Who Owned Broadway, and Cagney played the great man himself.
He considered it his best film, a work he "took great pride in" and the making of it began in a frenzy of strong pro-American feeling.
This was because shooting began the day after the Pearl Harbor attack, and they did the story justice – shortly before he died, the real Cohan thanked Cagney "for a wonderful job".
It even got a special premiere, with expensive seats raising a vast sum of money for war bonds to help the US Treasury.
Critics have pointed out that Cagney and Cohan's careers were similar in many respects, both men starting in Vaudeville, enduring long struggles.
Both married early and had their families around them from the start, and both were blessed with good wives who were content to provide a happy home base while they focused on rising to the top of their careers.
Yankee Doodle Dandy clinched eight Academy Award nominations, winning three, not least Cagney's for Best Actor.
Typically modest in his acceptance speech, Cagney pointed out: "I've always maintained that in this business you're only as good as the other fellow thinks you are.
"It's nice to know that you people thought I did a good job. And don't forget that it was a good part, too!"
Cagney's brother William was on board again when Jimmy decided to set up their own production company that year.
Cagney Productions would bring us Johnny Come Lately, its first movie, in 1943. Jimmy, it seemed, was keen to shrug off his tough guy image.
He played a drifter who becomes a newspaper editor and rids the town of its corrupt most prominent citizen and, if it didn't make huge waves but did OK, that was good enough for Jimmy as a first film.
Cagney had a new type of character to get his teeth into with 1947's 13 Rue Madeleine – he was a spy teacher, alerted to the fact that one of his students is a Nazi. Not one of his best-known films, it is well worth a look!
White Heat, of course, is always worth another look. Seventy years old this year, it's still a belter of a movie and one of James Cagney's most powerful efforts.
He had run into money troubles with Cagney Productions and been forced back to Warners, but he secured a deal that made his company a small part of Warners.
It was a rather good one to start all this with. Cagney played Cody Jarrett, a raging madman of a gangster, and we had never seen him like this before.
It had been his own idea to make the character so terrifying and out-of-control, Cagney admitting: "I suggested we make him nuts. It was agreed, so we put in all those fits and headaches."
You can only assume that many a future star of The Godfather, Goodfellas, Casino and other such Mob classics must have studied Cagney's psychotic character before adapting it for their films!
His line: "Made it, Ma! Top of the world!" has been voted one of the all-time great lines in cinema by the American Film Institute.
Cagney, in fact, was so convincing in the job he did that it's said many of the extras were keeping out his way on set, terrified of his violent edge.
The man himself said he relied on memories of his father's alcohol-fuelled rages. "It's what the people want me to do," he would point out.
"Some day, though, I'd like to make another movie that kids could go and see."
If he was still hankering for something less violent, he couldn't get much further from it than a romantic comedy musical alongside Doris Day.
The 1955 movie Love Me Or Leave Me was his third with her and for many their best.
He portrayed Martin "Moe the Gimp" Snyder, a Jewish-American Chicago gangster who was lame and rather less scary than the one in White Heat. According to Cagney, it was "that extremely rare thing, the perfect script".
It got him another Best Actor Academy Award nomination, and most fans reckon it's the best of his post-1940s films.
Doris Day approved of the film and of his acting, calling him: "The most professional actor I've ever known. He was always real, and I forgot we were making a picture."
Mister Roberts, from that same year of 1955, was a huge success, making 10 times what it cost and showing again how good Cagney could be in comedies. He starred this time opposite Henry Fonda, playing Captain Morgan, a harsh and hated man.
Lieutenant Douglas Roberts, Fonda's character, tries his best to shield the crew from him.
Directed by the legendary John Ford, it should have been a breeze except for the fact that Ford and Cagney just did not hit it off from the very start.
"I would have kicked his brains out," was the Cagney opinion. "He was so mean to everybody, a truly nasty old man."
Say what you mean, Jimmy!
Their problems came to an end when Cagney simply said to Ford that if he wanted a fight, they should have it right now.
Ford walked away, wisely, and the bad feelings ended, even if Jimmy would never get on especially well with him again.
Despite all this, or maybe because of it, they put together another fine movie.
In 1957, Cagney made what is surely one of his most varied, unusual movies, Man Of A Thousand Faces, in which he appears in a variety of guises.
He played Lon Chaney, silent movie star, getting fantastic reviews for his acting skills as the film tells the story of Chaney seeing his Vaudeville days ended by scandal.
Chaney gets work as an extra, summoning up every bit of knowledge he has gained and it was fascinating to see Cagney take on such a complicated job.
If anyone still thought he was just a very handy dancer and an even better tough guy, well, the man could clearly act. It earned Cagney some of the most glowing praise of his entire career.
His last movie was Ragtime, a 1981 film that also saw the first appearance of stars such as Samuel L Jackson and Jeff Daniels.
How they must have looked, listened and learned, with a man like James Cagney around the place, his almost 65 years in acting making him a living legend.
He would pass away on March 30 1986, aged 86, having suffered a heart attack on Easter Sunday.
Another of the all-time greats had gone, but we can be thankful that he left a large number of great movies worth watching over and over again.