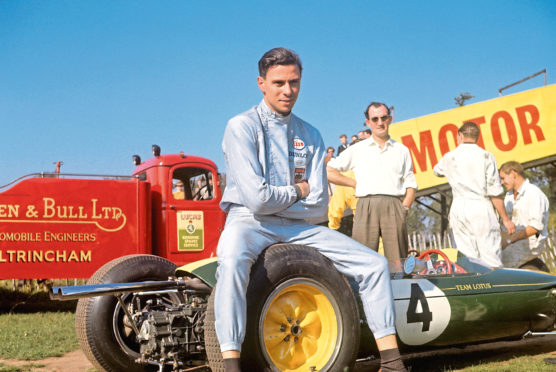 He treated his cars so well they lasted longer than everyone else's – but he still left them all trailing.
At the peak of his powers, Jim Clark was easily the greatest racing driver on Earth, with a world record haul of Grand Prix wins and twice world champion – in 1963 and 1965.
However, the Flying Scot, who died racing in 1968, aged 32, was a modest man who just wanted to get back to working on his farm when the latest Formula One challenge was over.
Born on March 4 1936, the youngest of five children and the only son of a farming family at Kilmany House Farm, Fife, he fell in love with cars and racing at a young age.
His parents were against the idea, but Jim drove his Sunbeam-Talbot at a local road rally in the summer of 1956 and never looked back.
Dave Miles, a huge fan of Jim's, has donated a painting of the racing legend to Clifton Hall, Clark's old school.
Doug Niven, Jim's cousin, unveiled it for him and he is also completing another painting of the man for the Jim Clark Museum in Duns, which reopens on July 11.
As Dave explains, there really never has been another racing figure quite like Clark.
"Jim died at a race in Hockenheim, Germany, in 1968," says Dave. "There has been a lot of speculation about what actually happened, because nobody saw it as such.
"But it has been put down to a deflated tyre.
"When the investigation team had a thorough look, following the skid marks and so on, they saw that being such an accomplished driver, Jim had fought it right to the end, to try to control the car.
"Unfortunately, Hockenheim then didn't have the barriers or fencing. If they'd had it, he would probably have bounced off it and still be alive.
"There were no cameras at that point. I think one of the other drivers saw him struggling with the car, to control it.
"It wasn't even an important race to be at. Being the gentleman Scot that he was, he kept his appointments. I was only six at the time and never met him, but I have got to know his cousin Doug quite well and Jim was a lovely guy, quite quiet, always remained a farmer.
"As soon as his races were over, he'd be straight off back to the farm, the sheep and all that.
"I think that's probably what made him the way he was, a very shy, gentle guy. Nowadays, the whole celebrity side is horrendous and he just wouldn't put up with that.
"He just liked to drive cars fast and he was just naturally fantastic at it. Hence he was world champion."
Versatile, too, as Clark raced in sports cars, touring cars, even in the Indianapolis 500, winning it in 1965.
With a close affinity with the Lotus brand, he had by the time of his death won 25 Grand Prix races and had more Grand Prix pole positions, 32, than any other driver.
In recent years, one prominent and respected poll placed the flying Scot at the top of the list of greatest-ever Formula One drivers.
And all, incredibly, with the driving style described as clean and smooth by one of his friends and another Scottish racing great, Sir Jackie Stewart, who said Jim caressed his cars into doing what he wanted.
It has been claimed, in fact, that Clark's tyres would last for four races, his brake pads lasted three times longer than other drivers' and that he was so gentle on his cars that if you placed gearboxes in a row, the one in the best nick would be guaranteed to be the one Jim Clark had used to win his latest Grand Prix.
"I won't watch Formula One now, because as far as I'm concerned you're not controlling the car now," Dave says. "It's all automatic, done by computers and all that stuff.
"OK, you're doing the quick gear changes and things, but the way Jim drove got him the nickname Mister Smooth.
"He got to grips with a car, learned how it worked, but he never harmed it. He didn't push it over. That's why he won so many races.
"You see all the other people of his time and they are crashing their cars left, right and centre. But he was at one with his car. When he was on the track he had total concentration.
"As I've been finding out, 51 years after his death he is still a figurehead for Formula One, still respected.
"As far as I'm concerned, he was Scotland's best-ever Formula One driver, if not THE best Formula One driver."
Just as it is often impossible to compare sporting giants from different eras, such as Matt Busby's Man United and Alex Ferguson's, it can also show up some interesting pointers on how the sport has changed.
How does Dave believe Jim Clark would cope in today's racing world?
"It's completely different today and you can't compare," he points out. "When you hear comparisons between, say, Jim Clark and Lewis Hamilton, it's a different ball game.
"The cars now are very sophisticated, but back then they were very experimental. The car was fitted round Jim, if you know what I mean.
"But I don't think Hamilton has got Jim's abilities as a Formula One driver. I don't think Jim has ever been equalled. He was born to be a Formula One driver.
"How did I become such a Jim Clark fan? How could you not. There's always the sadness bit that kicks in and that is probably how you first notice someone. But I have followed his career, all the interviews and clips and you can't do anything but admire the guy."
Dave has even designed a special Jim Clark plaque, which will be on the first 85 cars to apply for one at the latest Jim Clark Road Run, taking place on August 25.
"We do a Road Run every year with the Linlithgow Classic Car Group," says Dave.
To get a free plaque, send an email to linlithgowclassics@gmail.com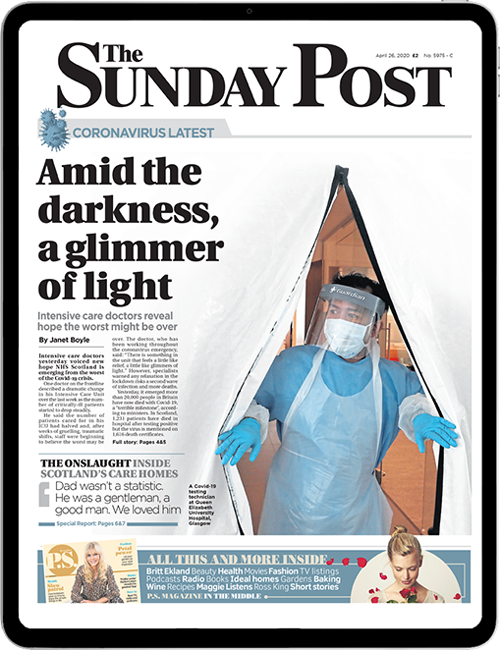 Enjoy the convenience of having The Sunday Post delivered as a digital ePaper straight to your smartphone, tablet or computer.
Subscribe for only £5.49 a month and enjoy all the benefits of the printed paper as a digital replica.
Subscribe