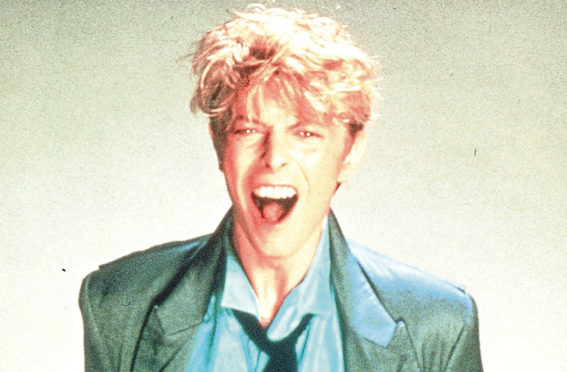 By the time David Bowie came to record his Young Americans album in the mid 70s, he was so big that his own heroes were lining up to meet him.
Bruce Springsteen dropped by the studio to witness Bowie's transformation as he entered his soul era and Bowie counted John Lennon and Yoko Ono as mates.
Lennon, in fact, was so taken with him that he let Bowie do a very different version of his Beatles classic Across The Universe and then co-wrote Fame with Bowie and guitarist Carlos Alomar.
With Lennon also adding backing vocals, it was destined to be a hit and Fame was No 1 in the US. The fact Bowie's style had altered so radically and become so Americanised perhaps explains why in Britain it only got to No 17.
You can hear Lennon's high falsetto voice throughout and the song was a bittersweet tale of what Bowie was going through. It was at this stage that he started getting out of his old contract, unhappy to find a lot of the money he thought was his was gone.
The title track from Young Americans also gave him a big hit in the States and he appeared on Cher's show to sing a medley of songs from it with her.
Bowie also became one of the first white solo artists to appear on the Soul Train show, only Elton John getting there weeks earlier – a remarkable feat.
And then, almost as soon as it had started, his soul foray was over and he reinvented himself as the Thin White Duke, released the album Station To Station and toured in a smart suit with a dazzling but simple light show as the only prop.
Many reckon it's his best album, with Bowie showing his incredible vocal range on Wild Is The Wind, a song made famous by jazz star Nina Simone, first recorded by Johnny Mathis for the 1957 film of the same name.
Considering the state Bowie was in at that point – he would say he could barely remember having recorded it at all – it was another fantastic album.
Living now in Los Angeles, he had developed a dependency on cocaine and was getting worryingly interested in the occult – he admitted, "I know it was recorded in LA because I read it was."
His Thin White Duke persona was, he said, a nasty character and Bowie had developed it while making a movie, The Man Who Fell To Earth.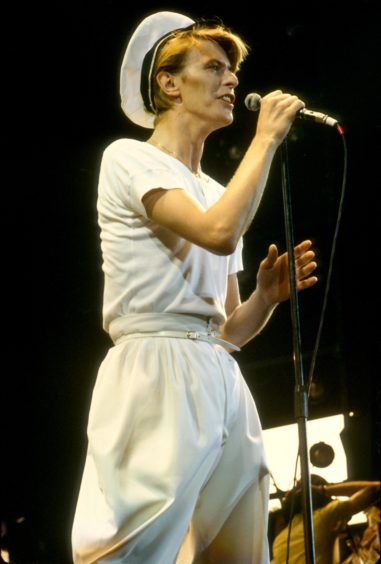 Always a real bookworm, Bowie had taken almost an entire library with him to keep him occupied when they were off set and had taken to writing a kind of fantasy autobiography The Return Of The Thin White Duke, which would never be published.
Being Bowie, he slipped into acting as the character when the filming was done and used the image for more than a year.
The fact he had made the film was a surprise, because it had been yet another space-based script, something Bowie was used to receiving.
He got endless offers to play weird aliens and chucked them all in the nearest bin.
This one, though, grabbed his imagination. It was the story of an alien who comes to Earth to find precious water to take back to his dying wife and children on their own drought-ravaged planet, from a 1963 novel of the same name.
Nicolas Roeg was directing and having the man who had given us Performance, with Mick Jagger, and Walkabout, starring Jenny Agutter, Bowie was drawn in.
Candy Clark, his co-star, reckoned Bowie came completely off the drugs during filming.
"Look at David," she pointed out. "His skin is luminescent, he's gorgeous, angelic, heavenly. He was absolutely perfect as the man from another planet."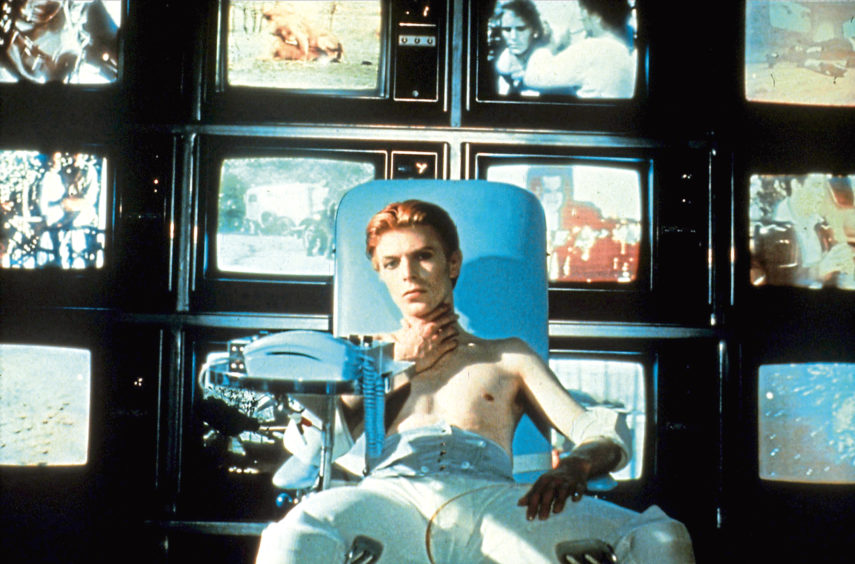 Roeg finally got to prove what many a director and producer had assumed. If you put David Bowie in the right kind of aliens-and-space film he would be the perfect choice.
It's been claimed that Frank Sinatra hadn't felt Bowie would be the right choice to play a younger version of the star when asked.
On the other hand, Sinatra was recording at Cherokee Studios at the same time Bowie was doing Station To Station and it's said the pair went to dinner together.
Perhaps it was no surprise when Bowie later recorded Christmas songs with Bing Crosby – Peace On Earth and Little Drummer Boy would give them huge hits together.
When the album was done, Bowie realised he had to get out of Los Angeles, which was full of drugs, decadence and a darker, seedy side of life, or he might totally self-destruct, like others before him.
London didn't seem right as there were just as many temptations there. And Bowie had caused a storm, inadvertently, when he arrived at the capital's Victoria Station.
Caught on camera midway through waving to fans, some media claimed he had been giving a Hitler salute. Bowie swore on his child's life that was nonsense.
After thinking, he decided he had to get out of America altogether, at least for a while. So his next home was in Berlin.
Living an anonymous life, with a moustache he'd never had before and dressing down to the extent that many a German fan walked past him in the street, Bowie got down to making some of his greatest records.
Low (1977) was recorded in Berlin and France, while "Heroes" – given the quotation marks as it was "ironic" – was completely recorded at Berlin's Hansa By The Wall studio.
Lodger, the third album of his so-called Berlin Trilogy, was actually recorded in Switzerland, a country where Bowie would live at length.
Low was another dramatic shift for Bowie, and another leap for his fans to adjust to. Suddenly, there were synthesisers everywhere, and one half of the album had barely any singing at all.
It was a similar story with "Heroes", also very experimental, and during those punk times the RCA poster said it all – "There's Old Wave, there's New Wave and there's David Bowie".
While it was decidedly uncool to like, or mix with, the old fogeys like Led Zeppelin or Pink Floyd, every generation still loved Bowie; even the punks.
There are tales of a night out in London that involved Johnny Rotten, Pete Townshend and Bowie and you have to think that would have been quite a night.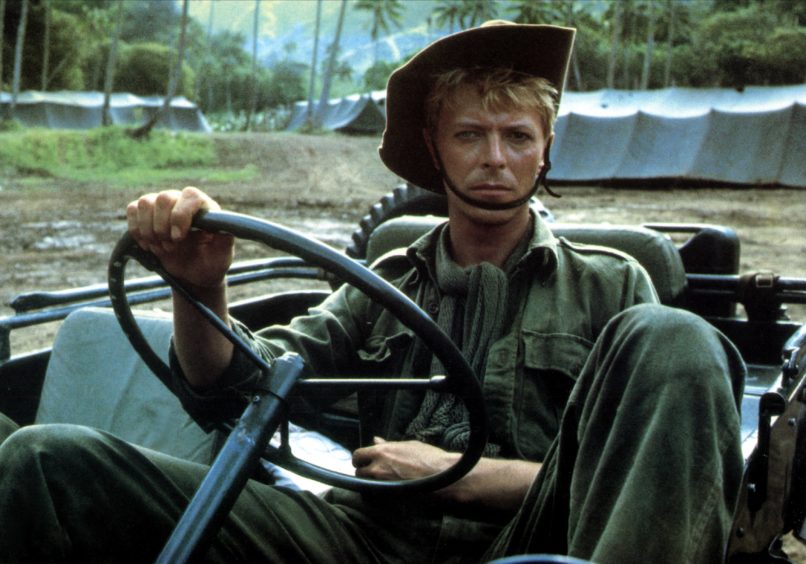 Bowie had shown with the Berlin records that he was a leader, not a follower, and even now, in his 30s, every jacket, hairstyle, musical change, was lovingly copied by others.
He also enjoyed vast audiences on world tours and appeared in the movie Just A Gigolo during his time in Germany.
It was set in Berlin between the world wars and Bowie loved the idea of starring alongside Marlene Dietrich. Alas, her parts were filmed separately and they never actually met.
As far as his acting skills go, opinions were often divided. Bowie would appear in a BBC drama, Baal, written by Bertolt Brecht, in 1982, with long beard and rotting teeth and do a very convincing job.
And in The Hunger, with Catherine Deneuve, you had a lady often voted Most Beautiful Woman In The World and the male equivalent – playing a vampire couple who age dreadfully through the centuries.
Merry Christmas, Mr Lawrence, alongside heavyweights like Tom Conti, was an Anglo-Japanese Second World War movie that proved again that he could act.
Bowie himself would often be disparaging about his films, but there's no denying he made several very good ones. As for videos to promote singles, few stars were better.
Scary Monsters, in 1980, the mega-successful Let's Dance, in '83, and Tonight, in '84, brought Bowie huge acclaim.
Until the last couple of albums towards the end of his life, the ones in between were patchy at times, even by his own admission.
But he could still have huge hits, for instance with Dancing In The Street alongside Mick Jagger, or Under Pressure, with Queen.
He also tried being just a member of a band again, stressing that he was just the singer and rhythm guitarist in Tin Machine. They put out a couple of studio albums and a live one, which some fans loved, others not so much.
It was hard, though, to take it all seriously when David Bowie, household name, insisted he was just one of the blokes in the band.
Inducted into the Rock and Roll Hall of Fame in 1996, Bowie delivered another strong album with Earthling the following year.
A hit on both sides of the Atlantic and spawning two Top 40 singles as well, it demonstrated that Bowie was always capable of delivering another cracker, regardless of all the much younger upstarts coming through.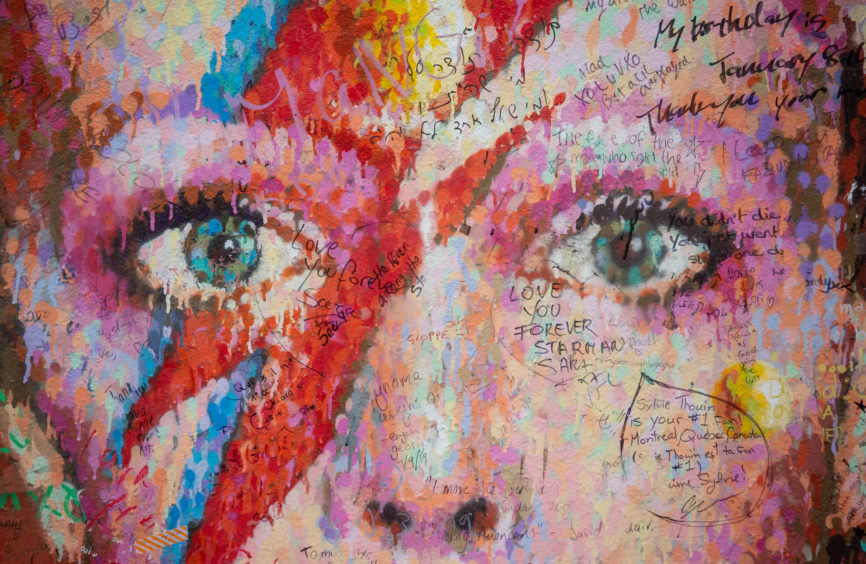 Even they, it seemed, often looked to David Bowie for ideas and inspiration and he was only too happy to take inspiration from them, too – Bowie always kept up to date with what was going on and could often predict which singer or group was about to hit the big time.
October 2001 saw a hugely emotional concert in New York City, a charity event to help the victims of the September 11 attacks.
Bowie kicked off the whole thing with a powerful version of Simon & Garfunkel's classic America and then powered into "Heroes".
A couple of years later, sadly, things would come to an abrupt halt on the concert front. In 2003, he was hit in the eye by a lollipop thrown by a fan in Oslo.
It seemed to stun Bowie. A week later, chest and shoulder pain turned out to be a heart attack and everything changed.
He largely disappeared for a decade, enjoying a quiet life in New York with second wife Iman, the supermodel, and his second child, daughter Lexi.
The music world was taken aback when a new album came out in 2013 and The Next Day was his ninth No 1 LP in the UK and his first chart-topper for 20 years.
Black Star, his final album, featured lyrics and a video for the single that seemed to spookily refer to Bowie's own death. It was released on his 69th birthday on January 8 2016. Two days later he died of liver cancer.
His ashes were scattered in Bali and the world suddenly seemed a less musical place without the great David Bowie, the Brixton boy who became a global household name.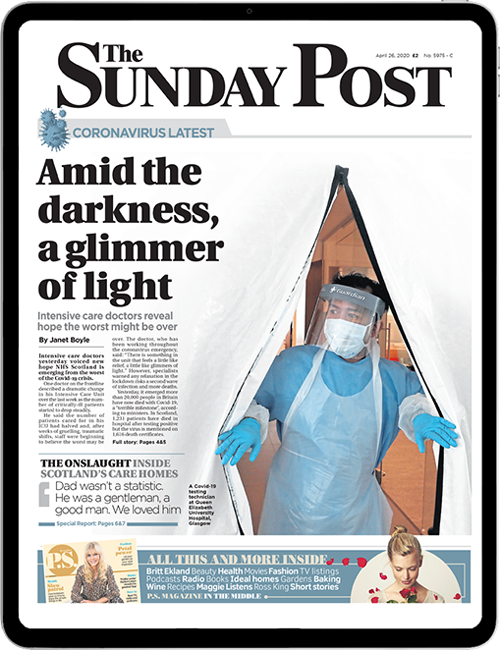 Enjoy the convenience of having The Sunday Post delivered as a digital ePaper straight to your smartphone, tablet or computer.
Subscribe for only £5.49 a month and enjoy all the benefits of the printed paper as a digital replica.
Subscribe