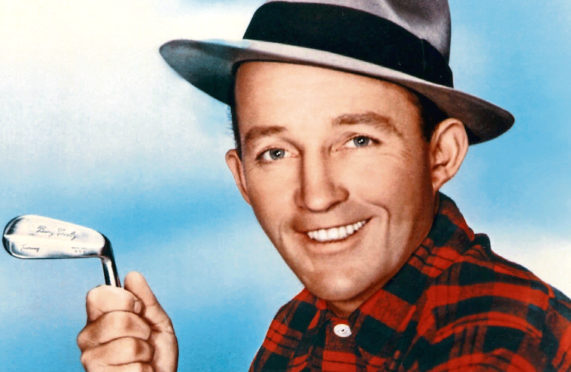 By 1946, the world was well aware of Bing Crosby's comedy skills, but his latest film earned the ultimate accolade.
Road To Utopia, filmed three years earlier but kept back until '46, was the fourth in the series, and one critic was lavish in his praise.
"Not since Charlie Chaplin was prospecting for gold in a Hollywood-made Alaska many long years ago has so much howling humour been swirled with so much artificial snow," he enthused.
It must have been music to Bing's ears, and to his usual Road To colleagues, Bob Hope and Dorothy Lamour.
Nobody is quite sure why they didn't just call it Road To Alaska, as every other film in the series had a place name, but we can be sure why its release was delayed.
According to Lamour, they didn't want its release to overshadow the glory Bing was revelling in after the stunning success of Going My Way.
If there had been two Bing megahits at the same time, things might have got confusing.
Road To Utopia saw Hope and Lamour as Sal and Chester, an old married couple visiting their pal, Duke Johnson, Crosby's character.
It all flashes back to the turn of the century, a murder, a stolen gold mine map and all sorts of shady goings-on in Alaska.
Once again, Bing and Bob's characters find themselves forced to flee an irate crowd, and once again, Lamour is the perfect foil – once again, too, audiences couldn't get enough of it.
Blue Skies, Bing's other 1946 flick, was predicted to succeed by one expert, who said: "With Crosby, Astaire and Joan Caulfield on the marquee, a wealth of Irving Berlin songs and lush Technicolor production values, this film musical can't miss!"
He wasn't wrong.
The strange thing was, many felt Fred Astaire was about to retire, and that this might even be his final movie.
To see how he throws himself into the action – especially during the memorable trick photography scene where he dances alongside a line of other Fred Astaires – he clearly revelled in it.
But it was felt Fred had grown tired of taking second place to leading men and just coming on for the dancing scenes, and that he may walk away from it all.
He would, of course, come out of "retirement" almost as soon as he entered it, and the happy memories of Blue Skies must have helped.
Caulfield, the female interest in the film, had an impact, too – it is said that when JD Salinger wrote his classic Catcher In The Rye novel, he took her surname for his protagonist, Holden Caulfield, having seen her on the screen.
She would also appear in Welcome Stranger, one of four movies Bing Crosby appeared in during 1947. Two were just small cameos, but this and Road To Rio were the biggies.
In Welcome Stranger, Bing was a doctor brought in to replace another who is on holiday. He falls for a girl while the rest of the place doesn't fall for him at all.
The movie is also notable for the appearance of Clarence Muse, who had featured in the first-ever all-black film, 1929's Hearts In Dixie, and is thought to have been the first African American to be the star of any film.
It goes without saying that Welcome Stranger was yet another hit, and the one that came after, Road To Rio, even more so.
The fifth in the series, some reckoned it was the funniest of the lot. In fact, Crosby, Hope and Lamour were so sure of its success that they financed it themselves, maximising profit and executive control.
Perhaps the wackiest of all Bing's movies came in 1948, with the madcap The Emperor Waltz.
He played Virgil Smith, a turn-of-the-century American travelling salesman trying to persuade Austrian Emperor Franz Joseph to purchase a gramophone, which would lead to mass sales.
He bumps into a lady who's very keen to have her dog, Scheherazade, mate with the Emperor's poodle and the pair have a discussion about class. But when Scheherazade bumps into Virgil's terrier, Buttons, she has a nervous breakdown.
As we said, a very crazy plot!
It worked a treat, of course, with Joan Fontaine the perfect foil for Bing. And with the brilliant Billy Wilder directing, it couldn't fail.
Neither could Top O' The Morning, his 1949 hit, another eccentric story and done with just the right style by Crosby and his latest leading lady, Ann Blyth.
This time, he played Joe Mulqueen, a singing insurance investigator who has come to Ireland to recover the Blarney Stone and ends up falling for the local policeman's daughter.
You haven't lived until you've heard Bing Crosby sing When Irish Eyes Are Smiling.
As the new decade began, Mr Corsby would get to sing with all sorts of interesting people in his 1950 movies.
Riding High saw him at the microphone alongside old pal Clarence Muse, while in Mr Music, he duetted with Peggy Lee on Life Is So Peculiar – and did it later with Groucho Marx!
Music was again to the fore in the classic from 1951, Here Comes The Groom.
Directed and produced by the great Frank Capra who, just five years before, had given us It's A Wonderful Life, it saw Jane Wyman – not long divorced from Ronald Reagan – opposite Bing.
Bing is Pete Garvey, a reporter living and working in Paris who has just days to win back his fiancée and thus avoid losing the orphans he has adopted. One of the movie's charming parts is when the girl, Emmadel Jones, played by Wyman, appears as a hologram on top of his record player.
Much of the magic dust that Capra had sprinkled on It's A Wonderful Life is in this one, too.
The following year, inevitably, saw the arrival of the latest Road To, this time Road To Bali. It would be the last for a decade, until Road To Hong Kong in 1962, but the large gap was more to do with how busy Bing Crosby was with all sorts of other work.
Like the others in the series, Road To Bali went down a storm, and this time, it featured appearances by various other well-known faces along with the usual trio of Crosby, Hope and Lamour.
Golf-mad Hope, who part-owned the movie, admitted one of the perks was getting to keep some of the sand trucked in from the famous Pebble Beach course.
He arranged for large amounts of the stuff to later be moved to his one-hole golf course at the back of his house!
Part of the beauty of the Road To films, of course, was Bob Hope's many wisecracking asides to the audience, and this one featured some of his best.
With gags about Scottish bagpipes, Errol Flynn and Argyle socks, it told the story of George and Harold, song-and-dance men performing in Australia and fighting off marriage proposals from the ladies.
They end up deep-sea diving for a prince and somehow find themselves en route to Bali, Indonesia, where they meet the half-Scottish Princess Lala.
This would be the last time Dorothy Lamour was the female lead in a Road To, and she made sure it was one of her best.
Bing Crosby had effortlessly glided through one success after another all these years, but in 1954, he decided to blow everything else out the water.
Yes, that was the year we got White Christmas.
With assistance from Danny Kaye and Rosemary Clooney, they summoned up an all-time classic, featuring an all-time classic song.
The most respected critics of the time, despite all those classics starring Crosby and Hope, reckoned his partnership with Danny Kaye was even better.
So it may come as a surprise to learn that it had to be drastically rewritten to make the film we now know, and many of Kaye's best lines were added during that chaotic spell.
Anyone who loves movies will appreciate that the stress and expense was more than worth it in the end, and White Christmas made vast sums at the box office.
Despite all that, Bing wasn't nominated for an Oscar – but he was for his next film, The Country Girl. And he also got to star opposite two Hollywood greats.
The wonderful William Holden was one, and the other was Grace Kelly, who would make a second movie with Bing before retiring to marry Prince Rainier of Monaco.
The Country Girl was shockingly hard-hitting stuff in comparison to Bing's many upbeat comedy flicks.
He played a washed-out alcoholic, with Kelly playing his long-suffering wife. She did it so well, that she won the Best Actress Oscar.
Holden plays a theatre producer who refuses to hire the actor played by Crosby because of his booze problems and fading talent.
Released on Christmas Day in New York City, it was anything but another feelgood festive fun flick!
If Bing had enjoyed such big names alongside him, then High Society, which also starred Frank Sinatra and Louis Armstrong along with Kelly in her last film, must have been a joy.
By the time the final Road To came out in 1962, Road To Hong Kong, Bing had been married for a few years to his second wife Kathryn Grant. His first wife Dixie Lee had passed away in 1952.
He devoted more time to other things, including his family life, golf, music, and work on the small screen, including one-off TV appearances and, of course, Christmas specials.
He died in 1977, aged 74, and his last TV appearance happened after he was gone.
This was another Christmas special, recorded in London just weeks before he died.
Bing sang with David Bowie on Little Drummer Boy and Peace On Earth, which has been voted one the most memorable TV moments of the 20th Century.
It is, of course, another Bing Crosby song that the world loves to hear every Christmas though – let's hope his marvellous work is never forgotten.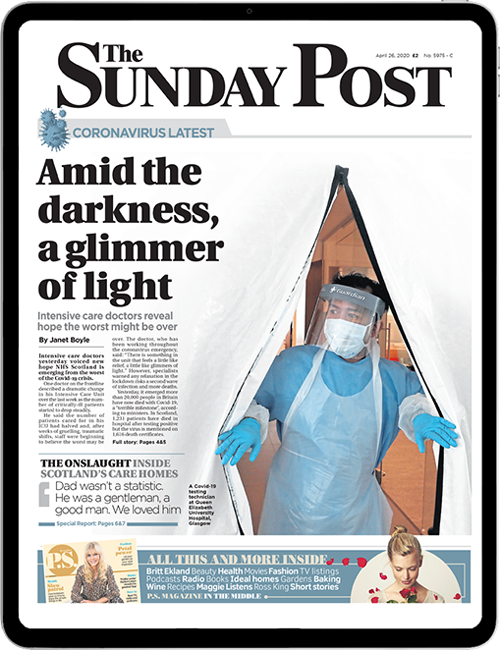 Enjoy the convenience of having The Sunday Post delivered as a digital ePaper straight to your smartphone, tablet or computer.
Subscribe for only £5.49 a month and enjoy all the benefits of the printed paper as a digital replica.
Subscribe