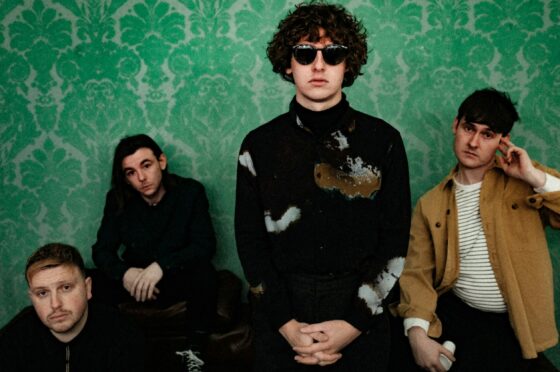 After a storming set at TRNSMT last weekend, The Snuts shared a video clip simply captioned: "Saturday exceeded all expectations."
The four-piece are soaring on the back of the success of their UK number one album last year, and join Lewis Capaldi and current UK number one custodians LF System in West Lothian's recent line of musical exports.
With their first release WL, they became the first Scottish band since The View in 2007 to enter at number one with their debut album, and with heavyweight pop competition too – just 272 sales separated them from Demi Lovato.
Now, they hope to reach new heights as they build up to the release of their second album after a string of support slots and festival appearances, including Glastonbury and TRNSMT.
Ahead of taking to the main stage at Glasgow Green last weekend, bassist Callum Wilson and drummer Jordan Mackay said they couldn't wait to release the new record into the world.
"We're absolutely buzzing," Wilson said. "We recorded it super quickly because we took ten years to do the first one. We didn't really have the time to do that again, we'd all be nearly 40.
"There's a really positive energy in the record, we tackle some serious topics but we've surrounded it in a real fun energy sonically.
"I feel like the singles we've released so far have been the more hard-hitting, serious edge, but there's still a lot of fun to come."
Mackay said of the tracks, which strike a defiant tone against the injustices prevalent in society today: "We're saying stuff that needs to be said but also you need to be true to yourself.
"You want to be making the music you still want to be making but if you feel there's an important message in that and you want to voice your opinion on it it's a good way to do it."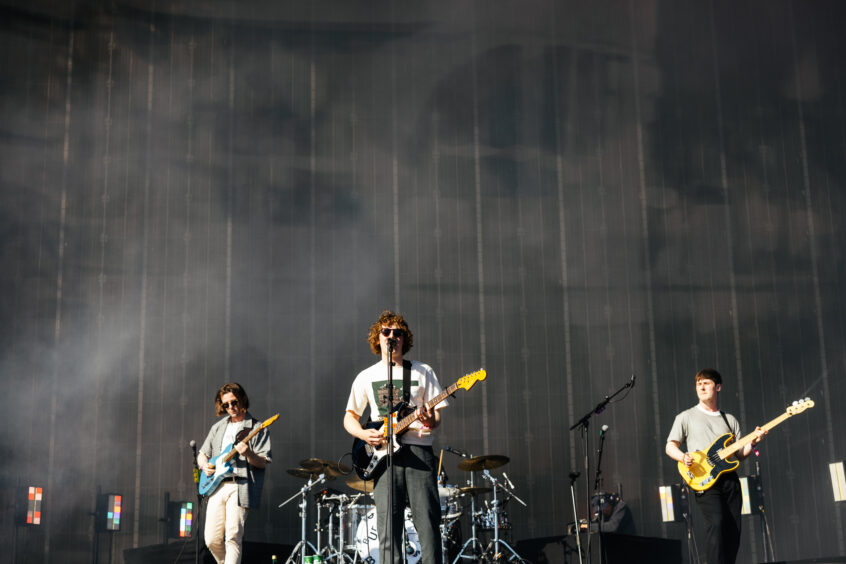 Mackay, Wilson and guitarist Joe McGillveray went to the same primary school in Whitburn, meeting up with vocalist Jack Cochrane at secondary school.
They've been playing music together for well over a decade, first releasing a single in 2016 – the track Glasgow, which got a fitting airing at TRNSMT.
"When we recorded the new record, it was collaborative and free-flowing," Wilson said. "Before, a lot of the lyrics were written before we came into the room. This time, it was all spurred on together by conversations we were having. Jack would turn those conversations into lyrical form. It was really nice.
"We worked with two brilliant producers, Detonate and Clarence Coffee Jr, who both brought their own twist and their own cultural backgrounds to the record.
"We found it really easy to talk about stuff we've always struggled to speak about maybe so blatantly before. They made everything super comfortable for us and decorated our ideas with their magic."
The first single from the new album, title track Burn the Empire, was released in November 2021 to a great response.
An anthem against oppression, it was a tune of the week on BBC Radio 1. New single The Rodeo has also been picked up for national radio airplay.
Mackay said: "You're always going to be pleased when you see the work you're putting in pay off. It's the same as any job, but it's almost a relief. It's really nice to see your music catch on, and reaching new ears that way. "
Wilson added: "We try to make global music so it's good that it's connecting with people up and down the country.
"While recording, we always have our existing fans in our head, but strive to push to break into a wider audience. We really feel this record has a bit for everybody and there's loads of stuff that's true to our older material but we've also been a bit more experimental as well, we hope that shines through."
Surreal experience getting to play in Mexico City. We loved it so much we knew we had to record a music video

Tocar en la Ciudad de México fue una experiencia surrealista. Lo amamos tanto que sabíamos que teníamos que grabar un video musical

WATCH NOW: https://t.co/WCt8CdMa1W pic.twitter.com/Gha9ADBIhz

— The Snuts (@TheSnuts) July 5, 2022
The album is released in October, with the band touring the UK throughout that month, including dates at Glasgow's O2 Academy, Edinburgh's Usher Hall and the Ironworks in Inverness.
Mackay said: "Once the album drops, it won't be a full set list of the new tunes but it's going to be nice to be able to incorporate the new stuff in. We've been playing most of the tracks for ten years now so it'll be really nice to branch out into the newer tunes."
Wilson is also relishing being back on the road in front of their own crowds, having recently supported Kings of Leon, The Kooks and former One Direction star Louis Tomlinson on tour dates.
"It's good to see how these seasoned pros do it, but it'll be good to get back out to our own kind of space and just do it for our fans instead of other people's.
"We're always striving to better what we've done before. Hopefully this record will come out and blow us further into the stratosphere and we'll roll with the punches as it goes.
"We've just released a song, The Rodeo, and that's what it's about. You can try to control the chaos in your life but ultimately it's better if you just jump on the ride and try to coast it and see what happens."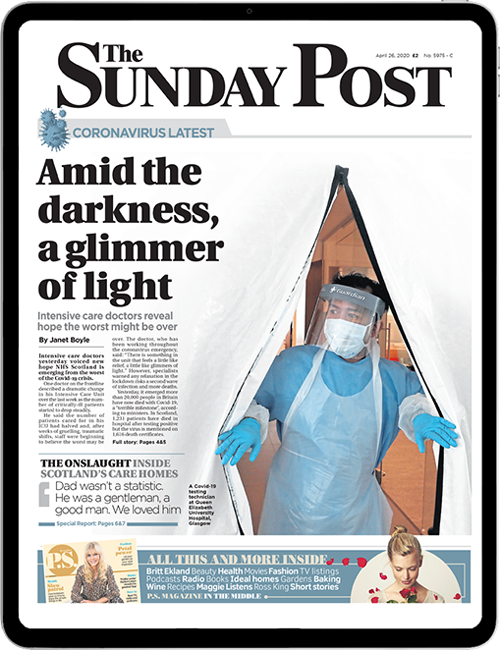 Enjoy the convenience of having The Sunday Post delivered as a digital ePaper straight to your smartphone, tablet or computer.
Subscribe for only £5.49 a month and enjoy all the benefits of the printed paper as a digital replica.
Subscribe