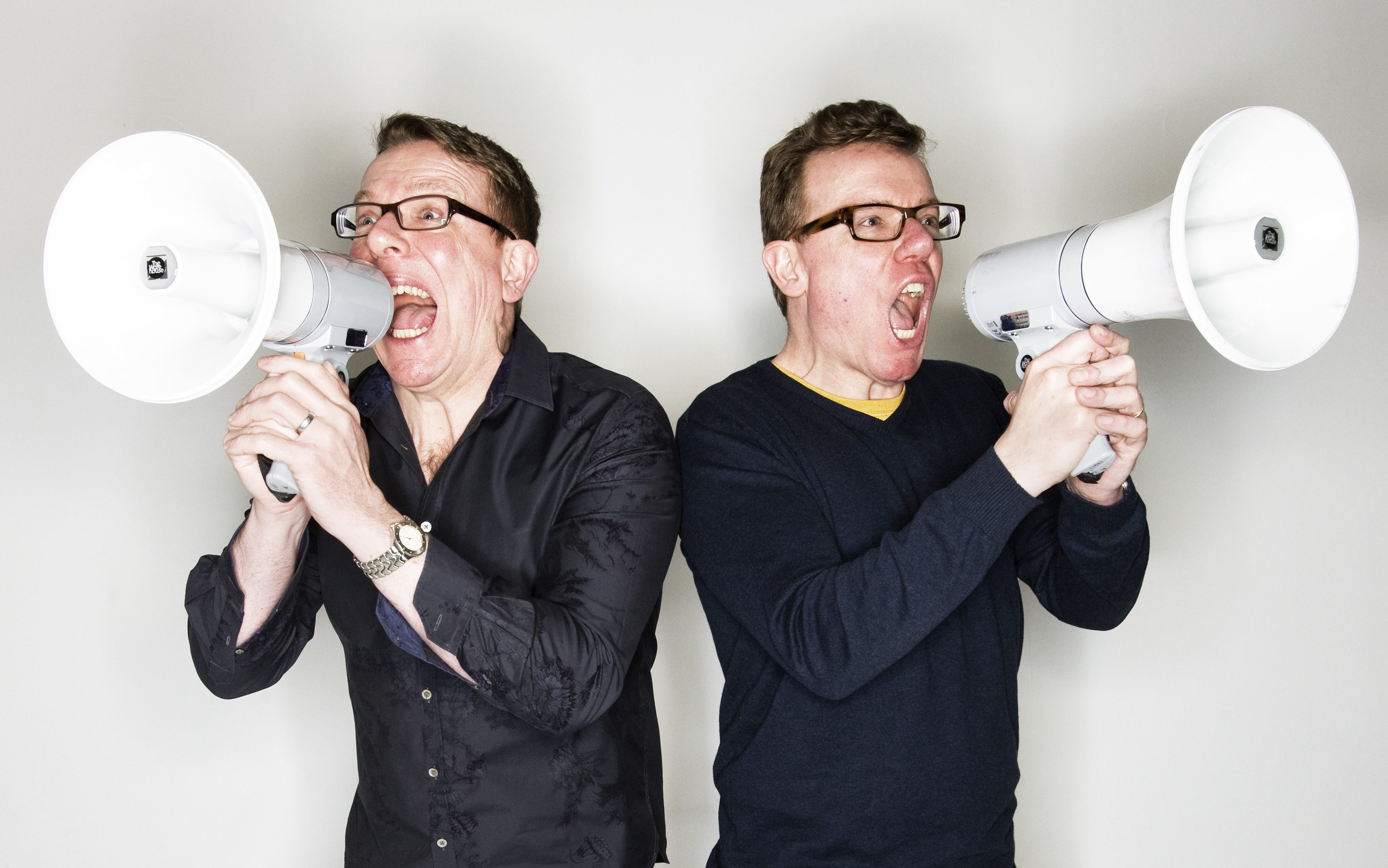 PROCLAIMERS star Charlie Reid says he'll probably keep touring until he runs out of road.
Charlie and twin Craig, 56, are on a 14-month world tour that takes them from Iceland to New Zealand, Singapore to Australia.
There are numerous Scottish dates and last week they announced four summer shows, including Edinburgh Castle on July 20 and the SSE Hydro on September 14.
"It gets more difficult with every tour," Charlie told The Sunday Post. "The travelling and the time zones take their toll and it's tougher than it was, even in our 40s.
"But we love it and I feel we have an obligation to do it if people want to come and see us. And obviously we make a good living from it.
"There are two reasons bands give up. Either nobody in the band wants to keep going or the public don't want to see you any more.
"But it's also if you don't feel you're giving your best. I really hope we'll know – please God, let us know before the public!
"But I'd really like us to still be on the road when we're 60, 65, 70 but I don't know if that's possible.
"And of course both Craig and I still have to want to do it. There's no point in me dragging him out if he doesn't want to go.
"But if you're not making an absolute idiot of yourself I think you should do it. Shorter tours may be the way to go."
The newly-announced summer gigs include Big Top tent shows in Melrose on June 15 and Inverness on July 6.
The Proclaimers have been on the road all across Scotland, finishing at Aberdeen's BHGE Arena last night. But their current touring takes them all over.
The Sunshine on Leith album was bigger in Australia and New Zealand than in the UK and they are in constant demand there as well as the Far East and Canada.
But I'm Gonna Be (500 Miles) remains their global calling card.
"Look, I'm going to die and the obituary will be, 'Charlie, one of the guys that sang 500 Miles'. I don't have any illusions about that at all," he says.
"But we're always delighted to perform that because it's built the rest of the career."
What Charlie savours most when he's not on the road is spending time with his family, his three sons, his granddaughter Anna and his 86-year-old mum.
"I know I'm lucky to still have my mother and I've got my kids and my granddaughter.
"There's a different dynamic between a father and sons when they're grown men. And Anna has taken me back, she's fantastic."
The band have been touring the album Angry Cyclist, with the set list a mixture of the old and the new.
But Charlie says coming up with fresh music always requires work.
"We always put out the album we want and damn the consequences.
"We stopped deluding ourselves long ago that big hit singles were going to happen again. I think those days are gone.
"That's why it's important to do what you want to do. You shouldn't be afraid to make a statement if you want to, especially as you get older.
"If there's something to be said in the context of an album then it should be said.
"Writing songs doesn't get any easier. With some people music just seems to pour out of them.
"I was speaking to a well-known Scottish musician last week and he was talking about being decanted for a couple of weeks and having written six or seven songs.
"I don't know how anybody does that. I wish I could go away and sit in a cottage and write a full set of songs, but I'm not that good.
"It takes longer to work through my dense head."
The Proclaimers are hoping to play some of the biggest UK festivals in 2019 and Charlie says those audiences have transformed their appeal.
"People come along who maybe weren't fans and get into you," adds Charlie. "That's important to replenish your fan base.
"Festivals have been fantastic for us in rebuilding our careers and the crowds we are now playing to in England are bigger than when we were having hits."
Tickets for the summer shows went on sale on Friday at ticketmaster.co.uk
Singer: Even with a deal, Brexit will be a long, slow decline. It's pitiful
Many of the English towns and cities where The Proclaimers are now playing to big audiences are in the heart of what Charlie says is,"Brexit country and in some areas UKIP country".
And Brexit is a topic that still troubles him greatly.
"It's the worst decision taken in my lifetime by the British electorate," says Charlie. "It's the most profound thing since WWII, bigger than the Suez Crisis.
"We got our backsides kicked at Suez.
"With this one, we're retreating deliberately. I find that sad and I think we will regret it. Falling out without a deal would be really damaging, but even with a deal it'll be a long slow decline. I think it's pitiful.
"That's what people down south voted for and that's what we are going to get."
What concerns Charlie is the perception other countries have of Britain as a result of the vote to leave the EU.
"It's the sort of thing people in Britain used to look elsewhere and think, 'What on earth are you doing?'" he says.
"They'd look at the likes of Argentina decades ago and not understand why they couldn't sort out their society. I don't think we'll go down the route of dictators, but the way politicians down south don't appear to listening to the people anymore is distressing to me.
"I think it might very well be one of those things where you act in haste and repent at leisure."