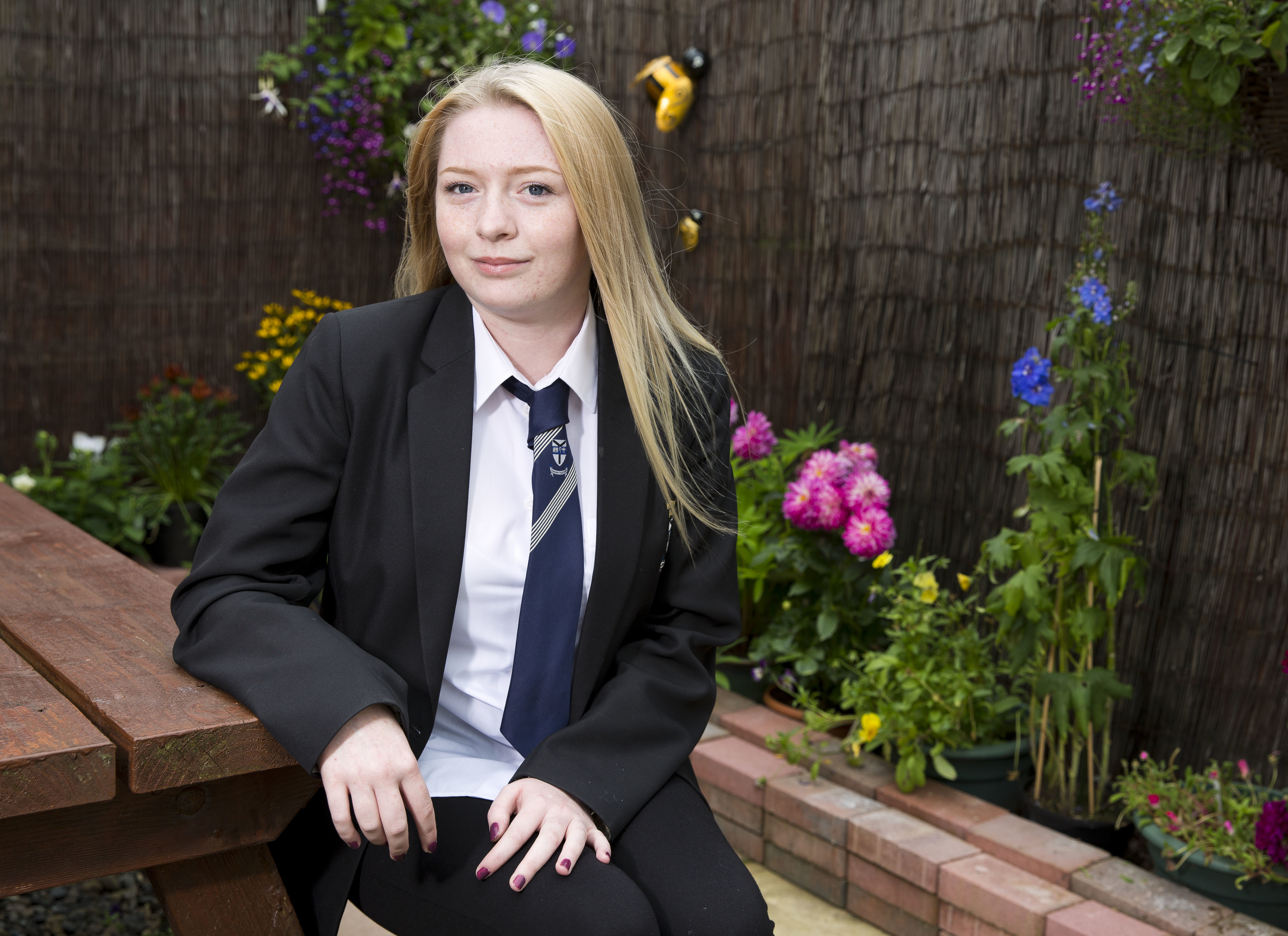 PUTTING into words how it feels to watch a loved one live with dementia is no easy task.
To be able to do so with the eloquence 15-year-old Dione Bell demonstrated while writing about the subject for her National 5 English is special – and that's why her mum, Pauline, is keen to share it with a wider audience.
Pauline and husband Steven, from Kilwinning in Ayrshire, had no idea their eldest daughter had written an emotive essay about watching on as Alzheimer's took hold of her beloved gran Eleanor.
"It was only when her exam results came through and were so good that I asked Dione if I could read the essay," Pauline explained.
"We thought she might have struggled with her exams because things were becoming quite difficult with her gran at the time, so to get a B was great. When we read the essay, we realised just how much she had been thinking about dementia.
"I thought it would be beneficial for other young people to read it. Dione was taken aback at first, but she agreed once I explained that reading it might help another young person who was going through something similar."
Dione's powerful essay touches on the good times she used to have with her gran and how difficult it was to watch as the illness developed.
---
Leaning back in my seat, I gaze over to find the once elegant woman sitting dazed in the same chair. Those once bright eyes that held such stories are now dull and frantic. She is now a puzzle, one that I'm struggling to solve. How did I let it get so bad? When did she leave and why didn't I notice sooner? She is different, her loved and unique personality ceases to be there, her character has drastically changed.
She's gone now, she left and took all that I loved with her, down the unsteady pathway where I can never follow. Every time she returns, she leaves to become more fragile and delicate.
The now stranger hardly recognises herself, she is lost in the busy crowd of her own mind, constantly questioning and disagreeing with herself.
She's transforming into someone she's not, someone she would never have become. Now there are questions that will remain unanswered: questions regarding her, regarding the unnerving fact that we are now strangers. Does she think of this? I often wonder what she thinks about and if her thoughts ever consist of our newly-developed relationship. All that I love is gone and she left along with it, leaving me with the stranger I now love. Everything has changed and I wonder if it will ever return to the way it was.
---
She also writes from her gran's perspective – the confusion, frustration and turmoil Dione imagines she must have felt.
---
My head feels clouded with scrambled thoughts. The room feels familiar, the people with me look familiar, but I just can't remember their names. The conversation within the room washes over me, my thoughts getting louder and more confused.
I remember this girl, I remember sitting by this window sketching colourful pictures of the birds at the feeder with her. I remember her giggle, it was so infectious. I remember cold winter nights cuddled on the sofa with hot chocolate reading her favourite book, what was it?
I look over at the young girl and feel an overwhelming love for she is my granddaughter. I'm trying to search my mind for other memories, my mind is getting busier and my thoughts are getting jumbled up. The sun has moved and I'm sitting in the shade now, conversation goes on around me but my head is so busy that I can't remember what I was doing. As I look around the room panic strikes my very soul. Who are these people? Where am I?
---
Prior to her Alzheimer's diagnosis two years ago, Eleanor was a devoted gran who loved spending time with her family and worked in environmental health for East Ayrshire Council.
Mum-of-three Pauline, a nurse, continued: "She was Steven's step-mum but had been around since before my girls were born.
"She was fantastic with Dione and Becca, while my third, Breeanna, is just a toddler.
"The girls have done so well at school and I think that's because she sat and read all of these fantastic stories to them when they were younger.
"We all said she should have been a narrator, because she was so good at it. She had the kids after school and was always very much involved. Dione was particularly close to her."
Eleanor was the type of person who did a hundred things at once, so forgetfulness wasn't all that unusual. But it became apparent that the changes her family were noticing were down to more than just a busy lifestyle.
Pauline continued: "When the Alzheimer's was diagnosed it progressed very quickly. I've worked with dementia patients and this seemed very quick even from my experience.
"She recognised people occasionally, but most of the time she no longer knew who anyone was."
Sadly, Eleanor suffered a heart attack and passed away at the end of June. She was only 62.
Dione is now studying Higher English at Kilwinning Academy and will continue to write about her gran and dementia for her course work.
Now the family are taking part in their first Memory Walk next month in Saltcoats and Ardrossan.
"It's not until something like this happens to your family that you realise you should be raising funds and awareness," she added.
---
Memory Walks will take place at locations throughout Scotland next month.
The walks are perfect for all ages and abilities, and give families the chance to come together and pay tribute to someone close to them.
Registration for a Memory Walk is £10 for adults, £5 for 12-16 year-olds and under-12s will walk for free.
Visit memorywalksscotland.org to find out more and to register.
If you are interested in volunteering, more information can be found at memorywalksscotland.org/volunteer or by calling
0131 243 1453
If you have any questions about dementia or the services in your area, call Alzheimer Scotland's free 24-hour helpline on 0808 808 3000
or email helpline@alzscot.org